Tradify helps manage all aspects of your trade business, from the first enquiry to the last payment. We help streamline the paperwork and the processes, so you can focus on what's important. Whether that's more work on the tools or more time with those you care about — we're here to help you make a life and a living.
Find out why you need more than just accounting software to run your business.
"Because it's all integrated with Xero, the process between me quoting and invoicing the job all just flows together." - Ben Greenwood, Ready Set Paint
Tradify and Xero work together with two-way sync. This means you can sync your invoices, payments and credit notes between Xero and Tradify, automatically.
Short on time? Skip Ahead!
1. What do we mean by 'two-way sync'?
Any change that you make in Tradify or Xero will reconcile in the app you're not making changes in. For example, if you create an invoice in Tradify, any future changes, payments or credit notes made to that invoice (in either Tradify or Xero) will automatically update across to the other.
2. What does this mean for you?
Our two-way sync with Xero means you don't have to worry about manually reconciling information from either app. This helps you streamline your invoices, payments, credit notes, bills, purchase orders and payment reminders.
You can easily view whether invoices are paid, unpaid or overdue in Tradify. This helps keep your books in check and can show you who you'll need to chase up.
Speaking of chasing late payers, you'll never need to face the awkward conversation on your own. Get paid faster by setting automated payment reminders for unpaid invoices. You won't even need to think about it if Tradify is doing the work for you.
When your customers pay, these payments will be recorded on both systems — meaning you'll spend less time reconciling information. The automatic nature of this also reduces human error. Your numbers will be more accurate with less work from you or your bookkeeper.
Additionally, you can easily import customers, suppliers and price lists from Xero — saving you the hassle of exporting files and reimporting them into another system.
Accounting in the UK 🇬🇧
If you're in the United Kingdom, our integration looks after Reverse VAT — making meeting your tax obligations that much easier. To understand more about CIS, we have a guide on all you need to know about meeting your tax obligations.
Check out how Tradify and Xero work with Reverse VAT.
3. See how it works in the video below
Want to see Xero in action? Check out how easy it is to bring your accounting and job management platforms together.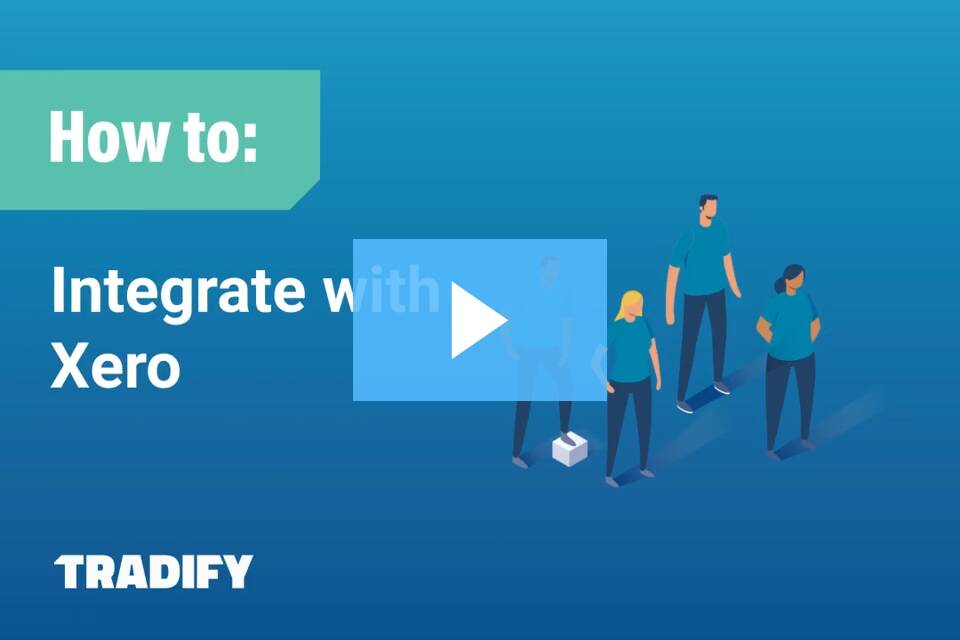 If you're already set up in Xero, it should only take a few minutes to bring it over to Tradify. Once you're done with that, it's super easy to choose your sales, purchases and business accounts. Additionally, you can select certain preferences to suit your workflow – you can use Xero's invoicing system if you need.
4. Take it from some of our customers
Don't just take our word for it — our customers love using Tradify and Xero together. From saving them hours otherwise spent labouring over the books to the simplicity of linking the two platforms, check out what our users have to say.
"Where Tradify links with Xero, it has saved me countless accounting hours, I honestly would not use any other software and highly recommend new users to this." — Adam Stears
"I was struggling to sleep at night thinking I'd always forgotten something. Now because of the seamless connections between Tradify, Xero and my bank, I can make sure everything is done in a few clicks. Nothing is forgotten and I was surprised how easy it was to find my way around the system." — William Parker
"It's a great tool for trades and others who produce custom products and services. I produce the invoice in Tradify, this is automatically sent to Xero. Payments get synced; other invoice changes are sent as the save button is pressed in Tradify. Tradify and Xero are both helpful platforms for my business and have saved me from employing a bookkeeper early in my business." — Neville Stott
5. Frequently asked questions (FAQ)
Do I need to pay extra to get access to this feature?
No. We like to keep our pricing simple and straightforward. One price. All features. Unlimited access.
What other features does Tradify offer to help me run my trade business?
Tradify offers a full suite of features designed to help you manage your business. Make quoting, invoicing, enquiry management, scheduling, timekeeping, job tracking and much easier to manage with our job management software.
What support do I get in setting up Xero with my Tradify account?
We can help you get started with using Tradify. Once you've upgraded to a paid subscription, you can sign up for a free onboarding session with one of our Tradify experts.
Not yet a Tradify customer?
Sign up to a free 14 day trial (no credit card required) or book into one of our weekly demos to see Tradify in action.
---