Crystal clear view of business for Sam Ackland
After realising that the 9-5 corporate way of life wasn't for him, Sam Ackland started a one-man-band, general property maintenance business. In 2018, that business became Build Clean, a company that provides cleaning services to some of Adelaide's most prestigious builders of residential and commercial properties.
Fast-forward two years and Build Clean has reached heights that would impress even the most experienced business people. In a few short years, Sam's company has grown exponentially.
Build Clean now employs 40 people (10x more than when it started), and that's just the beginning. Plans are already in the works to expand the business into other states.
So, what's the secret to Sam's success? Without hesitation, and with 100% confidence, Sam says the answer is a well-thought-out business plan – and a job-management app for tradies.
"All of our team say if we didn't have Tradify, we wouldn't exist – we'd quit straight away," Sam laughs.
Too hard to manage staff schedules
In the beginning, Sam was using accounting software and iCalendar to manage his team's schedules.
When a customer enquiry came through, he would create a quote in Xero and send it out. Once it had been accepted, Sam would manually transfer the job's details into iCalendar and assign it to the right team members. The problem was that every time he updated the job – even if it was a minuscule change – his team would receive an email.
"For one job, that might've been 15 emails in one day! Double or triple that if they had multiple jobs," Sam says.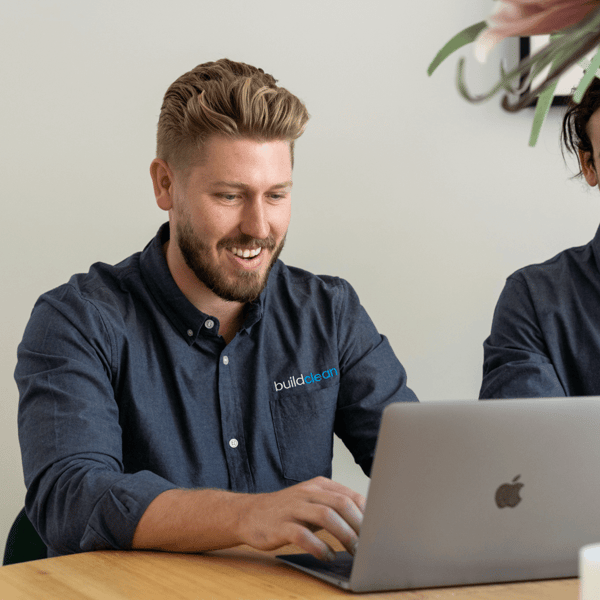 No invoice follow-up or job info tracking
Sam would also spend hours on the phone following up on outstanding invoices, and when it came to storing job information – well that just didn't happen. The team was relying on printed job sheets, and any job info like text messages or images were often disregarded because they weren't easy to find and access.
"It got too hard to manage timesheets and rosters using free software, and we pretty much needed another staff member just for double entry and unnecessary admin tasks," Sam explains.
In the end, Sam knew that to grow the business, he needed to "get off emails and iCalendar, and streamline his business processes."
Hit download – and away you go
When Sam went looking for job management software, he knew he needed a system that the business could grow into, "because our vision is to be a national group of companies." But he found most of his options were far too technical.
"We have a large turnover of staff so we needed a system that people could pick up and use – without any prior training."
Sam says Tradify was the most "seamless" option and was easy to use on any device – essential for people in the field.
"The one thing that got us the most was that you can download it and use it straight away – without having to read or research anything."
Quick quotes generate cash flow
As the director of sales and marketing, a big part of Sam's job is converting enquiries into paying clients.
He's integrated Tradify's enquiries feature with their website to help him manage all potential leads. He can respond with an email or phone call directly out of the app, so he has a record of what's been discussed with each customer.
"But enquiries don't necessarily generate cash, quotes do, and that's where we've seen the real value," Sam adds.
After talking to a customer about the job, Sam uses templates to get a quote out as quickly as possible, "saving any sloppiness."
"I keep my iPad in the car which means within 5 minutes of leaving a meeting with a client, they have a quote in their inbox – that rapid response is important."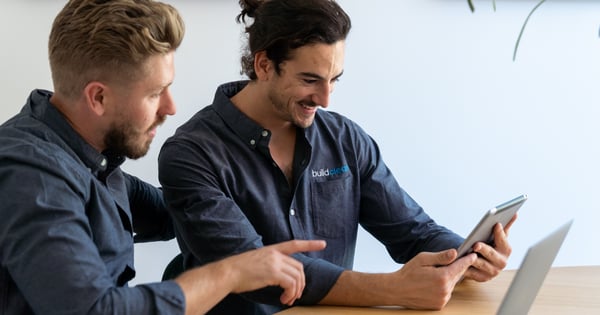 Saved $100,000 over two years
When Build Clean started in 2018, Sam had four employees. In two short years, that has jumped to a total of 40 staff members.
"Each employee only has so much bandwidth. We got to the point where we were dealing with too many problems and that's what kills people."
The company began using Tradify mid-2018 and Sam believes that decision has made a significant contribution to their growth. He says it's made his team more efficient – and saved him money.
"We've probably saved a junior admin salary two years in a row as well as staff being able to sign off on jobs and take the opportunity to upsell on-site. That could have made us an extra $100,000."
Seamless workflow from start to finish
Overall, the company has a much clearer view of the job workflow, which results in a more cohesive team and a better customer experience.
Now, once they've acquired a new lead and Sam has created a job, his operations manager takes care of booking staff, organising schedules and service delivery. Then his administration manager sorts out the invoice and payment.
Tradify also integrates seamlessly with Xero, making it a "one-stop-shop" for the company that has multiple departments using the app. Being able to assign staff members to certain jobs means people only have access to the information they need to do their job.
The other big tick for Sam? The app can be used on all devices – without compromising on functionality or usability.
"There's no jumping between systems or double-handling. I can use my laptop in the morning, my iPad when meeting with clients, and when I'm on the go, I can do everything from my phone."
Tradify cleans up to come out on top
User-friendly and intuitive app: no prior training required
Cloud-based: job info stored in one place for multiple users
Consistent user experience across different devices
Improved workflow: jobs tracked from start to finish
Quote templates: enables quick quote turnaround and more jobs booked
System integrates seamlessly with accounting software
Learn more about Build Clean on their website or follow them on Facebook for the latest updates.
Interested in giving Tradify a go?
Start a 14-day free trial (no credit card required). Or jump on one of our weekly live demos to see Tradify in action.
---