Social media has taken the world by storm. There are billions of social media users globally—more than half the world's population—a number which continues to rise. Social media is an authentic way to connect with your customers and is significantly cheaper than more traditional forms of marketing.
Need more help with marketing? Download our free Marketing Plan for Electricians!
Whether you're starting from scratch or your current social accounts need a revamp, we've got you covered. Here's how to use social media to promote your electrical business.
Short on time? Jump ahead:
1. Why use social media to promote your electrical business?
With billions of internet users around the world, using social media to grow your electrical business is a great idea.
Here's how it can help:
Save money

Setting up an account on a social media platform won't cost you a cent. But, if you want an extra boost, you can pay to promote your services further, through ads. It'll cost peanuts compared to traditional marketing methods, and will likely be more effective—allowing you to customise your message to multiple audiences at once.
Highlight your skills

Social media is the perfect place to share recent achievements, impressive projects, or reviews that you're proud of. Add a few of these to your social media platforms, and you'll win new customers in no time.
Make yourself known

Not so long ago, people had to rely on TV ads, pamphlets, and phone books to find an electrician. Now, they're using social media. If your business doesn't have a social media profile, you're missing an opportunity to increase brand awareness and generate new customers. Also, if you're considering expanding operations to a new town or area, connecting with that audience through social media platforms will give you a head start.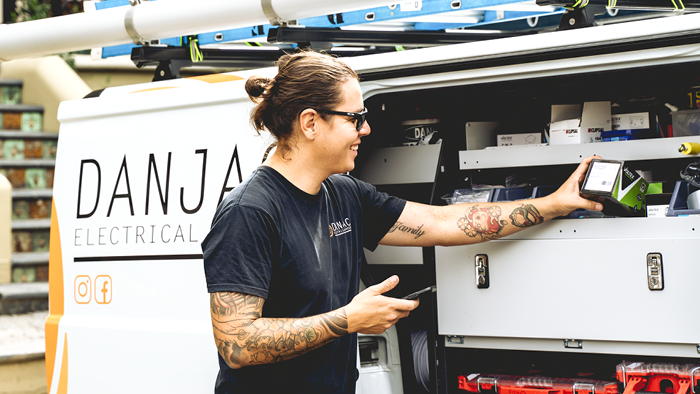 2. Where to get started on social media
If you want your social media to be effective, you need to put as much effort into it as you would other aspects of your business.
Here are our top tips:
Set goals and track your progress

Whether you want to recruit other electricians, grow your following or direct more traffic to your website, you'll have a hard time doing so without a plan in place. Set some goals and periodically check in to see whether you're achieving them. If you're not, troubleshoot some issues or change up your content to see if that helps.
Remember, quality over quantity

The last thing you want is to bombard your customers with content they don't care about. Focus on what really matters to your followers.
Be consistent

If you fall off the face of the social media earth for six months, people are likely to stop reaching out to you. Keep tabs on your accounts, stay relevant, and make sure someone is always available to answer customer enquiries.
Be unique

What sets you apart from all the other electricians out there? The reality is you're up against some tough competition, so find your point of difference and use it to stand out.
3. Putting your social media plan into action
It can be overwhelming trying to nail 10 social platforms at once. Instead, choose the ones that are most relevant to your customers, and focus on making them shine.
For simple how-to guides on getting started with social media platforms, check out these resources:
Here are our go-to platforms for electricians:
YouTube

YouTube has more than 2 billion monthly users and 9 out of 10 consumers reported that they wanted to see more video content from the businesses they engage with. So, how do you do that as an electrician?
Take a look at electricians-turned-YouTube-influencers Dan Seaber-Shinn and Jordan Farley, who both have an impressive following. Use their page as inspiration, brainstorm some ideas, and get the camera rolling!
Facebook

Even with new platforms popping up, Facebook remains the most used social platform across the UK, US, Australia and New Zealand. With nearly 3 billion users worldwide, Facebook is a key tool in marketing your electrical business.
For some inspiration, check out Master Electricians to see how they're using Facebook to grow their electrical business.
Instagram

As an electrician, you work with a wide-ranging customer base; everyone from Gen Z to baby boomers and beyond. Instagram tends to be more popular with younger people and can be a great platform for finding new followers and getting those all-important images seen.
If you want to see Instagram done right, check out our own Instagram page, we've got a few thousand followers ;)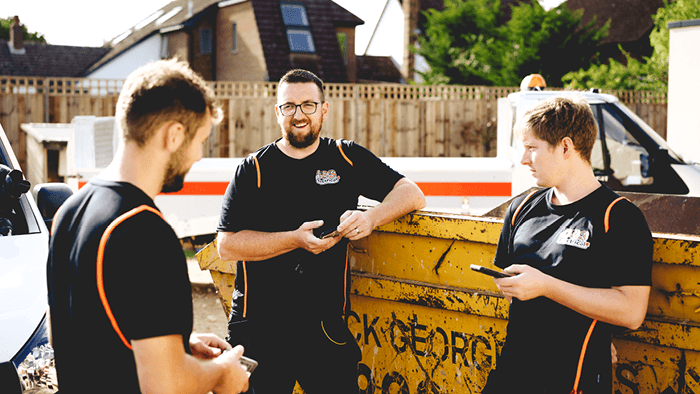 4. Get going – how to use your social media platforms
The key to success with social media is keeping your customers hooked. If you continually post the same content, they'll get bored and stop engaging.
Here's how to get the most from your platforms to ensure that doesn't happen:
Showcase your work

Post photos of your business in action and highlight 5-star reviews from past jobs. Make sure your photography is up to scratch – it'll keep your platforms looking sleek.
Offer expert advice

Show your customers that you really know your stuff, and post info on the latest industry updates.
Give business insights

People will feel more connected to your business if they get a view behind the scenes. Interview employees on what a day in their lives look like or share your recent business achievements and accolades.
Throw in some deals

Everyone loves free stuff. Make a special offer for new clients or a discount code for repeat customers.
Connect with other industry experts

Tag other electrical companies or brands in your social posts or invite someone to do a Q&A with you to share their view on trends in the industry.
Pay for ads

Social media marketing can be more effective and affordable, especially for small businesses. Buy some ad space for a small fee, and watch the enquiries start flooding in.
Use your video content

Video is one of the most engaging forms of media. Using video across all platforms (not just YouTube) is a great way to raise engagement. Videos such as Q&As, vlogs, or educational tricks of the trade will be powerful in scoring more views and new customers.
5. Get your social media engagement rolling
As an electrician, you have the potential to reap rewards and grow your business with an engaging social media presence. So, what are you waiting for? Get going today and start connecting with your online audience.
Social media makes business management easier and so does Tradify. Start your free 14-day trial today.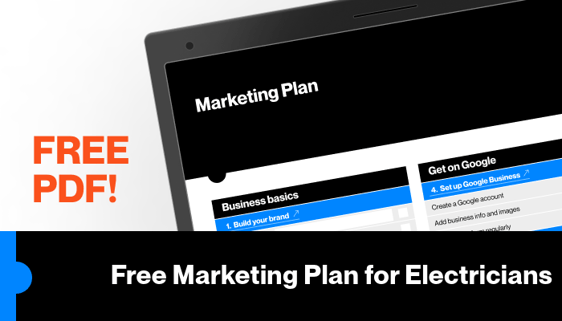 ---