How to get on Instagram and get business rolling in
It might seem like Instagram is only for pictures of people's breakfast or selfies of models, but in reality, it's a fast-growing platform and could be a powerful way to win more work for your trades business. Watch the video below to see how one UK-based electrician uses Instagram to find jobs.
About six out of every ten Instagram users log in at least once a day and spend almost as long on there as they do on Facebook. And there are lots of users. Over 24 million Brits, more than 9 million Australians and nearly 2 million New Zealanders are on the "gram" – fair chunks of each country's population.
With plenty of people drawn to the platform each day, how can you use it effectively to get your business in front of them, generating enquiries and winning work. Here we break down everything you need to know about setting up an Instagram business account and tips to make it an important part of your trade businesses marketing toolkit.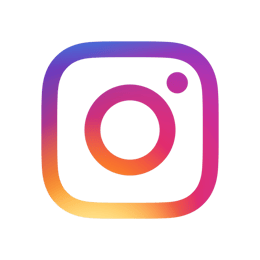 What is Instagram?
Instagram is an app that lets people share photos and videos. Pretty simple, really, so why has Instagram become so popular so fast? It took only 8 weeks to develop, and then, after just two years, Facebook snapped it up for over a billion dollars.
The photo-sharing app is simple and presents imagery beautifully. Filters let users boost the look of their images even further. Unlike Facebook, Instagram accounts are viewable by anyone on the platform unless you choose to make your account private. This openness gives people, businesses and brands more chances of being discovered with every piece of content uploaded

The search and discovery nature of the platform is proving valuable for businesses with Instagram users open to interacting with brands. So much so that:
Ready to get in front of this audience? Follow our how-to guide below:

How to create an Instagram business account
Here's an easy-to-follow guide on how to set up a business account on Instagram. Already on the platform? It has detail on how to switch your Instagram account to business, too. It's important to convert to a business account because it'll unlock all sorts of features – like the Facebook business manager, you'll get numbers on how you're doing and be able to run ads, for example.
When setting up your account, make sure you choose good imagery for your profile – your logo is the most obvious choice here. Check that the size and shape of it work well – remember that Instagram is a visual platform, so what things look like really matters! Double-check you've found a business category that reflects what you do, and then link to your website. Add a brief description of what you do, and your tagline if you have one.
Ok, you're done – now it's time to build your audience.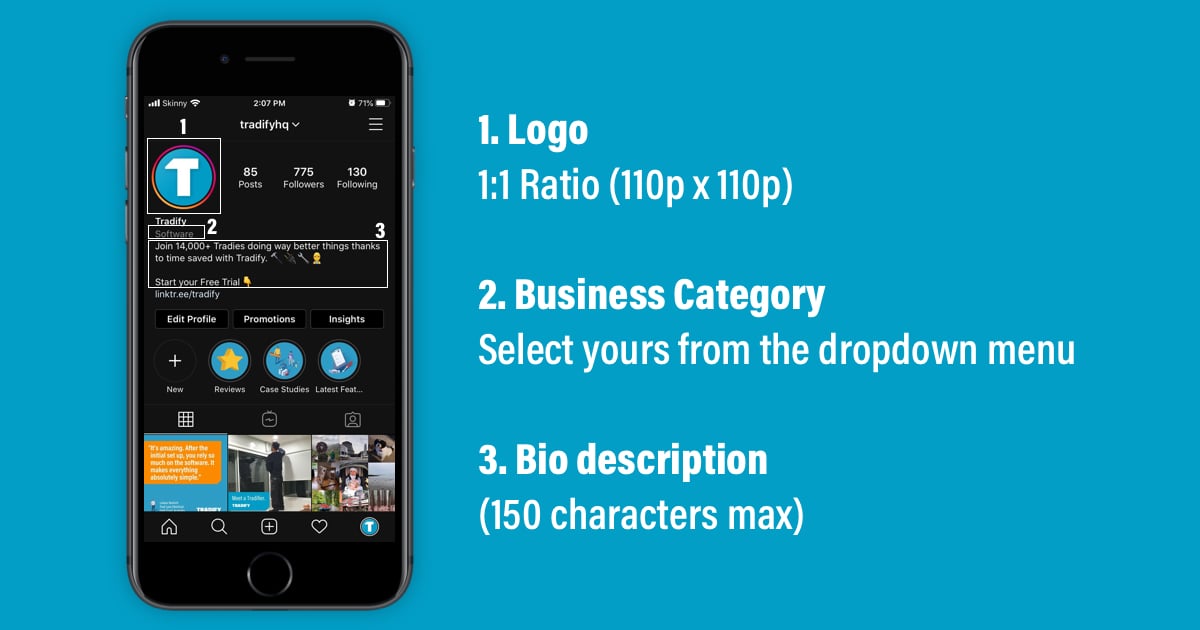 How to make your Instagram business account work for you
1. Build your connections
First, start building your community. Find your friends, supporters and past clients, follow them, then look at the people they follow. The goal is to build a network of the kinds of people who fit your target audience – the people who would most likely hire you. You can gain attention through ads too, but who you follow and who follows you are key pieces of the puzzle! It's important to be an active member of the community – follow other brands, even your competitors, and give your expertise away. The idea is to positively contribute to the world of tradies online.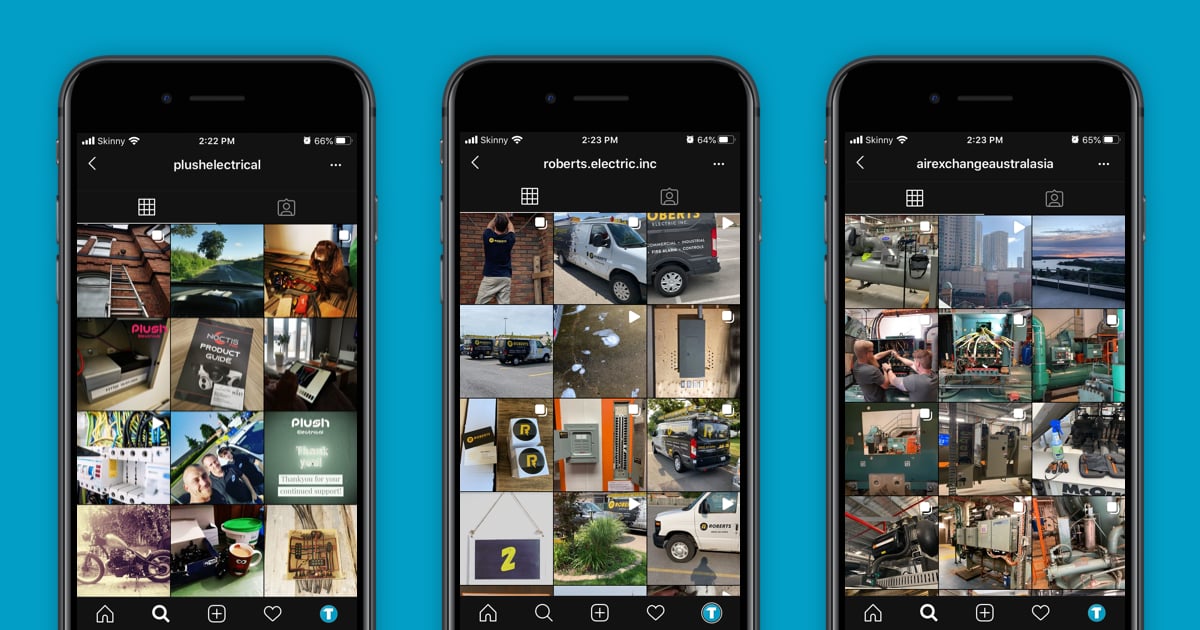 2. Get content-savvy
Instagram is all about beautiful shots with engaging content. You can share your photos and videos – post them in your feed and on your Stories. When you post to your feed, your followers will see those images when they scroll, scroll, scroll down their Instagram. They can also head to your profile and see all the things you've posted. This is the place to post things like project before-and-afters, progress shots, walk-throughs of completed jobs and client reviews. Using free or cheap design software, like Canva, is an easy way to make it all look slick. Square or landscape images work best in your feed.
Click here for tips on how tradies can take great photos.
The Instagram Stories section is like Snapchat – you can share less edited content, as it will disappear after 24 hours. This is the place where you can really get creative by posting videos of funny stuff happening on-site, your thoughts about a certain issue or technique, or quick how-to videos. Remember, when capturing photos and videos for stories, keep your phone in a portrait orientation (straight up and down).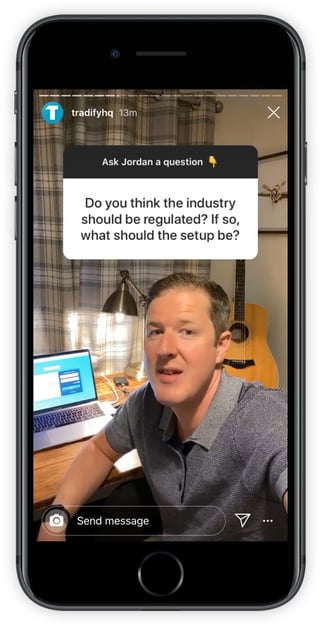 Instagram has lots of fun ways to get people to engage, so it's worth knowing how to use them.
Use stickers in your Stories. These are digital stickers you can overlay onto images. You can add funny gifs, polls, quizzes and a call to "ask me a question."

3. Use all the features
Save your best Stories with the

highlights tab

. If you've answered important questions, given people a great insight into how you work or shared a client testimonial, you can categorise them in highlights and keep adding to them.

Add locations to your photos – this helps you get discovered by people in your area or community.

Use hashtags in your feed, so your images come up in relevant searches. You can use up to

30 hashtags per post

.

You can't add clickable links in Instagram posts, so many brands are using tools like

Link Tree

. These free tools let you house all of your important online properties within one link. For instance, your website, Facebook page, enquiries page, HiPages and NoCowboys profiles.
Consider using
IGTV
. This new feature lets you share much longer videos in your feed. You might like to edit a walk-through of a completed project or share a video about your business, for example.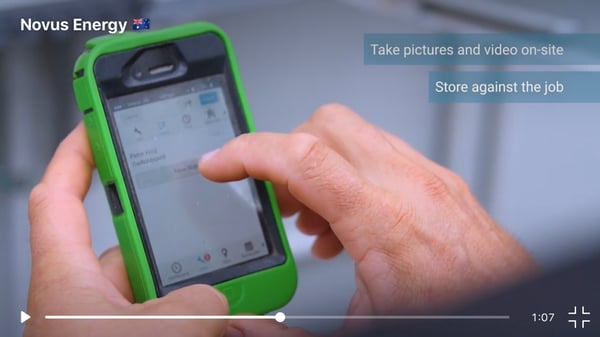 4. Run ads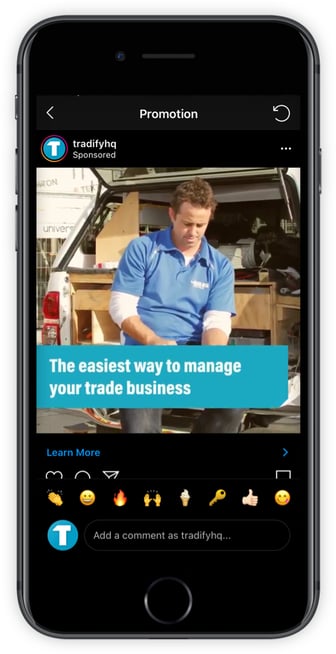 On Instagram, a good ad can spread your net, helping you get in front of potential customers. Because Facebook owns Instagram, you need to run your ads through FB Ads Manager.
As with any ad, think about your objective. For example, are you trying to build brand awareness or are you offering a special deal to increase new enquiries and build your database. Also ensure you are usi
ng the Ads Manager tool to target the right people, in the right place at the right time.
5. Connect up your accounts
Getting your Instagram feed connected to your website is a fast, easy way of getting new, engaging content on your site. This is good for SEO, and can also help draw more people to your account. Similarly, linking up your Instagram with your Facebook account means you can share photos on both platforms at the same time.
Engage and they will come
Instagram's popularity is growing – so it's time to dive in and get the benefits. Don't worry if you don't have followers at first – they will come if you focus on sharing engaging content on a consistent basis. Have fun with it, try different things and see what sticks. Getting involved with the Instagram world of tradies might also open your eyes to new ideas to help grow your business.
Good luck!
To learn more about how to build a no-fail marketing strategy for your trade business, download our marketing toolkit.