Health & Safety Measures for New Zealand Tradies During COVID-19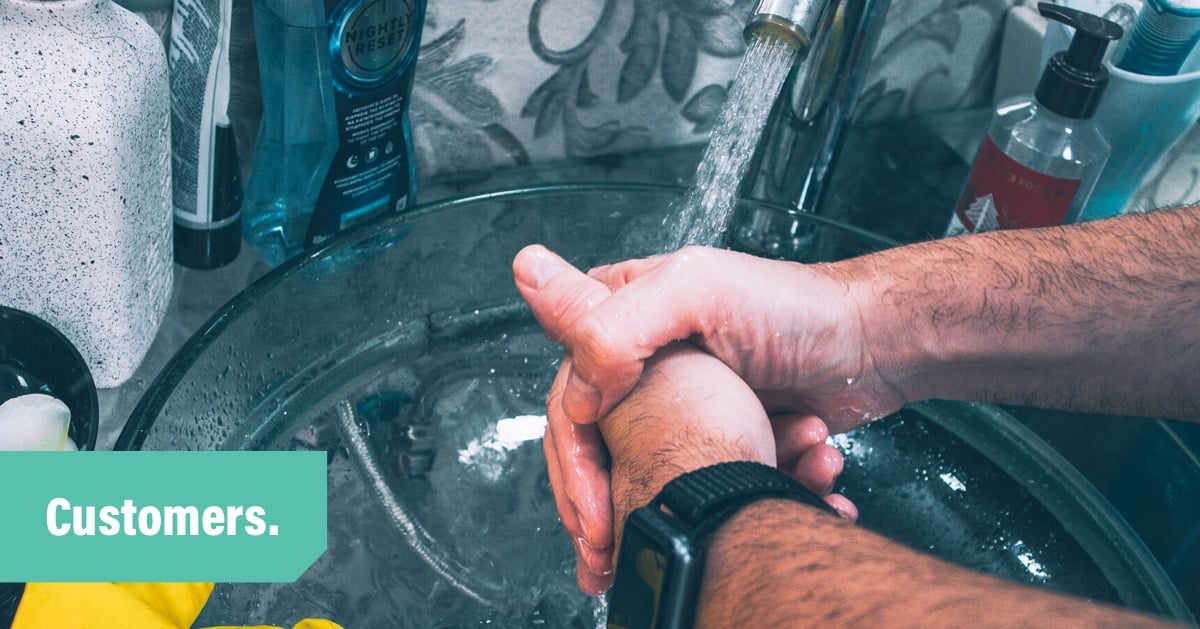 As we wait for confirmation from the government on April 20th that we're moving from level 4 to level 3, many businesses are making preparations now to ensure they can adhere to the strict level 3 health and safety measures required to prevent the spread of COVID-19.
Here's a checklist of things you should be planning to implement (if you haven't already) to further mitigate the risk coronavirus presents to you, your families and your customers.
Health & Safety Checklist
Apply social distancing measures while on-site
A good way to do this is to imagine that you're wearing a sumo wrestler suit (You know the ones you can hire for "dress-up" parties). Your (imaginary) waist has grown 2 metres round so you want to make sure you don't come into physical contact with co-workers or customers. No questions asked.
Apply social distance measures while off-site
Your imaginary sumo suit will need to stay on throughout the day. If you visit suppliers, keep to the 2m distance. When possible, use contactless payments for materials. Avoid handshakes (and hugs).
Practice safe hand hygiene and sneezing etiquette
Carry hand sanitiser with you - keep a bottle in your van. Use it regularly throughout the day. Don't have a hand sanitiser? Regularly wash your hands with soap (for a minimum of 20 seconds). Carry a block of soap with your tools in the event your site facility has run out.
If you cough or sneeze, cover your nose with a tissue or flexed elbow. Dispose of tissues immediately into a lined bin.
Carry Personal Protective Equipment with you (PPE)
Facemasks, eye goggles, and gloves all help reduce the spread of disease. If you're working inside or getting close to other people, use a mask to protect yourself and prevent the spread of disease. You can find recommendations from the WHO on using masks here.
Take scheduling seriously
Once your schedule of jobs ramps back up, we'll still need to reduce human interactions to reduce the spread of the virus. Think about your daily routine and typical interactions with people, how they may need to change and how you can reduce the number of people you have contact with. Here are some ideas :
Can you commute during off-peak hours?
Can your team travel in separate vehicles to jobs?
Can you encourage one person to be on a job site at a time (including customers)?
Can your team have staggered smoko and lunch breaks?
Can you get your materials delivered to jobs rather than going into the store?
Can you order your materials in advance for the week rather than making multiple trips?
Record all information for contact tracing
Effective contact tracing is an important tool to help prevent the spread of coronavirus. When someone becomes infected, they are required to identify their close contacts to reduce the risk of spreading the infection further. Keeping up to date information on you and your teams customers and daily contacts is of utmost importance.
Contact tracing information includes:
Date
Time
Full-name
Address
Phone
Email
Learn more about contact tracing and what your business must be able to do it.
Clean up once the job's done
Once you're finished a job, ensure any surfaces, equipment or tools that may have been touched by others are disinfected. This might mean carrying around cleaning agents and paper towels with you.
Keep your home clean and family safe
You need to maintain your preventative mindset even once your work day is done. Indications from the WHO are that the virus can survive on surfaces. This means you can keep your family and home environment safe by doing the following:
Remove your work clothes before you enter the house.
Keep your tools and work kit outside of the house
Put your work clothes on a hot wash
Wash your hands, again.
Have a hot shower
Enjoy your beer, you earned it 🍻
Use technology and encourage transparency
Even as the alert levels in New Zealand reduce from 4 to 3 to 2 etc, the need to continue to maintain some forms of social distancing will continue. You should plan now to have less "face time" with customers and staff. Start looking at communication technology such as Zoom, Google Meet, WhatsApp & Slack that you can use to help you interact with customers and staff remotely. ToolBox meetings may be a good thing to plan to take online. These meetings can also be used to share any company or government updates around coronavirus.
Staff health and wellness updates will also need to be prioritised. It is important they can share information about physical symptoms, possible contacts with infected people or any other struggles in a judge free zone. Any doubts, tell your team to stay home.
Rotate your workers
If you're going to have more than 1 worker at a job. Ensure they're working in different locations and keeping their social distance (2m) whenever they can. Lunch & smoko breaks should also be undertaken at different times.
Over communicate with your customers
All of the steps above that you are taking individually and as a team should be communicated
to customers and/or any other trade businesses that you may be working with (or about to work with) on the same job or job site. Creating an email template or signature linking to the preventative actions that your business is undertaking is a good place to start.
On the flip side, ensure your customers are transparent with you before heading out to complete a job. You need to know:
Have they travelled recently?
Have they been sick, or shown any symptoms?
Have they been in contact with anyone who has travelled or been sick?
Will they be home, and will they be able to remain a significant distance away from you when work is being completed?
Can they agree to remotely show you the job? Is there any prep you can do prior to heading out to the job to limit your interaction and ensure you can complete the job as quickly as possible once you're onsite.
Check these off when scheduling the job, then double-check the night before. We all need to be doing our part.
Checklist
| | | |
| --- | --- | --- |
| Requirement | On the job | Off the job |
| Social distancing | ✅ | ✅ |
| Hand hygiene & etiquette | ✅ | ✅ |
| Carry & use PPE | ✅ | |
| Record information for contact tracing | ✅ | |
| Clean tools, equipment & site | ✅ | |
| Keep work gear outside the home | | ✅ |
| Adjust your schedule | ✅ | ✅ |
| Use technology | ✅ | ✅ |
| Increase communication with staff | ✅ | ✅ |
| Over-communicate with customers | ✅ | ✅ |
| Contactless payments | ✅ | ✅ |
| Rotate your workers | ✅ | |
| Be aware of symptoms & sickness | ✅ | ✅ |
Have a question or topic you'd like us to cover? Comment below or send us a note at hello@tradifyhq.com.