Far too many trade business owners think July is just another month. 'Keep the wheels turning' you say. 'Any momentum is good momentum' you say. But is it?
Maybe you feel you're constantly hitting a dead end. Or perhaps you can't decide to turn left or right leaving every year to look the same. When you really think about it, you've been stalling true positive progress. If this is you, then perhaps you need to take a different approach.
There is no better time than now, the end/beginning of a financial year, to take stock and review your business and your life so you can set a new direction for the year ahead.
What is it you really want?

To take a holiday and still make money?

Scale?

Or even sell the business?
This is what we call Freedom. To achieve this, we need to follow a specific path… let me show you how:
You might have heard of the saying "don't dwell on the past" but that is exactly what you need to do to see where you are currently at (what we call position A), so you can set a goal for the next 12 months (to reach position B). With this outlined, we can map the path between A and B, and agree on strategy and tactics of what to apply to get you there.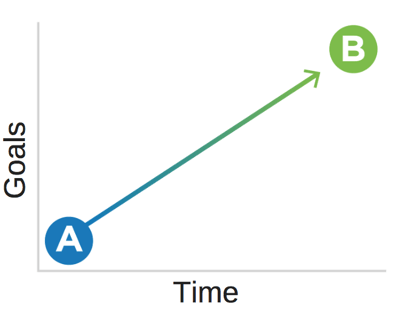 There are 3 steps I want to take you through to help you really grasp this thinking and set yourself up to make serious progress in your business and life over the next 12 months.

Step 1: What does your life look like today?

To get the clearest picture of where you're at, grab a pen and piece of paper and write these answers down. You'll see these questions are broken down into different facets of your life and business.

Financials and other numbers you need to know.
What is your end of year turnover? Profit?

Do you understand your finances well enough to make quick decisions on behalf of the business?

Do you involve your accountant in your financial decision making?

What numbers do you monitor to know you're on track to hit your financial targets – monthly, weekly, daily?

Do you know if you make money on every job? Are you even focused on the right work?
Customers, sales, and marketing
What market segment do you work with? Are they A grade customers (customers that pay on time, you make lots of money off, and bring in other business for you)?

What campaigns are you consistently delivering, both online and offline, to attract a new flow of A grade customers?

What ROI do you gain from these campaigns?

What is the sales process you follow, every time, with your team to ensure you increase average dollar sale on every job?
Your team
What does your team look like?
If you had to fire everyone, would you hire them again tomorrow?

Do you lead from the front? Are you respected?
Your business
What technology do you have within your business? Do you use 100% of its capability?

What systems do you have in place?

What accountability have you instilled and hence training programmes implemented to ensure errors are nil, efficiency is perfect and profit is realised?
Your life outside of the business
What does your life look like? Do you make time for yourself, your family, your friends?

Remember your first love yoga/surfing/4WDing (whatever your thing) – do you still make time for that in your life?

Are you creating memories? Ticking things off your 'bucket list'? Doing things to make you smile?
Reflect on EVERY part of your business, what we refer to as the core principles of business to get the business model right - Platform. Money, Marketing and People. Do this for your life. You get the drift.

Step 2: What do you want your life to look like in 12 months time?

Imagine we're sitting here exactly 12 months from today and talking about your business and your life.
Review the questions above, and answer as though we are 12 months in the future. Write your answers down to the questions.
Step 3: What do you need to do to get there?
Now you need to ask yourself what you (and your loved ones) need to change in order to get there. You'll no doubt need to make some wholesale changes in the way your business runs. This change starts with answering a few more questions:

Why aren't you already at step B? What needs to change?

What is holding you back?
What is stuck and needs fixing?
Where do you need help?
Is it you? Is it your knowledge? It is your focus and direction?
Owning a business can sometimes feel like navigating a maze. You're trying to navigate the twists and turns in order to reach the middle (Freedom) but keep encountering dead-ends.
By taking stock of where we are today (position A) and where we want to be in 12 months (position B), we can work out the gap and hence design the path to get us there - i.e. a business plan. This will provide you with clarity, direction, and focus. Plus, inaction from not knowing where to go will be replaced with positive and decisive action. And deflation at never believing you'll get to the middle will be replaced with certainty.
So, let me ask you this:
How are you tracking to make serious progress, working on the right things, for this financial year?
If you're standing at the entry of the maze right now, what do you need to do to reach the middle of the maze within the next 12 months?
There is no better time than NOW to get started.
Angela Smith Co-founder Lifestyle Tradie Group Pty Ltd.
Passionate about helping trade business owners achieve business and lifestyle success, Lifestyle Tradie founders Angela and Andy Smith have spent the last 9 years mentoring trade business owners Australia-wide. They themselves are the owners and operators of an award-winning plumbing business in Sydney!

Interested in learning how to stop 'turning the wheels' in your trade business? And more about what, exactly, you need to do to succeed this financial year? Come check out 'The Next Level Tradie', a live event designed specifically for trade business owners where we discuss EXACTLY the four key principles of business and how they apply to you. We're coming to Brisbane, Melbourne, Sydney, Perth, and Adelaide in August…