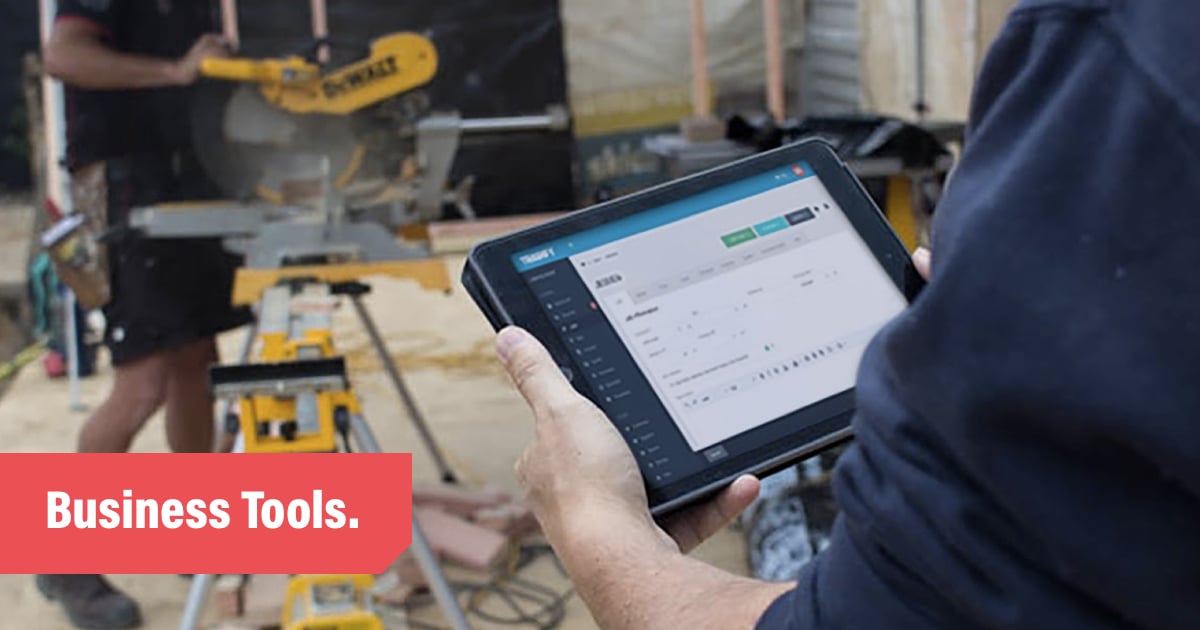 Start the new financial year on the right foot
Most business owners regard the end of one financial year and the beginning of a new one as a hassle. If you're a tradie who struggles with your admin, it might even be a time of year you dread. All those invoices you've been putting off chasing or that box of receipts that needs sorting – that looming deadline of EOFY says it's time to stop procrastinating and get your books in order.
But EOFY isn't all doom and gloom. Founder of Elevate Accounting Co. Ryan Addinsall makes a good point: it's first and foremost "a line in the sand for when certain things are due" but, among all the numbers and late-night reconciling, trades businesses often forget the positives of EOFY. Think of it as a New Year for the business world – it's the best time of year to push reset, make new goals or resolutions, and analyse business performance. It's also the perfect time to look at ways to improve the efficiency of your trades business.
It's a great time to invest in new tech solutions
If you're sitting on the fence about trying job management software or switching accounting systems, EOFY is "a great time to do things like change or implement new systems," says Ryan. You can do it anytime, but making the switch at the beginning of a new financial year usually makes it easier for everyone involved, says Ryan. That means less hassle for you and everyone else on your team.
For example, if you change accounting systems half-way through a financial year, you and your accountant will need to go back and redo work that you've already done.
"It's better to finish everything off for EOFY, and then move forward for a whole year with a clean system," he explains.
It also saves your staff having to run multiple systems at the same time – which is both inefficient and can lead to human error.
Ryan's tech recommendations
The team at Elevate Accounting Co. works exclusively with trades businesses. They have a deep understanding of the industry – and the accounting support tradies need to increase cash flow, keep books updated, minimise taxes and grow their businesses.
Ryan has seen first-hand how much simpler life can be when trades businesses invest in good tech solutions. It's just like purchasing a new tool – it helps your business run better so you can concentrate on doing the work you enjoy.
If you're in the market for job management software, Ryan says it doesn't get much better than Tradify – and here's why:
Cloud-based. A necessity for tradies on the go, says Ryan. You can run your business from any device while you're on the job, which means you don't have to leave all your admin until the end of the day, or nights and weekends.
Increases efficiency. As an accountant, Ryan says it's really hard to give trades businesses advice if their books aren't up to date. "Even if there's good advice to give, it's going to be hypothetical because we don't know exactly how it's going to affect their situation." Tradify helps his clients keep track of their jobs from start to finish, and everything in between, so when it's time to make big business decisions, Ryan has all the information he needs.
User-friendly and modern. "I actually find it's a more attractive way for younger tradies or apprentices to interact with the business – rather than phone calls, bits of paper and spreadsheets," says Ryan.


Xero integration.

There are so many benefits to a seamless integration between

Xero and Tradify

, Ryan says.

"There's more data, it's accurate, and it allows your advisors to give you better, more timely advice because there's transparency and oversight of what's actually happening in your business."
Moving into a new financial year
There isn't really a wrong time of year to implement new tech solutions that will benefit your business, but why not do it when your trades business could reap even more rewards? Plus - isn't the idea of a simplified process next EOFY enough reason in itself? The biggest advantage is you'll move into the new financial year with a streamlined operation – your business will start the new financial year with your admin sorted, you'll have a better handle on our business all year round and more time to do the things you love - we're assuming business admin is not on that list!
Ready to see how Tradify can make life easier for Australian tradies? Try a 14-day trial of Tradify for free.