We've seen builders go head to head against sparkies, and plumbers step up to take on electricians. Now, it's time to put builders and plumbers in the ring, and see which trade comes out on top.
Game on!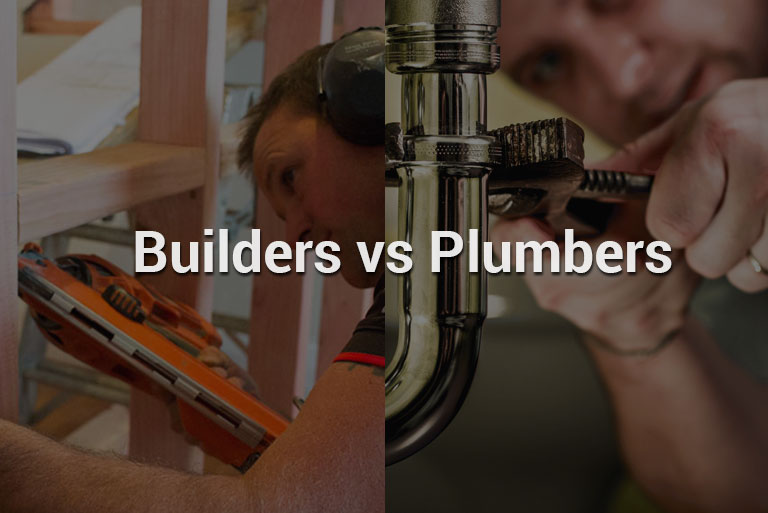 The pay
We harp on and on about the 'rich list' and for good reason. It offered fantastic insight into the state of tradie pay checks, and confirmed that a career as a skilled labourer is definitely a lucrative occupation.
As far as the winner in this department goes, plumbers take the crown. Perth plumbers, to be more specific. According to recent studies Plumbers in the West Australian capital are the highest paid tradies Down Under, despite the mining slump bringing shrinking wages, falling house prices and fewer jobs. I can hear our friendly plumbers in the UK packing their bags as we speak.
They charge an average of $87.67 per hour, though New South Wales builders aren't far behind with an hourly fee of $77.85.
The verdict - PLUMBERS
The sex appeal
Sorry plumbers, but the 'plumber's crack' is just too notorious to shun. However, there is one Plumber in New Zealand trying his hardest to reset perceptions by dating a recent Bachelor runner up! If that sounds hard to believe, click here for proof.
Despite his efforts there's still the whole sewerage thing to factor in… Definitely not hot. Builders, you take this one out!
The verdict - BUILDERS
The 'handyman' factor
Builders might be good with their hands, but when it comes to being handy around the house, plumbers bring a little more value to the table.
First of all, callout rates for Plumbers are the highest out of all the trades which means that if you're shacked up with a plumber, you'll save a pretty penny when your pipes go to sh**.
Plus, a quick fix on a blocked toilet is way more appealing than rehanging a self closing door…
The verdict - PLUMBERS
The job prospects
Both the Australian and New Zealand government's have their sights set on an affordable housing boom, which means big opportunities for builders. Designed to help the young ones enter the housing market, the movement will see new build projects pop-up across the country.
While they will all need to be hooked up with plumbing, builders will benefit the most from a national construction frenzy. This is backed by demographic experts predicting a population boom that will push up demand for housing, and throw even more work in the direction of qualified builders.
The verdict - BUILDERS
Sense of humour
True blue Aussie comedy gold, Shane Jacobson's 'Kenny' was a mockumentary for the ages. Described by the film's director as the 'Dalai-Lama' of waste management, Kenny Smyth is a gem of an employee for a Melbourne based portable toilet rental company. If you've not had the pleasure, click here for a quick 2 minute intro to Kenny.
No builder documentary even comes close (or exists for that matter) so plumbers win this round through and through!
The verdict – PLUMBERS
With a narrow 3 to 2 majority our well paid handy funny plumbers emerge as the top tradie dogs in this round! Well done ladies and gents.