Throughout history, plumbers have been essential to society. Even throughout recessions and pandemics, having satisfactory plumbing is essential – it's what keeps our waterways clear and our homes and communities clean.
It makes sense, then, that plumbing is a sturdy career path. Not only does it offer work security everywhere in the world, but there's also a global shortage of qualified plumbers. That means it's a great time to jump on board, grow your skillset and potentially, start your own plumbing business.
But before we get ahead, let's go back to the basics. To be a good plumber, you'll need the same attributes that all successful tradespeople have – a strong work ethic, good communication skills and a high level of motivation.
But that's not all. Here's what you need to know about becoming a really good plumber.
Jump ahead:
Keen to hear from a successful plumbing business owner? Check out episode #012 of our Behind the Tools podcast. Join Peter Booth from PB Plumber and our host Michael as they talk about his approach to apprenticing, tool theft, and men's mental health.

1. Getting started
A plumbing career comes with good work security and a healthy salary. Job opportunities are increasing by the day, with attractive salaries to match. The average annual salary for a plumber is:
🇺🇸 $28 p/h in the USA.
🇬🇧 £15,000 a year and upwards of £40,000 in the UK.
🇦🇺 $70,000 in Australia.
🇳🇿 $20-$41 per hour in New Zealand.
Learn more about average salaries in the trades.
In many countries, it's common for plumbers to move into running their own plumbing business – which could earn you a lot more.
Here's what you need to know about getting qualified in each country:
🇺🇸 Plumber training in the USA
Depending on your state, you'll probably need to be 18 years old to start an apprenticeship. Make sure you work hard at school to gain your high school diploma. As well as math and English, physics and other sciences are ideal subjects to focus on to support your future in the trades. You can find available apprenticeships via the Federal Government's Apprenticeship Job Finder.
🇬🇧
Becoming a good plumber in the UK
The most common and secure way to become a plumber in the UK is to do a college course or apprenticeship. In some cases, you could apply for a job directly, but qualifying will put you a big step ahead. Whichever way you go, you'll need to begin with some GSCEs.
🇦🇺
Becoming a good plumber in Australia
To be a plumber in Australia, you need to finish a four-year apprenticeship while being employed in an apprenticeship arrangement. When you complete this, you'll receive a Certificate III in Plumbing (CPC32413).
🇳🇿
Becoming a good plumber in New Zealand
You'll need to complete an apprenticeship and gain a New Zealand Certificate (Level 4) in plumbing to become a qualified plumber. Having your driver's license is also helpful.
Getting some experience or a qualification under your belt is the first step in the right direction, but what else does it take to be a good plumber?
2. Prioritise customer service
It doesn't matter how good you are at your job – if you can't connect with your customers, you aren't going to win more work. A friendly smile and positive attitude go a long way with clients and also help build your reputation. Plus, being available to discuss any concerns with your customer shows you care about the job – and aren't planning on cutting any corners.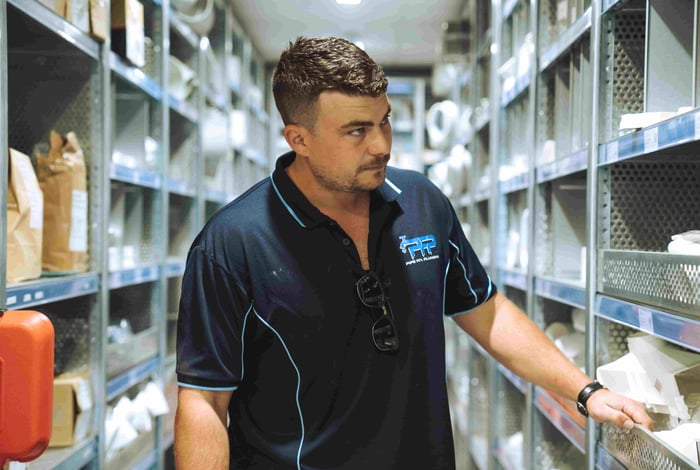 3. Keep sharpening your math skills
A lot of your job as a plumber will involve measuring and cutting shapes and pipes. That's going to be a whole lot easier if you're quick with numbers and calculations, and have sharp problem-solving skills.
4. Get tech-savvy
It's the way of the world – technology runs our lives. And if you aren't up to speed, your job is going to suffer. Being familiar with tech will enable you to use systems like Tradify, which will ultimately help run your trade business better. There are also handy apps for plumbers which can help make the daily grind easier. Get comfortable using technology and watch your career grow.
5. Keep your online profile updated
If you run a trade business, you must pay attention to your online presence. These days, finding a local product or service only requires a quick search for your Facebook or Instagram profile or website. Make sure all your digital channels are up to date – that way, when prospective clients find you, they can get in touch straight away.
6. Keep up to speed
As a plumber, you'll be analysing drawings regularly. Understanding how to interpret instructions, plans, and designs correctly will keep you in the know. Look into local courses or chat to a draughtsman to get a quick 101.
7. Manage your time
Impeccable time management skills are important in any job. For plumbers, they're even more important – especially in plumbing emergencies. If you're a no-show, you're not going to build a very good rep.
8. Practice patience
In a job that comes with a lot of problem-solving, you'll need the patience to match. Sometimes things don't always go to plan – but calmness helps you get the job done accurately and to a high standard.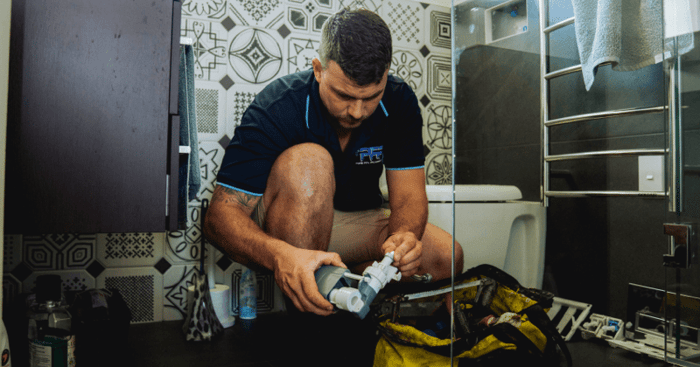 9. Remember health and safety
It's a sad truth – tradespeople have more accidents and injuries than most other professions. You're exposed to health and safety risks daily – and if you're not clued up on how to prevent or manage them, you could find yourself in a very serious situation.
Protect yourself, your colleagues and your customers by making sure you're up to date on your health and safety obligations and policies in the workplace.
10. Adapt to the conditions
Some days, you might not have the most glamorous of working environments. You'll work inside and out – rain, hail or shine – and sometimes in conditions that are dirty, messy, confined or smelly. You'll need to get stuck in and deal with whatever situation is thrown your way – blocked toilets and all.
11. Tick all the boxes
Too many tradespeople admit to making this same mistake. Whether you're the new kid on the block or have been in the game for several decades, it's easy to get bogged down (pun intended!) by the everyday grind, and accidentally miss your outgoings.
An extra hour of work or forgetting to charge for additional supplies might seem minor if they're one-offs, but do that all the time and you can say goodbye to a big chunk of your paycheque. Using job management software makes it easy to input extra hours and materials while on the go, so you never forget to invoice for them.
As with any job, not everyone is cut out to be a plumber. It requires a lot of hard work and motivation – and a positive outlook when things seem to be going down the drain. But to score real success as a plumber, you'll also need to be personable and friendly, clued up on health and safety, and have a handle on new tech. Above all, you need sturdy job-management software to help free your time and keep tabs on your pennies, so you can focus on what's most important – building your reputation and growing your business.
Good plumbers give Tradify a go! Sign up for a free 14-day trial, or jump into one of our weekly live walkthroughs.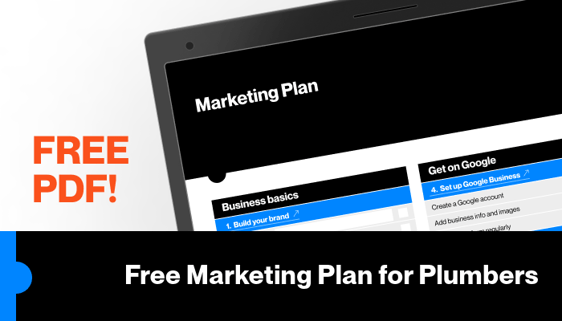 ---