Running a busy construction or carpentry business can be hard at times. Between being on site and dealing with office work, there isn't always a lot of time for other things in life. But, with a good website, you might just find the load becomes a little lighter. A website can take a lot off your plate by automating some simple stuff like fielding enquiries and providing information to those who want it.
If creating a website from scratch sounds like a pain, it doesn't have to be. With Tradify's Instant Website, it couldn't be simpler to get yourself online. Follow our eleven website-building steps and you'll be reaping the rewards of the internet in no time.
Follow our step-by-step guide to getting started:
Short on time? Skip ahead!
1. Choose a website builder
Nowadays, there are lots of good website builders available that are low cost, easily customised and simple to use. Building a website for your carpentry business doesn't have to take a lot of time or money.
For a carpentry business, you can't go past Tradify's Instant Website. The platform turns your business information into a well-designed construction website template that will integrate with our job management software to further streamline your day-to-day admin.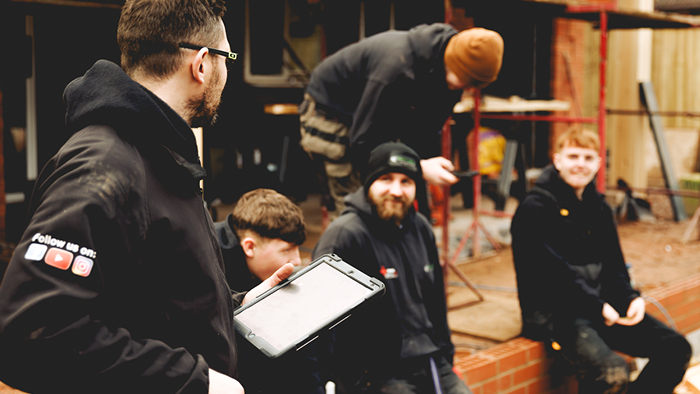 2. Get the ball rolling
The perfect carpentry website template
A good carpentry website template should be easy to navigate, flowing from one page to another simply. Tradify's Instant Website has templates designed specifically for trade business owners, so all you need to do is customise it to your business by adding your own business name, photos, info, and testimonials.
Add quality photos of your carpentry work
Take advantage of your website's blank spaces to showcase your best work. Featuring well-taken photos of past projects will show your customers how good you are and make your website stand out from the competition. With Tradify's Instant Website, uploading photos is easy – just pick an image that fits one of our pre-formatted layouts.
3. Buy your domain name
Before your website goes live, you'll need to buy a website address or URL. This is your domain name and it's how people will find you online. Here are some tips for finding the perfect domain name:
Keep it short, memorable, and to the point. Ideally, you want your domain name to match your business name, so customers can find you easily.
If your business name is taken, try adding your location. For example, if your business was called 'good carpentry' you'd want the domain to look like this: www.goodcarpentry.co.uk or www.goodcarpentryuk.com.
Register your domain name on a domain hosting server. If you don't want to pay for a domain, Tradify can host you on theirs for free with Instant Website!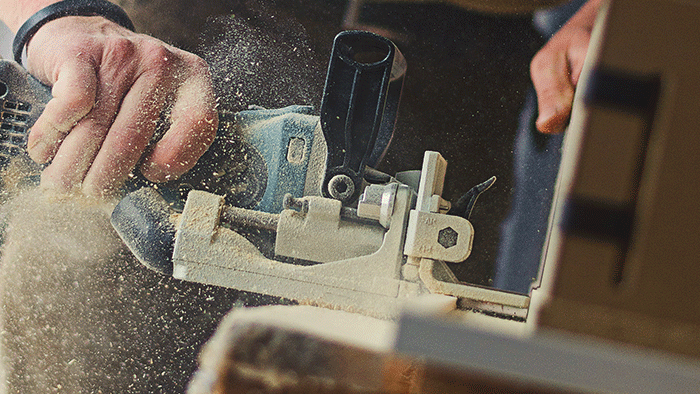 4. Build a standout logo
Have you got a logo for your carpentry business yet? A good logo will help customers identify your business after visiting your website. Creating a unique logo won't take you long. You can either:
Create one yourself with a free online service like Canva.
5. Write simple, effective information
Think of your construction website as an online brochure for your business. It should provide information on your services, location, FAQs, and contact information, so people know how to get quotes or estimates. This all needs to be clear and concise — finished off with a touch of your personality. Writing out this information will save you a ton of time in the future. With a website to direct enquiries, you'll spend less time on the phone and more time on the tools.
6. Search engine optimisation
Search engine optimisation (SEO) means getting to the top of an online search result when someone in your area looks for a builder or carpenter. To optimise your website for search engines, you can take a few easy steps:
Add reviews & testimonials from previous clients.
Think of keywords that potential customers would use to search for carpenters and include them in your website.
Link to your social media accounts or other pages on your website.
Appearing at the top of online search results will not only make your business easier to find, but give off the impression that your business is the biggest and best out there.
7. Register with Google Business
Google Business has become the go-to for people seeking local business information. You've likely already used it yourself when looking for contact info or reviews on a particular company. Adding your information to Google Business helps its users find you and see important business info at a glance.
To register your business with Google, follow our guide.
8. Make it mobile-friendly
Most customers will be using their phones to view your carpentry website, and there's nothing worse than a website that doesn't fit a smaller screen. This usually means it hasn't been formatted to fit all devices. You can easily avoid that with Tradify's Instant Website, which is mobile-responsive by default.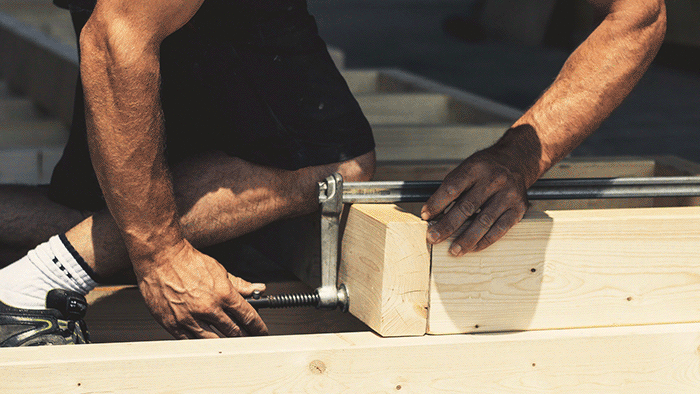 9. Manage new enquiries
One of the best parts about Tradify's Instant Website is that it seamlessly connects to job management software, making it super-easy to manage your business from one place. For example, Tradify will pull enquiries from your carpentry website and send out automatic responses, so even if you're busy on a job, you'll never miss an opportunity to pick up more work.
To learn more about how an integrated website and job management system can help streamline your carpentry business, check out how Tradify's Enquiries feature reduces admin.
10. Testimonials build trust
A carpentry website is a perfect place to showcase your work and nothing builds trust like great customer testimonials. Tradify's Instant Website has a dedicated section for reviews and testimonials, where you can shine a light on happy customer experiences that make you proud.
11. Nail your construction/carpentry website
With Tradify's Instant Website, there's no reason to put off building an online presence for your carpentry and construction business. With a few easy clicks, you'll be on your way to growing awareness, saving time, and winning more work. The best part is that, once it's done, your website will act as an ongoing marketing tool, allowing customers to find and learn more about your services when they need them.

Ready to give Tradify a go? Sign up for a 14-day free trial. No commitments. No pressure. Or, watch one of our live demo webinars to see the trade business management app in action.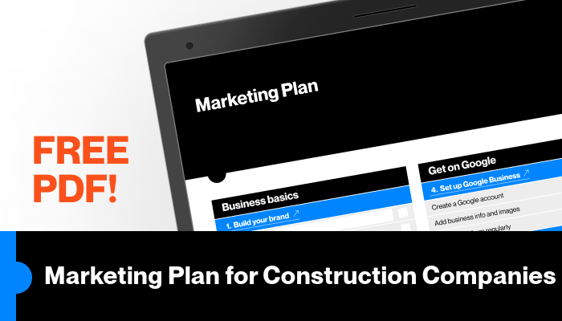 ---