Social media platforms have transformed from places to upload snaps of gram-worthy brunches to essential marketing tools for businesses. With just under 80% of the population using social media in the UK alone, it's little wonder social marketing has become a valuable (and mostly free) tool for getting in front of potential customers. But when your daily reality is all hard hats and hammers, coming up with inspiring content is probably the last thing on your mind.
Need more help with marketing? Download our free Marketing Plan for Construction Businesses!
Below we take a look at how your building or construction business can embrace social media.
Short on time? Jump ahead:
1. How can social media help my construction business?
Building trust and awareness are the two biggest ways social media can help your trade business grow. With 81% of consumers doing their research online first, having a strong online presence is the best way to make sure you're not losing to competitors.
Here's where social media fits in: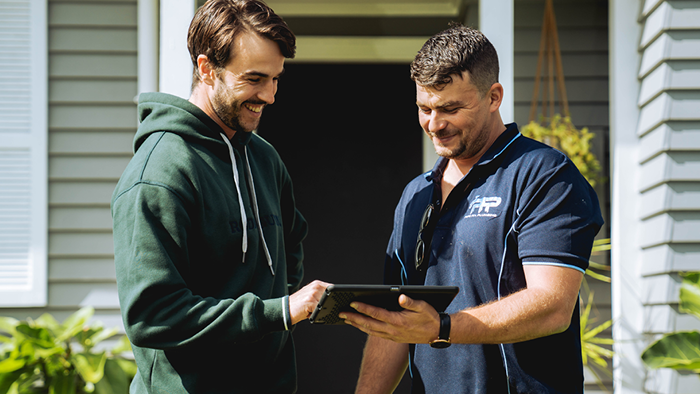 2. Which platform is best for builders?
Social media is constantly evolving and keeping up with new platforms can be a full-time job. Picking one or two, and doing them well, is better than spreading yourself thin across multiple platforms.
To get you started, check out these how-to guides:
Here's a rundown of the top three social platforms for the building and construction industries:
Facebook
With over 2.8 billion monthly active users worldwide, Facebook is a social media giant great for generating general awareness. If you don't already have a Facebook page for your business – you should.
You only need to look at businesses like Lennar – which has a whopping 1.2 million followers! – to see what can be achieved.
YouTube
With almost 80% of internet users having a YouTube account, and over a billion hours of video viewed every day, plenty of us turn to YouTube to be informed and entertained. Numerous tradespeople have experienced the benefits of creating a YouTube channel to showcase their work, provide behind the scenes footage and drive new business.
Want to see what the pros are up to? Check out this interview with electrician Nick Bundy who has over 50K subscribers on YouTube.
Instagram
Coming in fourth in worldwide user rankings (behind the messaging platform WhatsApp), Instagram is a visually-focussed platform that's perfect for sharing compelling images like before-and-afters and jaw-dropping transformations.
Hear how Insta-famous electrician Grant Speller uses the platform to win more work.
3. Setting yourself up for social success
Just like building a house, you'll want to start with a plan, be consistent with your work and execute it to a high quality.
Here's how to get started on socials:
Planning
Make sure you start with SMART (Specific, Measurable, Achievable, Relevant and Timely) goals in mind for your social media activity. For example, "Increase your followers by 100 by the end of the year".
Setting goals is the first step on the path to achieving them.
Consistency
Posting consistently and responding to comments builds familiarity and trust. Abandoned and unloved social media accounts won't do anything positive for your business, so you'll need to commit to consistency.
For Instagram, industry experts recommend posting new content three to seven times a week, daily for Facebook and weekly for YouTube.
Quality
Posting for posting's sake won't do you any favours, so it's important to focus on quality over quantity. If you're putting your efforts into Instagram, quality images can make all the difference. Check out our guide for shooting images like a pro.
Be you
Let's face it, competitors are everywhere, so injecting your unique personality into your social media presence will make you stand out from the crowd.
Monitor it
Posting on social media is only part of the job. Keeping an eye on what's working (in relation to your goals) will help you continually shape and modify your content to make it work harder and more effectively.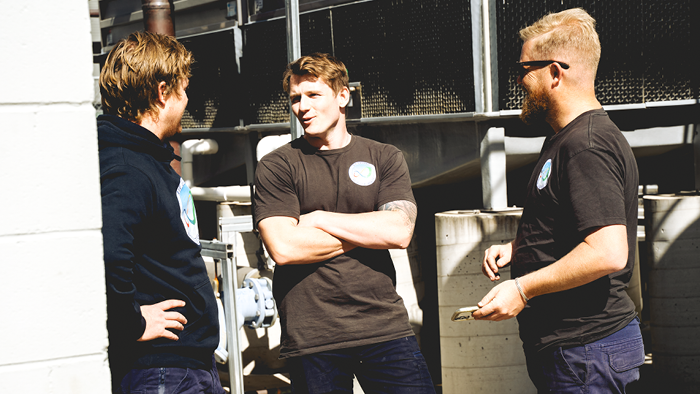 4. What do I post on social media?
It's easy to stick to a couple of types of posts while you get a handle on things, but your followers can get weary of the same old content. Fresh posts will keep your audience engaged and are more likely to grow your follower base and ultimately, leads.
Here are some trade-specific content ideas to help you get started:
Before, during, and after
People love an inspiring transformation, so showcasing before, during and after a project to deliver the wow factor will be easy and engaging content.
Employee spotlights
Give your business a personal edge with insights into the people behind the tools (or the accounts). Think of it as a good old-fashioned employee-of-the-month piece.
Customer reviews and testimonials
Reviews and testimonials are powerful builders of trust amongst potential clients and are great content. Here are some tips on getting 5-star reviews every day.
Industry articles
Keep your finger on the pulse of industry new or trends and share relevant snippets with your followers. This will position you as a thought leader who's interested in the future of your industry. Check out these resources to get you started:

Video content
Videos posted on social media generate 1200% more shares than text and image content combined. Things like how-to videos, tricks of the trade, a time-lapse day-in-the-life or answering common questions will show your followers that you know your stuff – and make your content even more personalised.
Videos can be repurposed for different platforms, killing two (or more) birds with one stone. Don't forget to incorporate video content when building your website too.
Awards and accolades
It sounds obvious, but social media platforms are perfect for making a song and dance about any industry accolades you receive. Once again, this will position you as a leader in the industry and build trust.
Contests
Contests on social media are some of the most common ways to net new followers. Whether you're giving away branded merchandise or some hours of free labour, encourage followers to like, comment and share your post for the chance to win. Just make sure you're sticking to the rules.
5. Get social and reap the rewards
Getting started is often the hardest part of launching your social media presence, but with a little forethought and planning it shouldn't take up much of your time. View it as a fun way to have a humble brag about the work you do or an online resume of projects you've completed.
Provided you keep at it and maintain some consistency with your posting, followers will follow – and so will the leads. So come on, get social and reap the rewards!
You'll want to capture any enquiries that come through your social media channels. That's where Tradify can help. Start your free 14-day trial today.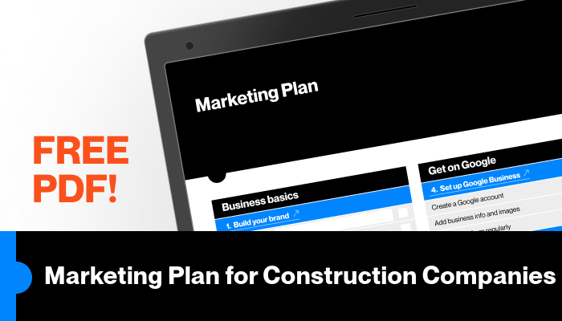 ---