Aside from your power tools, a website will be your strongest asset when it comes to growing your electrical business. It's where customers go to find out more about you and your services, and most importantly, it's probably how they'll contact you.
Nowadays, there's no need to hardwire your website from scratch. With Tradify's Instant Website, it couldn't be simpler to get yourself online. Follow our ten website-building steps and you'll be reaping the rewards of the internet in no time.
1. Get set up on Tradify's Instant Website
Gone are the days when building a website took months of writing code. Instead, website-building platforms offer a fast and simple way to create a professional website in just a few clicks. For an electrical business, you can't go past Tradify's Instant Website. Not only is it specifically tailored to trade business owners, but it also connects to your Tradify account, enabling you to manage your whole business from one place.
2. Bring your vision to life
Website templates for electricians
Tradify's Instant Website is designed especially for trade businesses, with pre-designed templates that have everything your electrician website will need. All you have to do is personalise it by adding unique icons/logos, five-star testimonials, and good photography.
Showcase your best work
Even though a newly-minted switchboard is a beautiful thing, prospective customers visiting your website want to see who you are and the type of services you provide. Great photography will make a big impact and is the best way to showcase your work and put a face to the name.
To get started, check out our guide to taking good work photos.
Get help and support
Tradify's Instant Website provides on-site tutorials and a help page to walk you through anything you may get stuck on.
3. Purchase your domain name
A domain name is your website's official address on the internet. In other words, it's what your customers will type into the search bar when they need to find you.
If your business name is 'Voltage Masters', ideally you want your domain name to match. For example, 'www.voltagemasters.com'.
If your first choice has been taken, try adding an abbreviation like your location. For example, voltagemastersuk.com or voltagemasters.co.uk.
Once you've purchased a domain name, you'll own the domain for a certain period (you'll probably need to renew it annually) and you'll need to register it with a domain hosting service. If you don't have a custom domain, we can host your Instant Website on our subdomain for free.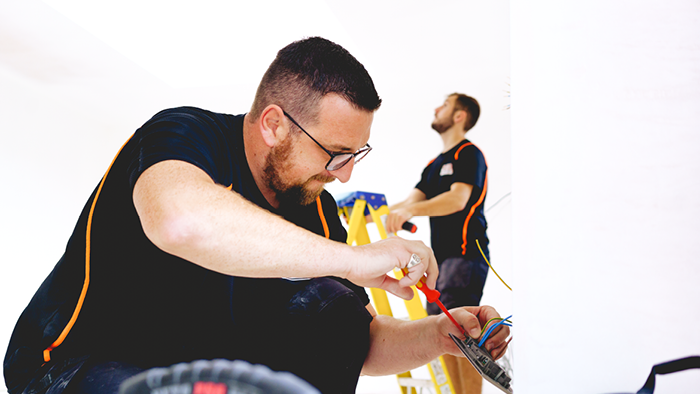 4. Create a sparky logo
Your website will need a unique logo so customers can recognise your business online and offline. If you don't already have one, you can either:
Ask a local designer to whip one up
Buy a customised logo online and get it emailed to you instantly with

Canva

.
Once you have a killer logo, Tradify makes it super-easy to add it to your Instant Website.
5. Craft high-voltage copy
You want your copy to be short, sharp and electric. It needs to resonate with your target audience and tell them what they need to know – quickly. Start by listing what you do (your services), your most frequently asked questions and why you started your electrical business. Then condense it as much as possible into short, easy-to-read sentences.
6. Aim to be top of Google's list
When people search online for electricians in their area, the most established businesses will usually pop up first. You can jump up this list by optimising your website for search engines.
An easy way to do this is by adding links to the following:
Social media pages
People you work with such as partners or suppliers
Need help setting up a Facebook or Instagram page for your electrical business? Check out our article exploring social media ideas for electricians.
7. Reap the benefits of Google Business
As well as optimising your website to rank higher on the search list, you also want to register your business with Google Business. It's an easy way to share information about your business to prospective customers, like location and opening hours, and it helps them compare your Google ratings with your competitors.
To get your electrical business listed is simple. Follow our guide on how to set up Google Business for trade businesses.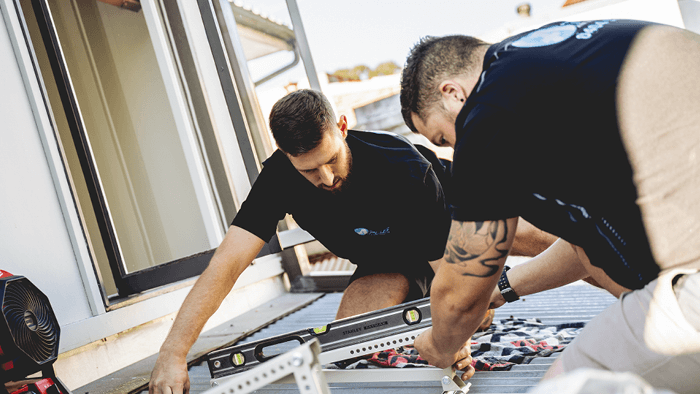 8. Look great on a smartphone
Ever tried looking up a website on your phone and the font's too small or the formatting is all over the place? With more and more people using their phones rather than computers, it's really important to make your website look great on any device. Luckily, with Tradify's Instant Website, your website will be mobile-responsive by default.
9. New enquiries linked to Tradify
Tradify's Instant Website has the bonus of pulling job enquiries straight from your website into your Tradify management software. It will also save you time by sending out automated email responses, so no opportunity is missed.
Read our blog to learn how an 'Enquiries' feature on your website will streamline your admin, so you can focus on the important stuff.
10. The power of reviews
With Tradify's Instant Website, you have the option of adding a 'reviews and testimonials' section, so your customers can read more about your work and customer service.
Sharing reviews and testimonials is the best way to attract new customers. Check out our blog on how to get good reviews for your business and you'll be away laughing.
Long-lasting marketing that conserves energy
A good website allows your customers to find your services around the clock and get in contact when they need you. It builds a higher level of professionalism and trust in your brand, and demand for your services. The best part is that making a website is easier than ever with Tradify's Instant Website.
Inspired to build your own electrician website? Sign up for a 14-day free trial of Tradify or pop over to one of our live demo webinars to see the trade business management app in action.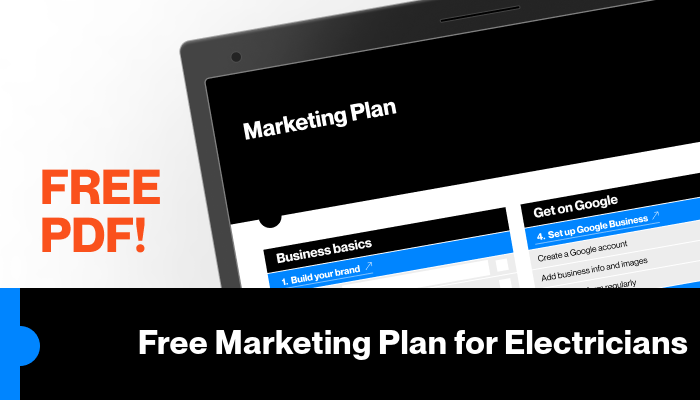 ---