It'll Become Your Must-Have Tool
If you're like most tradies, you didn't go into business to be stuck at a computer. You'd much rather be on the job, making money (or out on the water, catching fish), not spending hours managing the admin side of your business. If you're still using a manual system, you'll be spending much of your day chasing people for timesheets and digging through paperwork. It's hard work, and things can start to fall through the cracks – you miss bookings, accidentally undercharge, and don't get back to people fast enough.
With job management software you can automate those manual, admin-heavy tasks, making your trade business more efficient and organised. Everything's done in one place – quoting, scheduling, time-tracking – which makes things far easier. Imagine doing a quote in minutes, sending invoices with a single click, and never chasing up another timesheet! You'll say goodbye to admin headaches, and hello again to your nights and weekends.
That's what David of Kennett Electrics found when he implemented Tradify.
"For a large quote, I'd type each line into a spreadsheet and add it to the quote, then print, scan and email. For four or five quotes a day, that takes up a lot of time. Most of that info is now in Tradify. I can put together a full free wire quote for a new house in 25 minutes".
Here's a few more reasons why job management software could be the best new tool for your trade business.
Get & Stay Organised
When you first started your trade business, running everything on bits of paper probably worked ok, but as you get busier, it becomes increasingly hard to manage. Quotes aren't sent out fast enough, and you might even forget what you needed to quote on at all. You spend your evenings tidying paperwork, putting job orders together, chasing timesheets – and still end up missing things.
With job management software you'll have:
Everything in one place. No need for paper copies, no risk of things getting lost. You could even quote while you're on-site. When jobs are booked in you can find them easily – no need to search for those scraps of paper.


Reduced double entry. You enter job information once. It then flows through to make your next tasks easier.
Nick Foley from NDF Electrical says that even with a growing business, having everything in Tradify means he still has lots of time for his family.
"I have mates who run their own trade businesses, and they want to know how I can run my own electrical business and still spend time with my family. They're always asking me, 'Why aren't you doing this at night?' Well, I don't need to, I'm doing it all during the day."
Get Paid Faster
Lots of trade businesses have cash-flow issues because they're not getting invoices out fast enough. If you have to wait until the end of the week to gather up all the job info from the dash of your van and get timesheets from your team, you're already on the back foot. Then you still have to key that information in manually.
With a job management system in place you can:
Invoice immediately. You can fill out all of the job details on-site, so any changes are updated immediately. You can often invoice there and then, as soon as the job's done, or if you need to head back to the office, it'll take just a few clicks to get the invoice sent.
Let the system chase clients for payment. Sending invoices through the system means you can see if clients have opened them or not. Better yet, you'll be able to set automated payment reminder emails to chase customers who haven't paid their invoice.
Offer customers a contactless payment option. Provide customers with the choice to pay their invoices via a secure online payment platform. No need for physical interaction, just submit the invoice and watch the system get to work.
"Customers get invoices straight away – well, that's because I want to get paid straight away!" laughs Nick Foley from NDF Electrical.
Stop Losing Money On Jobs
When you're using a manual system, it's so easy to miss recording hours or materials. That means you're almost certainly leaving money on the table – drop a few fittings or a couple of hours off an invoice, and your profit margin is gone. Even if you have good records of what you've spent, it might not be obvious which items and time-records go with which jobs. You won't have a clear picture of which jobs are making (or losing!) you money, or if you're quoting your jobs at the right rate.
Eddy Kendall of Kendall Electrical knew he was probably losing money.
"I wouldn't have a number on how much profit I was making. I'd go out to these little jobs without writing them down. I could have lost money from not including stock on invoices."
By recording everything in your job management system you'll:
Know which jobs make you money. You'll get an analysis of all costs, so you have a clear idea of what you're making on each job.
Create more accurate quotes. The system can give you real-time profit and loss info, so when you're quoting next, you know you're charging enough.
Never miss invoicing for time or materials. They're recorded against a job immediately and are included in the invoice automatically.
Get Better At Managing Your Team
If you manage a team, you're probably spending too much time on the phone organising their days. It's also hard to effectively keep track of what they're doing all day, or how a job site is progressing.
Job management software makes it easy to grow your team because you'll:
Reduce admin time even with more team members
Timesheets, job info and scheduling can all flow through the job management software - automatically. Meaning less double entry and time on the phone for you.
Schedule and plan workloads
When you enter information for a job, you can assign it to one of the team. That way, the team's days are efficiently scheduled. They'll see all the jobs details before they arrive on site meaning they can get to work, faster.
Track your staff's progress
With a job management software app installed on your team members' mobile devices, you'll get real-time GPS info. You can check in on their day, and update clients. They can also update job statuses as they go, so everyone's in the loop – less phone calls and worry. And if you have a last minute job come up, you'll be able to check to see who's closest, and dispatch more quickly.
Nick knows Tradify has made adding – and keeping – team members far easier.
"Tradify has made us a lot more scalable. 100%. I've also had all bar one employee with me from the start. We actually absorbed another business and the new guys couldn't believe how much easier it was with us – because there is a job management tool in place to manage things, keep things on track and show you where things are," he explains.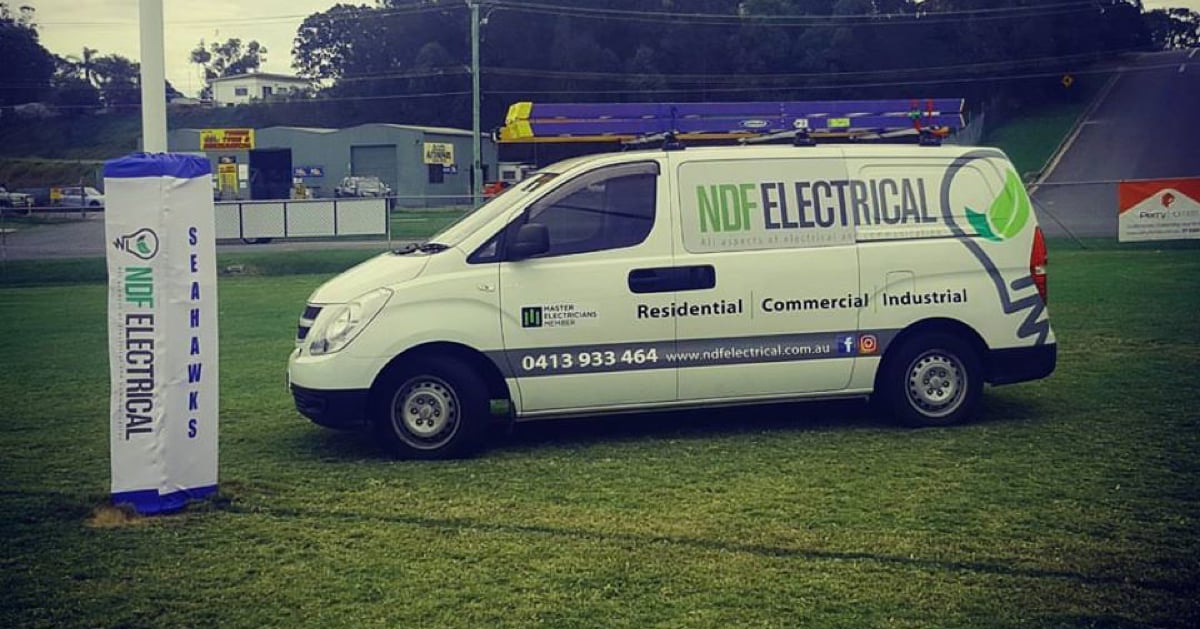 Adapt to new ways of working
The arrival of the COVID-19 pandemic has impacted the way in which tradespeople and trade businesses carry out their work. Job management software can help your business adapt quickly and efficiently to new working requirements and conditions.
Sort & stay on top of your schedule
Ongoing changes to government alert systems mean your work schedule is more volatile than ever. Job management software can help you quickly communicate any disruptions to your schedule to both staff and customers.
Ensure safety on site
Increased health & safety policies are on everyone's minds as we try to suppress COVID-19. Keeping your staff and customers safe is more critical than ever. Job management software can help you communicate the steps you are taking to protect your customers, and ensure that safety requirements are viewed frequently and checked off each day by your team.
Increased customer communications
Current physical distancing measures increase the need for communication with customers. Job management software can help with this by letting your customers know your latest status via SMS. Enhance your communication channels and give your customers peace of mind.
Conquer Contact Tracing
Place contact tracing requirements at the back of your mind with job management software. By recording accurate timesheets and using a scheduler you'll be able to press a button and produce a Contact Tracing Report for health authorities. Providing them with everything they need to know (if necessary).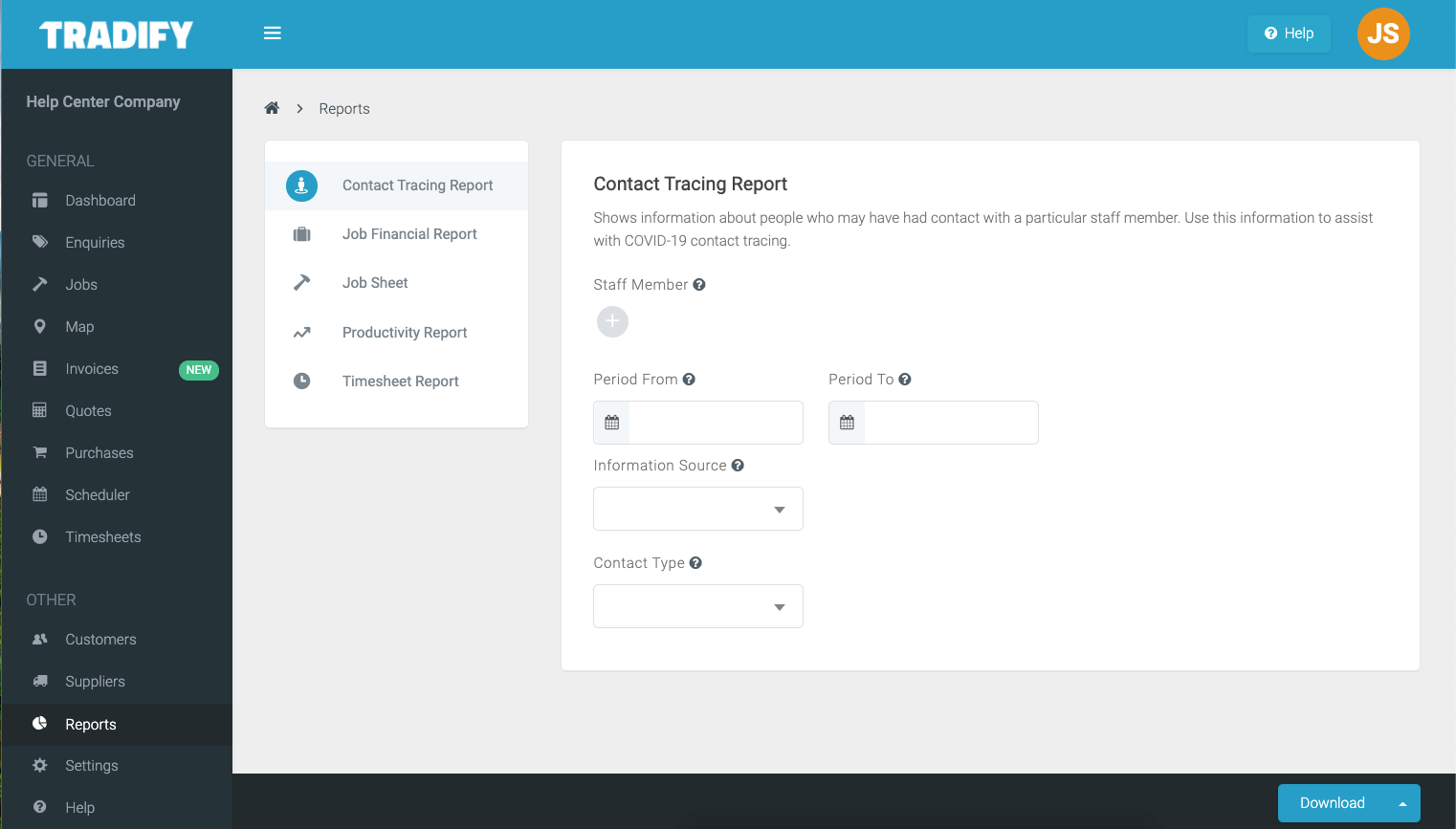 Get Your Life Back
Do yourself a favour and implement a job management system like Tradify. The admin will run like a well-oiled machine and the whole team will know what they're doing before they get out of bed. You'll save yourself time, stress and paper, and improve your bottom line with fast, accurate quoting and invoicing.
The only thing left to worry about is what you'll do with all that free time.
Want to know more?
Start a Free 14-day trial or join one of our weekly demo webinars to see if Tradify's a good fit for your trade business. No credit card required. No pressure.