The Powered Now alternative that runs your whole trade business
| Features | Tradify | Powered Now |
| --- | --- | --- |
| Job management | | |
| Scheduling and timekeeping | | |
| Automatic quote and invoice reminders | | |
| Recurring jobs | | |
| Enquiry management | | |
| Progress/partial invoicing | | |
| Pre-set kits for quickly adding groups of materials to jobs | | |
| Integrates with Xero, Quickbooks, MYOB, and Sage | | |
| Global and local support teams provide free, round the clock assistance | | |
Get your life back
Find out how Tradify can save you time and reduce the stress of running a business.
Take it from the real experts - Tradify customers
Tradify is the easiest way to run your trade business in Ireland
Quote, schedule, manage jobs and issue invoices — faster than ever before.
Work from anywhere
With full functionality on both iOS & Android, Tradify allows you to run your entire business remotely. Manage jobs, schedule staff, take payments, and much more.
One size fits all
With one plan, you get all the features. Pay per user and give them as much or as little access as you want.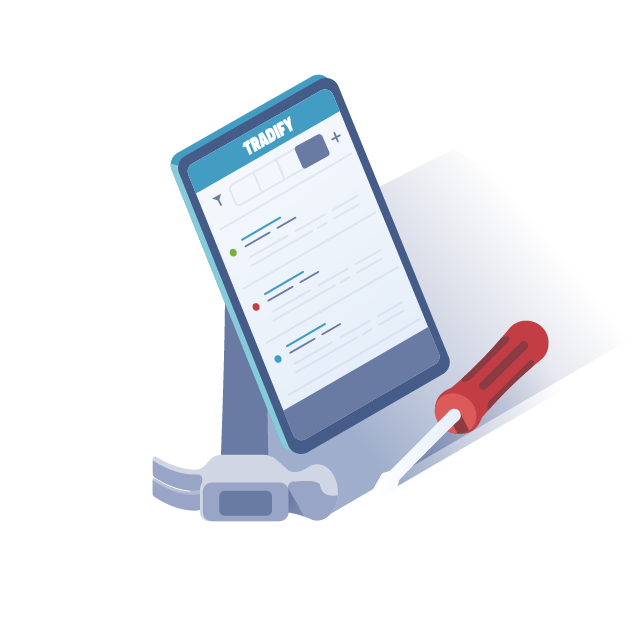 Dive into detail
Import .csv files from suppliers or customers, calculate gross profit and add detailed pricing for jobs.
"Our business literally doubled in the past two years and Tradify is a big part of that."
Brad Kuhlmey
The Hamilton Group
Try Tradify for free
Instant access for 14 days.

No obligation, no credit card required.
Say goodbye to double entry
Tradify integrates seamlessly with Sage, Xero, and QuickBooks Online accounting systems.
Tradify talks to your favourite accounting software:
Questions about using Tradify in Ireland?
How much does Tradify cost?
Tradify costs €22 per user, per month. You can also talk to us about team pricing options. Tradify is a powerful job management platform on desktop, and can also be downloaded as an app on your iPhone, iPad, or Android mobile device. Start your free 14-day trial today!
Am I locked into a contract?
Nope, we keep things simple by following a month-to-month payment model. No contracts, no commitments, cancel anytime.
How will Tradify help me get paid faster?
Tradify includes features designed to help your trade business get paid faster. Start by adding automated payment reminders to reduce your admin on those unpaid invoices. Tradify's system also includes a tool to help you see if your customer has viewed your invoice as well as offering them the ability to pay invoices securely online.
Can I create forms & certificates with Tradify?
Yes! Tradify allows you to generate, fill out, sign, and send a number of certificates including the Gas Safety Certificate and the Service Maintenance Record. More coming soon!
What kind of customisation can I add to invoices?
Document themes, logos, contact details, alignment, itemised vs summary. Choose which document theme to use as you're doing the invoice.
Can I send progress invoices?
Tradify allows you to create progress invoices straight from a quote. Depending on how you like to invoice, Tradify enables you to invoice a percentage, fixed amount, or a particular line item of a quote.
Can I invoice multiple jobs for a customer on one invoice?
Yes. Tradify's billing run feature allows you to invoice multiple jobs for a customer in one go, with all the details for each job appearing on the one invoice. Instead of invoicing each job individually, in a few clicks you can have all your jobs for a customer on one single invoice or if you prefer an invoice for each job.
Can I email my customers the appointment details?
Yes, you can email the appointment details for a job directly to your customer.
Will my staff get notified if I schedule an appointment for them?
Your staff will get notified as soon as an appointment is scheduled for them. They will receive notifications via the mobile app and directly to their email inbox.
Can my staff enter their timesheets on the mobile app?
Yes, your staff can enter their timesheets on the mobile app.
Can I set up and save pricing lists?
Yes. Tradify allows you to not only create your own price list, but also import your supplier's price list into the system. In order to import the price list it must be a CSV file. This helps speed by the process of creating quotes.
Can my customers accept and sign my quote on site?
The Tradify mobile app allows customers to accept your quotes while you are on site. You can use the mobile app to capture the customer's signature against quotes, which will be saved and dated at the bottom of the quote.
Can my customers accept quotes online?
Customers can accept quotes online straight from the email you send them. They will have the ability to accept and comment on the quote online.

Once accepted you will receive an email to inform you that the quote has been accepted.
Can I set up quote templates?
You can set up quote templates within Tradify to help speed up your quoting process.

You can add a preloaded description and line items to your templates, to save you re-entering information. These can be edited and personalised for each quote.