Job tracking from the palm of your hand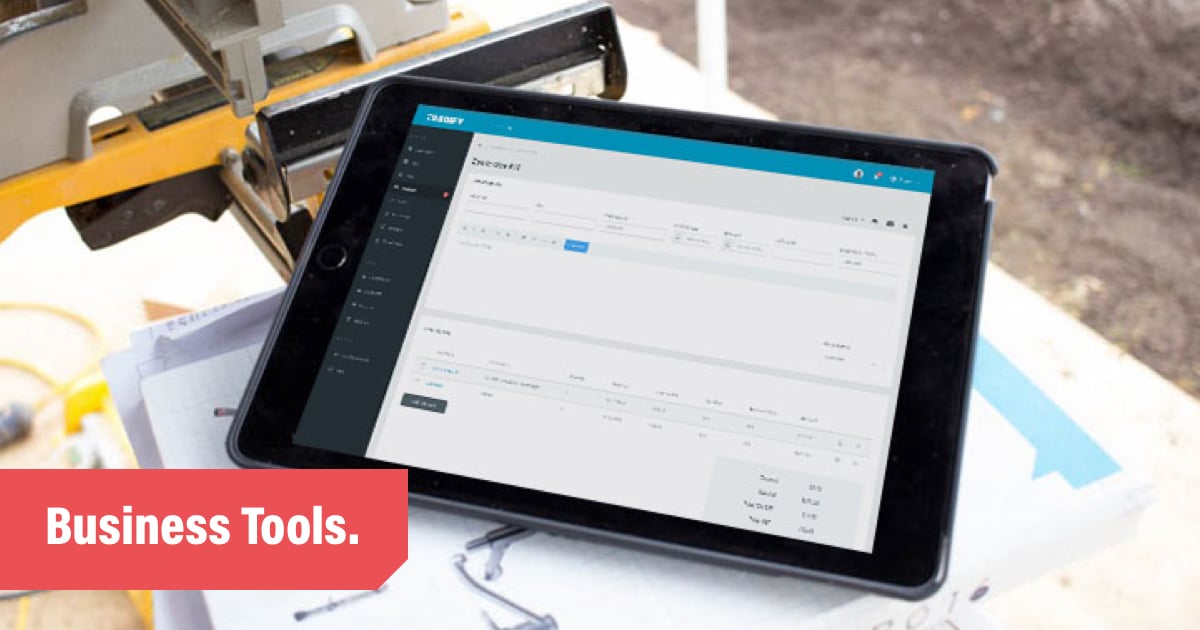 Tradies – we've got our own way of doing things. The van quickly becomes the office, and suddenly you're overwhelmed by admin, struggling to keep track of projects, and the money's not rolling in quite as quickly as it should be.
Technology can be a scary investment for tradies who are used to the grind of manual labour, but the right job management tool can prove invaluable. No more wasting hours searching through scraps of paper for customer details or leaving quotes and invoices to finish later in the evening – the right technology can alleviate all those headaches.
Owner of JJ Electrical Solutions, James Brunton, says his business life was ruled by paper – and it was costing him big time:
"It was a system I had been using for 12 or 13 years. It cost having to print everything, it was time-consuming and I couldn't do anything on the move," he says.
That is, like so many others, until he found Tradify.
Tradify is the one-stop app for tradies looking to get their admin under control and their business lives in order. It's simple to set up and will help you track jobs from quote to invoice – and everything in between – because all your info is in one place.
Capture every lead
With Tradify, you'll never miss a work opportunity again. Use it to set up an enquiry form on your website or redirect emails to an enquiries address. Then set Tradify to import these enquiries as new jobs, so you don't forget to get back to people.
Dan Walters from Keystones Electrical added a new link to his website using the Enquiries function: "That's a really cool feature and it saves you double data-entry."
It also keeps everything in one place (email, phone calls, conversations, Facebook messages) helping to reduce response times and improve the organisation of data.
"We enter all their details like it's a job but label it 'sales'. That means we easily see it in our funnel of jobs," Dan explains.
Super-fast quoting
The faster you can send a quote, the more likely you are to win the business. And the more business you have, the more freedom you have to choose higher-earning jobs. It's a competitive market for tradespeople so customers won't wait on a slow response – but they will reward you for a quick one.
Tradify makes quoting super-fast with preloaded price lists and templates which save you from having to re-enter job information across multiple platforms. You can also set recurring jobs, great for regular, scheduled maintenance jobs, and create bulk invoices.
"It's so easy to quote – within 10 minutes of the customer ringing you, boom – the quote's done. Emailing it straight back to them – that will win business. It shows you're quick and efficient," explains Dan.
Use every work hour
Time wasted is money down the drain – and that's not time you can charge your customers for either. Instead of flicking between your diary, Google Calendar and job files, Tradify's Scheduler stores all your job information in one place – you and your staff can refer to it at any time and from anywhere.
Set tasks and assign them to team members or schedule them so you never miss a thing. As James says, it all happens in Tradify: "I create a job, schedule it and assign it, and email any subcontractors, too. And that's it."
The time you save on paperwork lets you get back on the tools and make more money – or spend more time with your family.
Get invoices to customers and get paid quickly
With all the info you've captured in the system throughout a project, an invoice can be created almost automatically. This will help you avoid accidentally missing costs – or forgetting to issue an invoice altogether – and improve your business profitability. Your customers will also appreciate a speedy turnaround.
Tradify will pull info like client name, dollar amount and due date, and populate your invoice for you. You can then email the invoice to your customer – and at no stage will you have to double-up on data-entry.
Then, using x-ray vision and the Tradify's automated payment reminders you can keep track of the status of your invoices, significantly reducing the amount of time and worry associated with chasing late payments.
What's more, Tradify's system is integrated with the safe and secure payment platform, Stripe. Providing your customers with the option to pay invoices via credit card. You can also pass on or absorb card fees, it's up to you.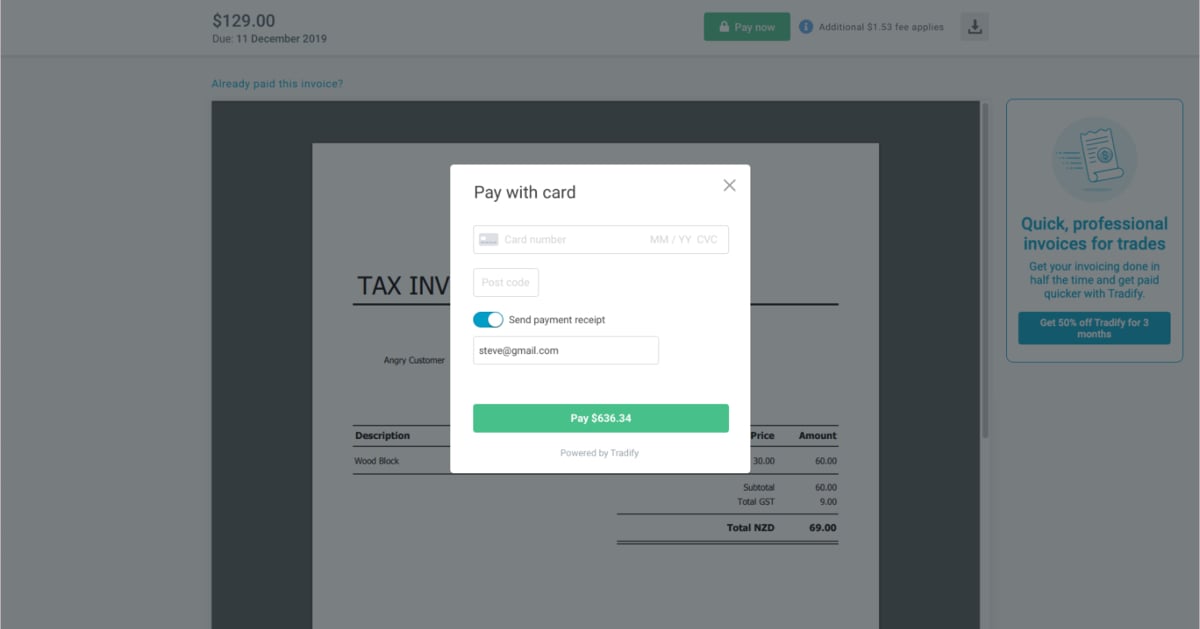 Build a reliable customer list
Every customer you interact with is added to your database, which syncs to your accounting system – Xero, MYOB or QuickBooks Online – meaning less room for error. It also allows for individual sites - useful when managing multiple jobs for one client.
"With the volume of equipment going in and out of projects, if you miss 10% of that, it's straight off the bottom line – that's your multiplier, so that's actually losing 30% of your business value. It's a horrific number. We've seen it happen – you'll lose entire invoices from suppliers," says Dan.
Having the two systems connected provides a single point of truth across your business, keeps your customer list current, and alleviates any worry about end-of-year financials.
View job status at a glance
While Tradify has many awesome features, the number-one perk to having everything in a digital filing system is tracking job status. Whether you're a one-man-band or 10-strong army, you can customise these statuses to suit your business – and keep everyone on your team up to date.
For example, your staff can add notes and photos when a job is complete so you can get on to invoicing the client, or if you're waiting on a part, you can put a job on hold until it arrives.
"It means I know the guys have all the info when they get to the job. They have the job info on their app, then they just check in and check out," James adds.
Not only does it save you time, you also have all the information you need at your fingertips to make smarter business decisions.
"I can work out our gross profit on every single job at quote and invoice, so I know I'm hitting targets. Being able to see where you're at with time, the cost of labour versus sell price – that's a massive advantage," explains Dan.
The only tech tool you need in your tool belt
Even if you have someone at the office that helps with the admin, the life of a tradie is never short of hassling staff for timesheets, preparing invoices at night, and fielding work enquiries while on the road. If you want any kind of work/life balance, technology is the way to go.
Tradify will save you huge amounts of time by pulling together all your business information into one, easy-to-access place. From any Android or Apple device, you can track the goings-on at every stage of a job. With more time comes better communication with clients, higher job completion rates and improved customer satisfaction. With happy customers comes more work, improved profitability – and most importantly, more freedom to spend time with your loved ones.
Give Tradify a go
Give Tradify's 14-day free trial a go – like Dan and James, we don't think there'll be any turning back. As an alternative, jump on one of our 30-min live demo webinars to see Tradify in action – and decide for yourself if it's the right tool for your business.
---