If you follow our blog, you'll probably remember the recent showdown between plumbers and electricians. Sure, some of you gave it a bit of a hard time, but here at Tradify we're all about indulging a good sense of humour. That's why we're back with round two. And this time, it's builders and electricians going head to head.
Who'll come out on top? Read on to see what we've judged on, and how each profession fares…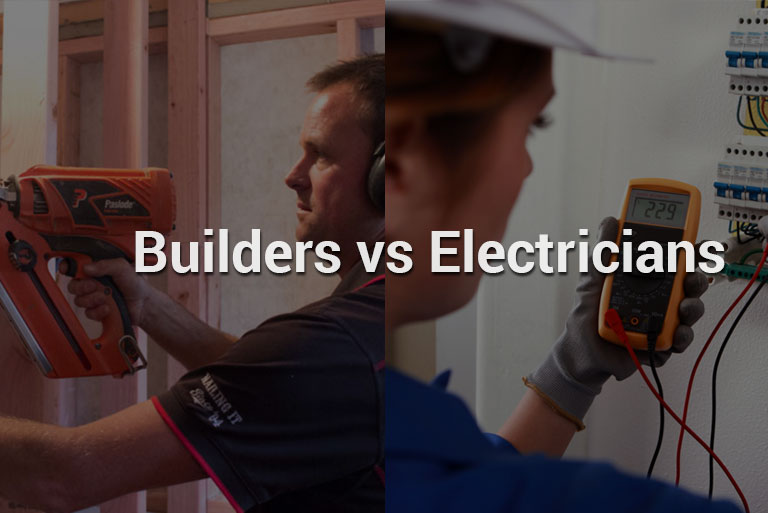 Round 1 – Pay
There's no denying that pay is all important when it comes to the 'tradie' off. So how do builders and electricians shape up against each other?
First of all, ServiceSeeking puts the national average across all industries at $60.88 an hour. Relatively speaking, this makes both builders and electricians pretty damn well paid. That said, from a number's perspective electricians blow builders out the water with pay cheques that sit at $74.61 an hour.
In comparison, builders earn an average of $66.17 an hour. Definitely not a dollar amount to sneeze at, but they're outnumbered by their sparkie counterparts all the same.
For this reason, electricians take it away with round one!
Round 2 – Job Security
Next up we're shining the spotlight on job security. Every tradie wants the peace of mind that even in tough times, they'll still be in hot demand. Australia's on the brink of a construction boom, which means that both builders and electricians are on-track to receive plenty of work.
The latest stats from the Australian Skills Needs List and the New Zealand Skills Shortages list confirm our prediction, with both builders and electricians cited as professions that will face critical shortages over the coming years.
It's a close call, so this one's a draw!
Round 3 - Zero to hero
No trade can be learned overnight, but some are faster than others. When it comes to mastering the art of becoming an electrician, the process is lengthy but rewarding.
It takes just months to complete a certificate program in electrical technology, but most newbies go on to complete four year apprentices, backed with partial pay, on-the-job training and hands-on classroom instruction.
Some sparkies also go on to complete diploma or associate's degree qualifications, which can add two years of full time study to the process.
For builders, the path starts off slightly easier, but can end up being just as technical in the final stages of qualification. For example, a brickies assistant somewhat classifies as a builder, though requires little to no experience.
If you're looking for an easy route in, builders definitely come out on top.
Round 4 - Zombie apocalypse
Can you blame us for being addicted to The Walking Dead? Or any zombie apocalypse themed narrative? Call us farfetched, but we're classifying the zombie insurgency as a genuine factor in the builders vs sparkies showdown.
First up, there's no denying that builders have the skills to keep zombies out with walls, roofs and the likes. That said, sparkies have the know how to power survivor hubs, and in the midst of a zombie apocalypse light is an absolute must.
Sparkies, you guys come out on top when it comes to warding off zombies with manual labour.
Round 5 - Sense of humour
Now, we're not saying that builders don't have a sense of humour. But what we are saying is that thanks to a hilarious YouTube video that went viral in the UK, we have cold hard proof that sparkies have dangerous wit factor. Seriously guys, how many electrical puns can you come up with? Kudos to Matt Horsley and Scott Lenzinger for giving us one hell of a laugh here at Tradify HQ.
Boys, you've won it for the sparkies in this round!
As much as we'd love to call it a draw, sparkies blew builders out the water in this particular face off. At least, as far as our judging criteria went… If you've got a reason or two why builders should come up trumps, give us a shout and we're happy to schedule a rematch!