The demand for tradespeople worldwide is booming. If you're looking to secure a future for yourself in a trade, an apprenticeship is a great way to receive on-the-job training and support whilst earning a wage. Here's some advice about how to secure yourself an apprenticeship and a lifelong career in the trades.
Interviewing for an apprenticeship? Download our free Interview Questions to help you prepare!
Looking for something? Jump ahead:
1. Choosing a trade
2. Securing your apprenticeship
3. From apprentice to master tradesperson
For specific trade apprenticeship advice, check out these guides:
1. Choosing a trade
Whether you're fresh out of school or embarking on a new career, deciding which trade to pursue is an important first step. This decision will lay the foundations for your future. As the old saying goes, 'choose a job you love, and you'll never have to work a day in your life.' If you already have a passion or interest in a specific trade, that's brilliant. However, if you're not sure, then it pays to do your research. You might even want to consider a pre-trade qualification which gives you the chance to try out different trades before you commit.
Skilled tradespeople are in demand globally
Keep your finger on the pulse of the trade industry by talking to local tradespeople or trade associations. A quick check of the skills shortage lists for your country will give you an idea of where the jobs are and which trades are predicted to run short on skilled workers in the future. Similarly, if you're thinking of emigrating to another country, check to see if they have any skills shortages and bear that in mind.
Here's a list of high-demand trades based on country:
For a more detailed assessment of the trades and to weigh up which one is right for you, check out choosing a trade career.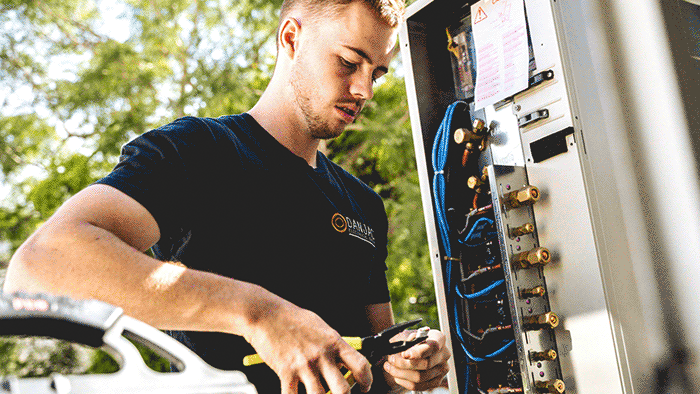 2. Securing your apprenticeship
Once you've chosen your trade, it's time to explore some apprenticeship opportunities. Here's how:
Make your CV or resume stand out
Your CV or resume is your chance to make a great first impression with potential employers, so make it stand out from the crowd! Would-be apprentices often struggle with writing a CV as there's very little work experience to document (if any). Don't worry! A potential employer won't expect you to have heaps of work experience. Plus, it pays to keep your CV brief. To make your CV work for you:
Use it to showcase your core skills and achievements.
Customise it to every role — generic CVs are boring and tend to get lost. You don't need to re-write the whole thing, but you should learn about the employer and try to tailor it to their values and culture.
Make sure your passion and commitment to the trade shine through by using positive, go-getting language ('I'm passionate about…', 'I'm looking forward to…').
You might not have much real-life experience, but the internet has a wealth of useful information. Our YouTube channel and podcast are great resources for learning some key terminology and gaining insights into the trade and what employers are looking for.
Apply, apply, apply!
It's time to start applying for apprenticeships. Here's how:
Check out local job boards for apprenticeships or general labourer/assistant roles. Get in contact and state that you'd like to be considered for an apprenticeship, provide your CV. Many firms are willing to employ young, enthusiastic people through apprenticeships, even if they're not actively looking for an apprentice
Along with your CV, include a personalised cover letter with each job application. This should state why you're the person for the job and what value you can add to the company, as well as your commitment to the trade and your desire to grow
To demonstrate your dedication and help set yourself apart from the competition, offer your services in exchange for valuable work experience. Getting a foot in the door is often half the battle.
Get educated
Governments are backing apprenticeship programmes all over the world, and courses and qualifications for trade apprentices are widely available throughout the USA, UK, Australia, and New Zealand.
On average, courses take between two and four years to complete and you can start between the ages of 16-18, depending on where you live. Trade companies often have established links with local education providers so be sure to check with them. Otherwise, a quick internet search will bring up institutions with available courses in your area. Some companies, such as Work and Training in Australia, employ new talent and find suitable work placements.
3. From apprentice to a master tradesperson
Before you know it, you'll be through your apprenticeship and your future as a tradesperson will look bright. Don't forget, an apprenticeship is the start of your career. Be sensible in the decisions you make and keep an eye out for opportunities to upskill and build your reputation along the way. Once you've finished your apprenticeship, you can apply for higher-level roles within your industry and eventually start your own trade business, if desired, paving a path to a higher income and, if you use Tradify, more free time.
Download your free Interview Questions for Apprentices!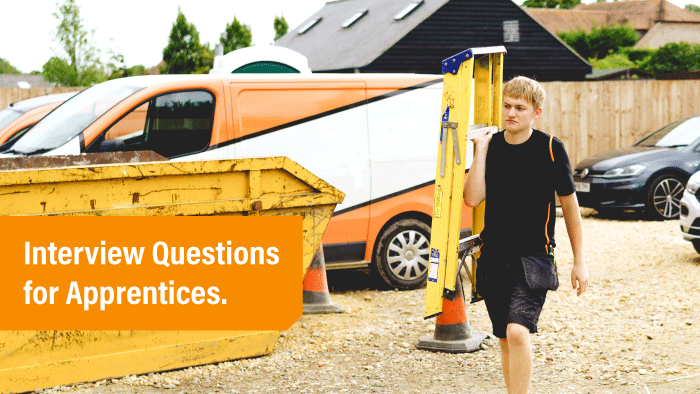 When you're ready, Tradify can help you turn your trade skills into a thriving business. Start your free 14-day trial today.
---