How job management software can take the pain away
Take a look around – you might think about yourself as a 'just' a plumber or a sparky, but if you're employing staff then you're a manager too – just without the suit and tie.
Maybe growing your team was always part of your plan, or it might have happened gradually – you added an apprentice or it made sense to put that subbie on the payroll. However you got there, you've probably experienced first-hand that with more staff comes more paperwork, more organising, more phone calls, and more office time – but it doesn't have to.
With Tradify you'll create happier, more productive staff, make more money and spend more time doing what you love:
Say hello to your nights again
All that admin that's crept in since you took on that first staff member? Gone.
Add to your team without adding to your workload
You'll be set up to grow your team – without being chained to a desk. Nick Foley from NDF Electrical agrees: "Tradify has made us a lot more scalable. 100%."
When your team can do their timesheets and job notes on the go it means more time on the tools and more money in your pocket.
Keep and attract the best staff
Happy staff stay longer and recommend you to their mates when you're looking for more people. Making admin seamless – that's a shortcut to a happy team of tradesmen.
Nick says, "I've had all bar one employee with me from the start. We actually absorbed another business and the new guys couldn't believe how much easier it was with us – because there is a job management tool in place to manage things, keep things on track and show you where things are."
How Tradify simplifies team management
Better Toolbox meetings and fewer phone calls
With Tradify, your team members jump in the van already knowing where they're going and what they'll need for the job – no need to ring you multiple times a day or meet at the yard first thing. How? Because it's right there in the app. When a new job comes in, it's fast and easy to enter all the details into the app, assign a team member, and schedule it in.
James Brunton from JJ Electrical says Tradify ensures his team knows where they're going every day, and that they have all the info they need – no more printing or delivering folders to sites.
"I don't get a phone call on Monday morning – everyone knows where they're going. I'm spending less time messing around on sites and taking phone calls. It makes my life easier," he says. "It's hard to put a figure on how much time Tradify saves, but it's probably as much as a day a week."
Eliminate downtime, mistakes and do-overs
For trade businesses, time literally is money. Tradify makes it easy to plan your team's days – or even better, let them do it themselves – to minimise travel time. With all the job information at their fingertips, they're also far more likely to have all the materials and tools they need and complete the job to spec. For larger jobs, tasks on Tradify's checklists can be assigned to different people, so you know every detail will get sorted.
See where your tradies are at a glance
Once installed on your tradies' phones or tablets, Tradify pings you their location. That comes in really handy if you get an urgent job request and need to assign it to the closest person, or when clients want to know when their jobs will start.
Using the GPS feature helped NDF Electrical deliver better customer service. "I can see where my guys are. It also keeps people accountable with time and stock and everything else," says Nick.
Speed up communication
When something changes, instead of ringing around everyone working on a job, simply add team members to a note, and they'll be notified. That keeps all your updates sitting against the relevant job and means everyone knows what's going on.
Ben Dawes Plumbing loves how Tradify makes communicating with the team super fast and easy.
"We would have changes pop up throughout the day, which meant we had to shuffle jobs for the arvo. It would require a series of phone calls and text messages to update the schedule, and every now and then that system would break down. We would turn up to jobs that we couldn't complete, make a few calls, and then have to drive back to the new job, wasting time and losing money. With Tradify, we can just update the system, it syncs and everyone knows what job's next and we can change that anytime without any dramas," says Ben.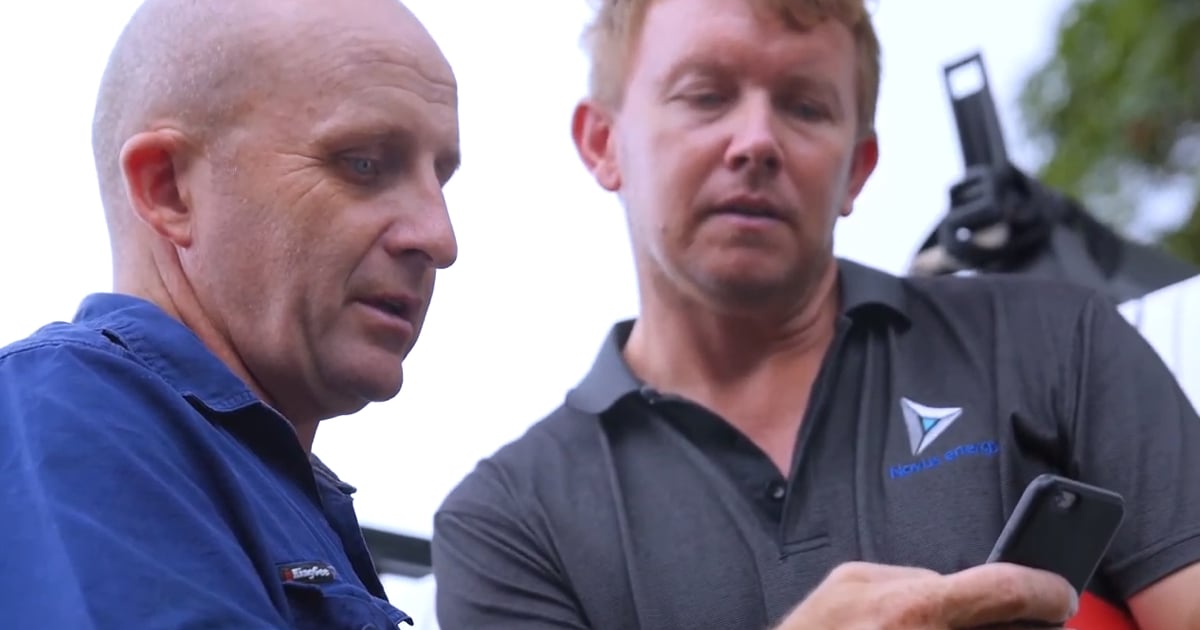 Keep a digital record
When it's invoicing time, or if a customer has a complaint or a question about a job, tracking down paper job-notes from your team can be a real time-suck. With Tradify, your team can easily add notes and photos to every job, so you always have a digital record to refer to. You can see if jobs have been completed to standard, any additional parts used and if there were any issues.
"I can check the notes and add anything, instead of running around clarifying things – and it helps us justify extra charges really easily," says Johnathan Clarke, managing partner of Watts Up Electrical. "If you're doing things manually, you have to go back through emails, and get dates, and look at what everyone's bought, and the time they've spent. It's so time-consuming and draining that sometimes you just say, 'screw it', invoice blind and hope that you've allowed for everything."
Make timesheet problems go away
Timesheets are critical for payroll and invoicing, but nearly always a sticking point for your tradies. Tradify makes it simple for you both – your team can update their time from their mobiles or tablets, and then you have that info sitting right there. This also means you can keep a closer eye on what your team is actually doing.
Make managing subbies simple
Adding subcontractors to the team? That's easy too – just schedule them in and Tradify will email them all the details.
"I create a job, schedule it and assign it, and email any subcontractors, too. And that's it," says James from JJ Electrical.
Pain-free team management
Managing staff doesn't have to be as painful as you think. With the right job management system in place, you'll eliminate issues around extra paperwork, timesheets, communication and scheduling, so you can grow your business, not your workload.
Think Tradify could work for your trade business?
Start your 14-day FREE Trial or jump on a weekly live demo to see Tradify in action.