Want to throw a party for you and your tradie workmates, subcontractors, or friends? The good news is that tradies can be god-tier party animals. But that comes with its own challenge — how do you throw a party to remember when the guests may have seen it all before?
Read on to find out and let's get this party started!
Got the cash for a big blowout? Find out with our free Cash Flow Forecast template!
Short on time? Skip ahead!
1. Don't forget to expense it!
If you're planning a party as a work event or function, you may be able to write some or all of it off as a business expense. Check out these lists of business expense claims for tradies:
2. Throw a dress-up party
Everyone loves a good old-fashioned dress-up party, especially one that you don't necessarily need to go costume-hunting for. There are plenty of angles you can take this, but the key is to keep it fun and interesting, but still accessible for busy tradies who don't have a lot of time to prepare or purchase new clothes. Here are some ideas:
Famous tradies
A fun theme could be 'tradies who made it big'. This could mean famous electricians (the list is longer than you think) like Elvis, or builders who have made a killing from showing people their day-to-day life onsite — the direction your guests can take this in are almost endless.
A parallel universe
Ask your guests to come dressed in the stereotypical work clothes of the profession they'd be in if there weren't in their current job or trade. Not only is this easy enough for everyone to pull off, but it's also a great conversation starter for guests who may not all be familiar with each other. It's bound to spark a fair few laughs too.
Letter-themed
If you spend enough time thinking about work, you can always take things in a different direction with a letter-themed dress-up.
All you need to do is announce a single letter in advance and everyone must come dressed up as something that begins with that particular letter. It's easy, approachable, and above all — fun!
3. Get together for a BBQ
A good BBQ is something that every tradie loves. These days, with the number of recipes online and the range of different BBQs you can find, every man and his dog seem to be certified pit masters with their own secret recipes and techniques.
If you want to raise the stakes a bit, make a competition out of your BBQ and see who can smoke or grill the best feed for you and your friends. You could even make a regular event out of it, where you and your friends catch up over some amazing home-barbequed food and great banter.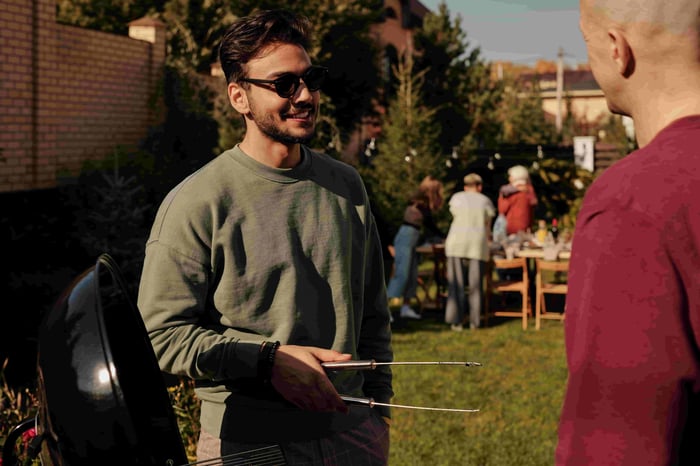 4. Host a demolition party
This one will no doubt get your guests excited. Call it immature if you like, but it can't be denied that smashing things to pieces, especially a house, is sheer joy (just make sure it's your house and not an unsuspecting client's — that's not how to foster a good client-contractor relationship).
If you're planning some renovations or a total bowl-and-build job, then take advantage of the situation by inviting your friends and telling them to bring their own demo equipment. Go to town smashing gib, tiles, countertops — whatever you like — just be sure to salvage as many reusable materials as you can, sustainability is the trend of the decade right now.
Side note: try to get the demolition out of everyone's system before any drinks start flowing. Workplace injuries are common enough in the trades, no need to add to the statistics by throwing a raucous party that ends in disaster.
Concerned as we are about health and safety? Download our free Health and Safety Survey Questions for trade business owners!


5. Test your friends' carpentry skills with a tradie-challenge.
This is a great way to get everyone involved and introduce some competitive spirit into the day or night in question.
Ask your party-goers to split into teams of 3-4 maximum and provide them with some raw materials and basic tools. Quickly show them a picture of a piece of furniture or similar item that they must build within a certain period of time. Winners get a prize or gift (perhaps, a nice carpenter's toolbelt). As for whoever can't get the item made in time… well, we'll let you decide the punishment.
6. Struggling to see how you can pull any of this off?
You may not think you have the time to plan such extravagant parties. But, that may be because you haven't tried Tradify yet.
Tradify is the app that helps you manage all aspects of your trades business, like:
Give it a go — free for 14-days. No credit card required. No contracts. Or pop over to one of our live demo webinars to see Tradify in action.
---