It's no secret that Tradies are in short supply of late and even Malcolm Turnbull's figured that out. What's more surprising to me (only just) is why is there such a shortage given there's never been a better time to be a tradie. So just to remind everybody why it rocks to be a tradie, we've come up with the 8 reasons Tradies are awesome.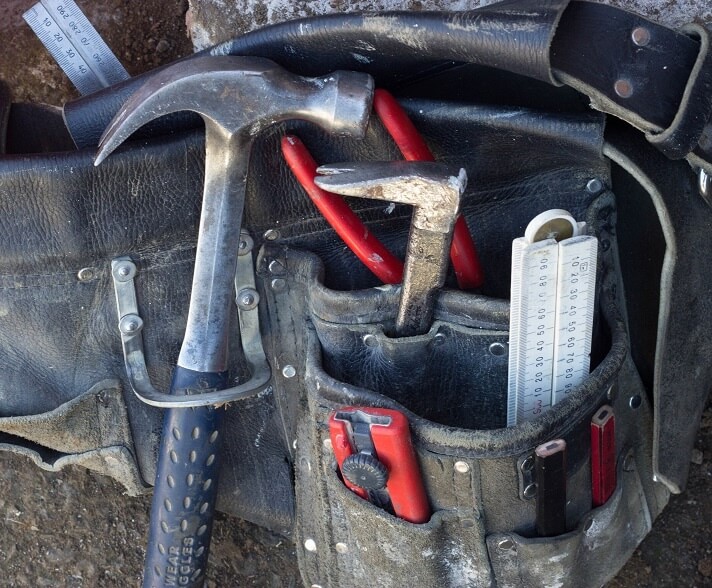 Big fat stacks
If you're a tradie then chances are you're pulling more coin that most of your mates. According to a recent study the Master Builders Association, a top-tier contractor paid an average of $42,000 for first-year graduates, $45,000 for second years, and $48,000 for third years. That's a pretty solid start as far as early-career level wages are concerned.
And the fat stacks aren't limited to just the construction sector. Another recent study has shown that most tradies are getting in on the act with Plumbers and Electricians commanding well north of $70 per hour. Even after you account for materials and overheads most tradies should still have a decent chunk of change left.
Compare those wages to those of your mates who are still stuck at Uni with no clue what they will do once the graduate, still cranking up the debt and barely able to scrape $2 together.
Tradies have the best Tinder profiles
Because Tradies are always out and about all day everyday, they always get to be Johnny on the Spot. Whether it's stopping a burglary, saving a baby, running into a burning building, diving into a swollen river or tackling a purse snatcher, tradies are always there when you need them. These kind of stories will do all sorts of good stuff for your Tinder profile.
Here's just a couple of recent examples;
Tradie rescues baby boy from the gutter
Hero Townsville tradesman saves teenager in a wheelchair
Everybody wants to know a tradie
Most tradies these are harder to catch than a blue ass fly. Thanks to massive government led infrastructure projects plus cheap credit and limited buying options fueling a home reno boom it seems everybody's looking for a tradie these days.
A quick review of the Australian Skills Shortage report shows there are significant shortages in most trades across most states. On top of this a recent study showed Forklift drivers, Site Managers and Carpenters are some of the most in demand roles in 2016. finding your way
You earn your boss money while he sleeps
In the 2016 budget announced in early May the Treasurer announced tax cuts for business and offered a cash incentive to take on unemployed young people as interns.
Under the PaTH scheme employers will qualify for an upfront payment of $1000 for taking on interns and Youth Bonus wage subsidies will be available from 1 January 2017 for employers who subsequently employ a young job seeker who has been in employment services for six months or more.
The subsidised costs and bonus payments should make it more compelling than ever for prospective employers to give young people a crack and invest time and energy in getting them up to speed.
If you're thinking about it, or have recently started working for a new contractor, make sure they've looked into their entitlements.
Once qualified you'll always have job security
Once you're a qualified Tradie you can take those skills pretty much anywhere in the world. No matter where you want to go, there will always be a need for skilled workers in your profession. Not sure where to start, try London or Canada!
The 5 best skilled trades jobs in Canada
The 5 most in demand jobs in the UK
You can get a trade without a huge debt
Typically, your mates heading off to Uni right now are going to take 3 years to get a bachelor's degree plus the option of further study for honors, masters and doctorates. In the process they are likely to rack up about $20k in debt.
Leveraging an apprenticeships programme a Tradie become certified in the same amount of time (or less depending on the trade) for a fraction of the cost (possibly subject to the scheme). The bulk of the skills will be learnt on the job and not in the lecture hall.
Find out what apprenticeships are available here.
The office
Tradies get to work outside, in different places and on different sites and you get to stand up and walk around. You won't really know how cool that is until you've done a few years in a cubicle but I can promise you, being out and about has it all over being stuck in the office, no matter the weather!
Job Satisfaction
One of the most underrated aspects of being a tradie is the fact that you get to make stuff and see things go from raw material to finished product. This gives most tradies a great sense of satisfaction. Owning this process and seeing the outcome is something lots of office workers never get to experience.
Sure you might have increasing costs and compliance issues but when you combine popularity, job security, good wages, with low debt ratios and working outside it's pretty easy to see why all the cool kids are now becoming tradies.