There comes a point when many tradespeople consider going out on their own. You've done the hard yards: aced your apprenticeship, got your qualification, worked the long hours... now it's time to tackle a new challenge: planning your own business.

When you start a new business, the first step is said to be the hardest. While this is partly true, navigating the path to entrepreneurship has several stepping stones. Nail all of these, and the payoff can be well worth it.

This guide is specifically for tradespeople thinking about starting a landscaping business or working as self-employed landscaping contractors. It's packed full of information, templates and steps – everything you need to know about turning your hands-on skills into a successful and profitable landscaping business.
Need a hand coming up with a name for your electrical business? Try our Landscaping Business Name Generator!
Short on time? Skip ahead:
It takes a lot of guts to be your own boss. Often, one of the first hurdles for landscapers starting a business is thinking that there isn't enough work or there are already too many landscaping businesses. Don't fall into this trap.

A landscaping business can be lucrative for many reasons. There are plenty of homeowners who don't have the time, energy or skills to take care of their gardens. Not everyone is born with a green thumb or can manage the heavy labour that's involved — but you can...so let's get started.
1. Writing a landscaping business plan
If you've already done some research, then you'll know you need to write a business plan. Writing a business plan takes a little time but it's worth it – we promise! Lots of problems can be avoided by going through this exercise. You want to start your business on the right foot – and a business plan is the best way to do that. Building the foundation of your business will help you get clear on your goals and how to achieve them, as well as more practical things around how you finance and market your enterprise.

For an in-depth guide to writing a landscaping business plan, read Tradify's No-Nonsense Business Plan Guide for Contractors and Tradespeople.

To make things even easier, we've also put together a business plan template specifically for trade businesses.
Registering your
contracting

business
Time to make it official — the next step is to register your business. Read the points below for information on registering a business in your region. When deciding on your business structure, think about your goals for the future. Are you looking to grow, or fly solo forever?
2. Financing your landscaping business
In the business world, you often need to spend money to make money. Starting your landscaping business will come at a cost – how much will depend on the structure and goals you've established in your business plan (we did say it would come in handy!)
Working out what to charge
Most tradespeople charge labour by the hour, with the cost of materials added on top. Because they vary between projects, these are called 'variable costs.' There are other expenses associated with running a business, like vehicle payments and insurance, that tend to stay the same. These are called 'fixed costs.'

Therefore, it makes sense that what you charge your customers should cover not only your hourly rate but all those other expenses too. Your pricing should also take into consideration your experience and your target market.

Here's a guide on how to figure out your billable rate using our Charge-Out Rate Calculator.
Purchasing equipment and tools
You may already have some equipment, but if you need more, investing in new tools and/or a vehicle will likely be your biggest start-up cost. We recommend buying reliable, quality products – you want them to perform well for as long as possible.

Like most trades, being a landscaper is a mobile business. You travel to your customers, taking everything that you need with you, which means you'll also need a reliable work vehicle. The good news is you can claim tax back on the cost of your tools and equipment.
Your must-have landscaping tools may include:
Trailer

Lawnmower

Blower

Hedge trimmer

Spreaders and sprayers

Snow removal equipment

Edger

Shovels and spades

Spading fork

Hoses

Grading tools

Measuring tools

Marking tools

Basic carpenter's tools
Check out our article: 'Best Tools for Landscapers'.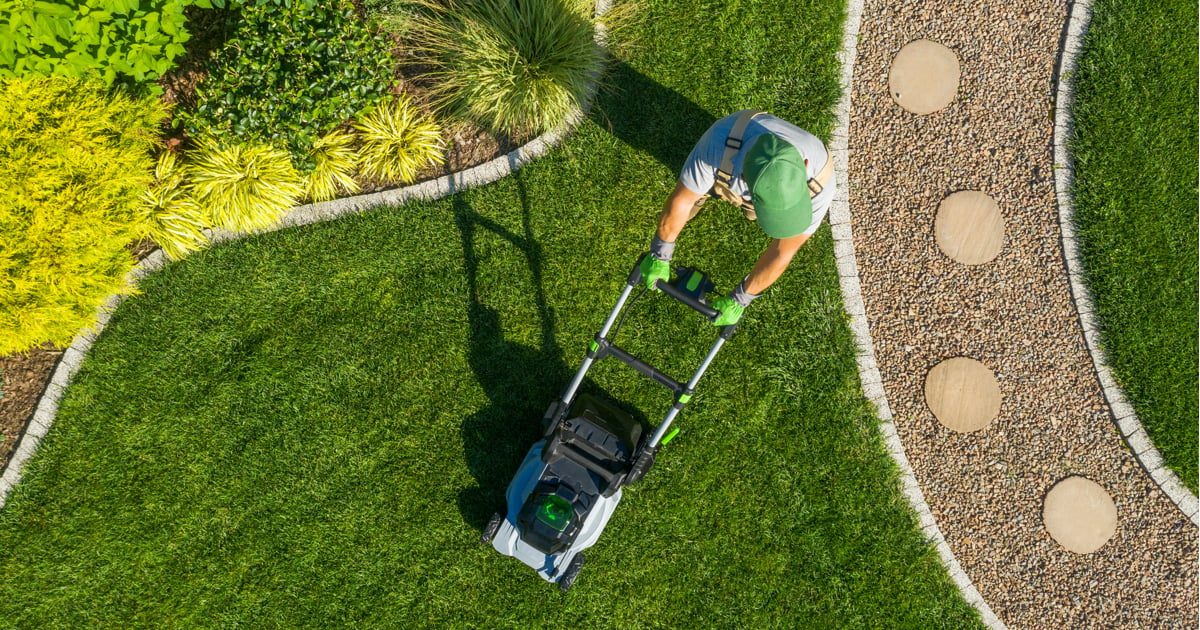 Insurance
As a tradesperson, your vehicle and tools are your greatest asset – without them, your business can't operate. That's why it's important to have insurance if they ever go missing. It's also a good idea to have general liability insurance against accidentally causing damage to property. Depending on your priorities, you may also want to take out extra policies like income protection, so look for a reputable provider of small business insurance.

Read our article on business insurance for tradespeople.
Read our article on how to keep your tools safe from theft

.




Borrowing money
You may need to borrow money to get your business up and running. You might go into business with a partner, work with a private investor or join a franchise. This will determine the initial set-up cost of your contracting business. If you do need to borrow to get started, you have a few options:
Small business loan
Credit cards
Government loan schemes
Private investor
Whether you borrow money from a bank, a non-bank lender or a private lender, they'll want to see that you've done your homework.
Government loan schemes
Your local government might also have a financial scheme to help new businesses. If your landscaping business is eligible, this can be a great way to access funding that may not need paying back.
Investors
Your third option is to approach an investor. Angel investors are successful entrepreneurs who provide capital for promising business start-ups. Rather than you paying the initial investment back, they often receive convertible debt or a percentage of ownership in return.
Accounting and taxes
In Tradify's recent Pulse Survey, most tradespeople said they were confident about completing jobs and finding new work, but when it came to their admin they felt less sure.

Tidy books are essential. Staying on top of your admin will ensure that you get paid quickly for all your time and materials, and you'll avoid any late penalties from the tax man when he comes knocking.

You might not be ready to hire an accountant just yet, but you do have another option.

For a fix that'll cover your day-to-day quoting, scheduling, job management and invoicing processes into one streamlined system, Tradify is a must-have tool. Take control of your landscaping business with intelligent, trade-specific features designed to keep it in top gear.

To make things even easier, Tradify also integrates with your favourite accounting software: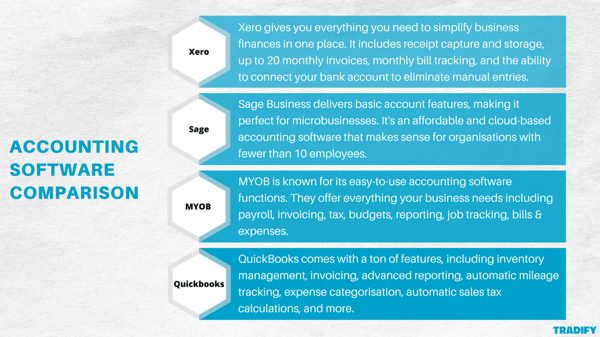 Graphic provided by Crazy Egg.
Read our article to find out if you're ready to hire an accountant.
3. Your responsibilities as a landscaping business
Aside from your financial obligations as a business owner, there are certain industry and government regulations that you must comply with. While this is arguably the not-so-fun part of running your own business, there's no getting around it.

Keep the following in mind:
How your business may impact the environment and how you plan to deal with it.

Local laws around operating a business including employment laws when you hire staff.

Health and safety regulations and what you must do to comply to keep you and your team safe.
Professional associations for landscapers
Becoming a member of a local professional body is a great way to stay on top of what's happening in the industry – without having to wade through pages of mundane government documents. To join, you'll probably need to meet minimum qualification requirements – find out what these are and if you're eligible before applying. They also usually offer training and professional development opportunities which can be a huge competitive advantage long-term. It's good to keep updated with qualification requirements in case you bring on an apprentice or employee.
Managing your landscaping business
You know you're good at what you do. You work wonders on gardens and outdoor living spaces — but managing the day-to-day operation of a business is a different ball game.

There are core business processes that need to be followed, and you'll need to focus on each stage of your workflow to figure out exactly what's required. From there, you'll be able to streamline your work, become more efficient and increase your work turnaround times.
4. Marketing your landscaping business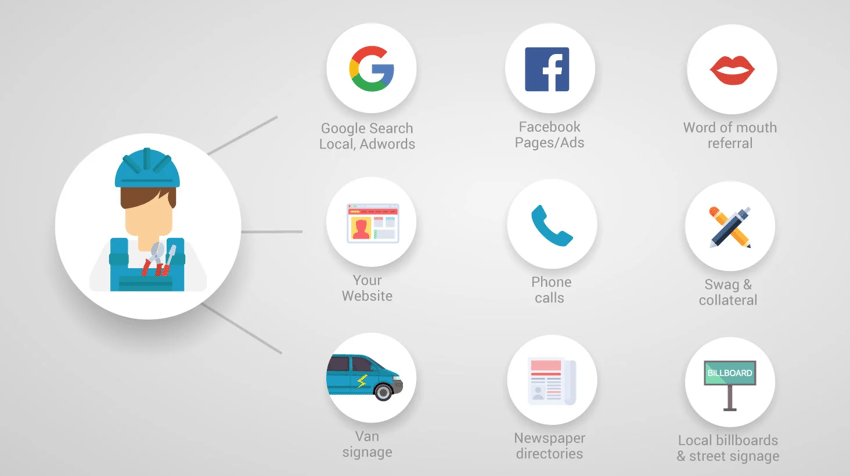 Figure out your target market
It's important to establish right from the beginning who your customer is. That's because it can quickly become overwhelming if you're trying to do everything and compete with everyone.

For the highest chance of success, you want to find your niche. This could be a segment of people in the market who aren't being serviced well by your competitors, or perhaps you can offer them something no other business currently does.

As you design your landscaping business, every single business decision that you make should be specifically directed at the type of client that you want to attract.

To figure out your niche, here's what you need to do:
Decide on what area/s you want to work in. Also consider whether your customers will be residential or commercial (or both), or other contractors.

Research your competitors and identify any service gaps in the local market that you could fill.

Make sure that opportunities in the market align with your skills and interests.

Narrow down the services you'll offer based on your experience and the service gaps you've identified in the market.

Estimate your niche's profitability by collecting data on your competitors' gross margins.
The reality is, you're not going to be the only landscaping business in town. This is when the work you've done to establish your target market will pay off.

You want to stand out from the crowd, and to do that, you first need to identify your competitive advantage – the thing you do better than anyone else. Yes, some clients will shop around for the cheapest landscaper, but competing on price can be challenging in a saturated market.

When considering whether to hire you, customers all ask the same question – "Why should I hire you?" If you can make this clear up front, you're already ahead of the competition.
Competitive advantage
When researching competitors in your area, think about:
What you can do differently, or better.

How you can stand out.

Whether existing businesses offer potential partnership opportunities.
Your marketing plan
Word of mouth is still number one when it comes to finding new customers, but you can't rely on it entirely. You must have a plan for getting your business out there for the world to see – especially online. Some might say, "If people can't find you online – do you even exist?"
To start with, at least consider:
Social media platforms:
Listing with local business directories:
Don't be afraid to scream about your new venture from the rooftops and get your friends and family to share the news that you're open for business. Once you get those initial clients, you'll be well on your way.

To help with your marketing strategy, we've developed a practical marketing toolkit for tradespeople. It's full of examples, tips and tactics to help you successfully market your trade business.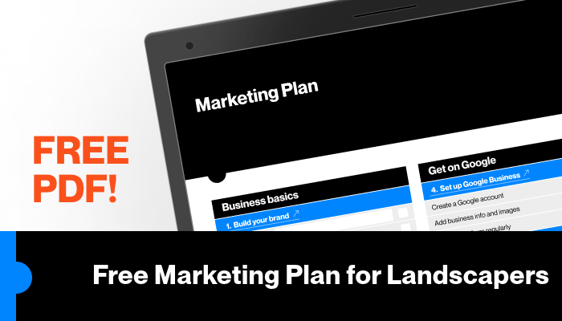 5. Learn from others in the industry
Podcasts are a great way to listen and learn while driving to and from jobs. Tradify's own podcast is made specifically for tradespeople looking to start or grow their business. Most phones have built-in apps for podcasts, or you can try Spotify.
With 29 million podcast episodes available across all the different platforms, you'll be sure to find something worth listening to. And, because it's a growing medium for content, you won't have to put up with too many ads.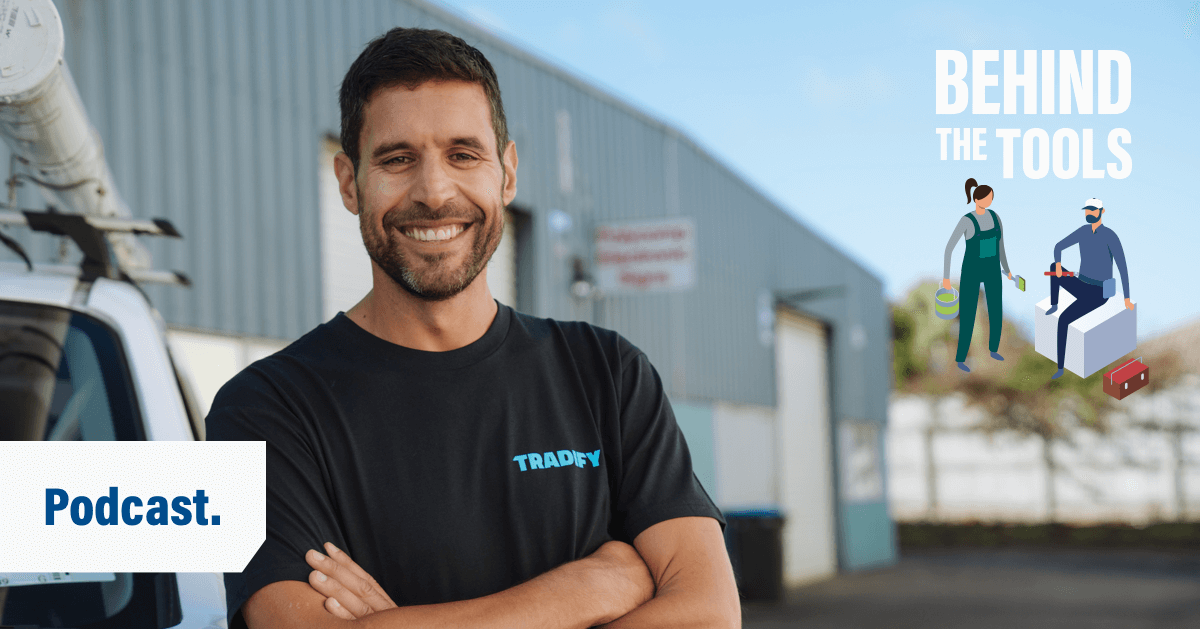 Behind the Tools with Tradify
Tradify's podcast is called Behind the Tools. It's an inside look at tradespeople from all over the world. Each episode we bring on a guest to answer the real questions you have about life in the trades, running a business, and how to overcome the challenges that come with being a tradesperson.
You can watch the videos on YouTube or listen to our podcast on your favourite platform:
6. It's time to build your business
For most tradespeople, running a business or working as a self-employed contractor is a tried and true way to live a better life. You're calling the shots – the hours you work, what jobs you take on, how much you charge. It means spending more time with the family and doing the things you love. And while it's not always about the money, making more money is a welcome side-effect of going out on your own.
Building a business from scratch isn't a walk in the park. There's a lot to consider, but just as you would tackle a new building project, a strategic, step-by-step approach will see your business up and running in no time.
Work your way through this guide and be sure to get your business plan sorted. Keep your goals and objectives in mind and continually hone your competitive advantage so that your reputation grows. Start right by setting yourself up with job management software that can keep up with your business. It'll pay off as your business grows and you begin to hire staff.
Already looking at hiring? Download our Interview Question Template!
7. Launch your business
We know first-hand that most tradespeople don't start their businesses for the money. When you work for someone else, you must do things their way. With your own trade business, the buck stops with you. You choose the hours you work, what jobs you take on, how much you charge – and how you run your business. For many tradespeople, it's a way to give their families a better life.

Building a business from scratch isn't a walk in the park. We can tell you that being your own boss will take blood, sweat and tears. There's a lot to consider, but just as you would tackle a new landscaping project, a strategic, step-by-step approach will see your business up and running in no time.

Work your way through this guide and get your business plan sorted. Keep your goals and objectives in mind and continually hone your competitive advantage so that your reputation grows. Start right by setting yourself up with job management software that will scale with your business. It'll pay off as your business grows and you find yourself starting to hire staff.

If you're looking for landscaping software to run your business — try Tradify for free!
Download our free Landcsaping Business Plan Template to help you get started!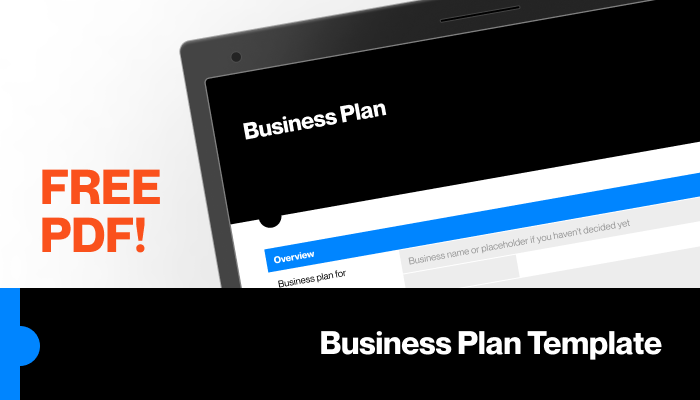 ---