In case you missed it, the first day of winter has been and gone, meaning give a take a day or two we've already reached the halfway mark for the year! To celebrate this milestone we've compiled our list of the Top Trades for 2016.
Reckon your Trade is the best Trade? Read on to find out.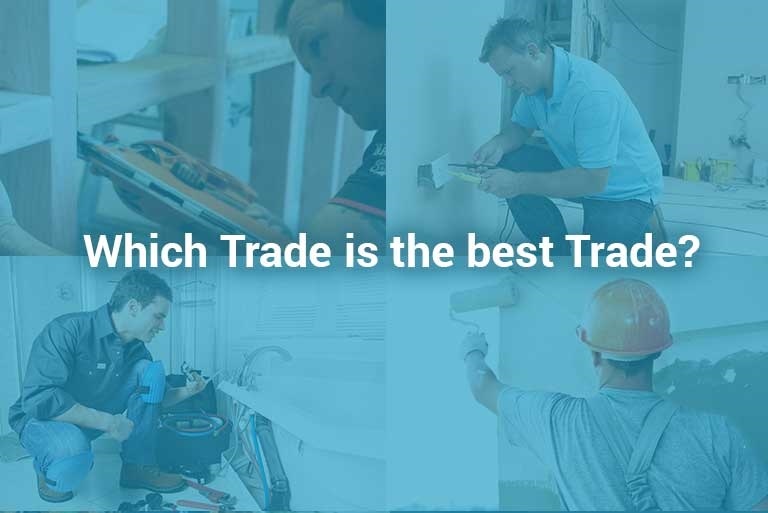 First though, lets be clear, its not all about the paper (as otherwise every Tradie would be a sparkie) so we've looked at other things like who's the best under pressure and who's the most under appreciated to come up with our list.
But if you do want to know what you should be charging your customers per hour, check this survey for a benchmark. Now without further delay, let's get into our list…
Builders
Chippies like to make stuff, they usually fancy themselves as a great leader of men and that being able to complain in a loud angry voice makes them a great communicator. There are also kinda the world's biggest hypocrites as while they can spot a dodgy architrave from 3ks away they nearly always have an unfinished laundry waiting at home.
In reality they are great at juggling multiple conflicting priorities, managing time, motivating staff, managing the needs of their wives, customers and suppliers and remaining super solution focused at all times. There is never a problem that a builder cant solve.
The property boom has been putting these guys under immense pressure (while also giving them the opportunity to make a fortune) and it shows no sign of slowing down. This is why Builders are our Top Trade for 2016 so far.
Carpenters
Every wood butcher seems to think their hands and skills are worthy of the gods and that no one but them is capable of crafting the world's finest balustrades from some buckled timber and a rusty blade.
In reality these guys are masters at crafting something stunning from nothing and not many other trades get to see the end result like Carpenters do. Guess this is why few take the kind of pride in their work like wood butchers do.
Given the low hourly rate ($58.55 according to the survey), but the quality of output, these guys take out our number two spot for the Top Trade of 2016 so far. Wood butchers also have to get credit for creating a pencil that doesn't roll away when you put it down!
Concreters
Without question concreters reckon they are the tough guys of the trades. If you manage to get yourself in a scrape, you definitely want a concreter close by (rather than say, a sparkie or an Accountant).
As a Concreter you place, spread, compact, finish and cure concrete for all kinds of structures including commercial and domestic buildings, industrial floorings, tunnels, bridges and roads. You also get to spend a lot of time with a huge throbbing pipe stuck between your hands with is either a good or bad thing depending on your perspective.
Slabbers are often thought of as the ex cons of the Trades but if you've ever tried to put down a high end polished concrete floor for a complex residential reno then you'll know a good slabber is as strong as an Ox with the delicate touch of a fairy. They are the unsung Trade and come in at number 3 on our list of the Top Trade for 2016 so far.
Plumbers
No question that Turd herders get a pretty hard time from the rest of the Trades and are easily the most underappreciated trade by home owners - until they actually need one. That's when the pipe benders get their revenge by being completely booked out for 3 weeks and charging a fortune when they do show up ($78.40 per hour according to the survey).
In all seriousness, nothing is more important that your home's plumbing and gas fitting. Nothing wrecks a laundry like a slow leak from an old outflow and nothing makes your house go boom like a leaky gas heater connection.
It also takes an incredible amount of time and effort to become qualified and certified. They need to be fit, strong and reasonably flexible and happy to go places most other people wont! This is why we believe they are the 4th Top Trade of 2016 so far.
Landscapers
Along with pool cleaners, sod suckers are the chaps mostly likely to be playing nude twister with Miss Daisy from number 17 instead of pruning the roses.
Next to builders they are also the Trade most likely to destroy your annual sleep in (after the work christmas party) by cranking the leaf blower or hedge trimmer full blast directly under your window at 7am in the morning.
But lets be honest, nobody does lawns like these guys and every tradie loves a good lawn so it pays to keep your landscaper mate on good terms (just watch out for the nude twister). They are also super handy to have round when you decide to trim the old norfolk pine or gum tree in the backyard and don't fancy turing the kids play house into kindling.
For these reasons we've ranked them number 5 in our Top Tradies for 2016 so far.
Electricians
Sparkies are the nerds of the trades and usually proud of it. As far as IQ is concerned these guys believe they have it over everyone and that only the smartest dudes can become Sparkies. It's true that Sparkies have to be certified and licensed, but unlike plumbers, Sparkies think their certification is harder to get that anyone elses!!
In fairness that's probably true (as how many of us really understand physics!!) and there is no question that the role of the electrician in particular has become increasingly complex and diverse with the average sparkie now expected to know about everything from security, to home automation, solar energy, electric cars, and the very latest LED Home renovation and design trends.
This complexity and diversity allows them to charge like scalded dingos ($74.61 according to the Survey) and when combined these elements mean Sparkies take out the 6th spot in our Top Trades of 2016 so far.
Flooring, Tiling & Paving
The Bonnie Tilers, Pavers and Floorers of the world like nothing more than slapping on some knee pads and getting down and dirty. This group takes all the workmanship required to be a carpenter or builder and makes it infinitely harder by doing it on their knees.
According to the survey all these guys make up the least paid trades despite doing an incredibly difficult and time consuming job. While we are putting these guys at number 7 in our Top Trades list for 2016 so far I think the second half of the year will be a big one for this group.
Painters and Plasterers
The Michaelangelos of the Trades, slap dappers and spreaders are also the trades most likely to leave you with a permanent headache from the combination of fumes and heat lamps.
In addition to the fumes, Spreaders in particular seem to be regarded as the Trade most likely to be carrying illicit substances in the tool bag or found with a goofy smile on their face.
In their defence, a good spreader or slapper is often the key difference between a good reno and a bad reno as nothing ruins a new room like a shoddy paint job or a spotty plaster finish.
Surprisingly, along with Tilers and Floorers, these guys are among the worst paid Trades around. For this reasons we've put them at number 8 in our Top Trades for 2016 so far.
Painters, Plasterers, Floorers, Pavers and Tilers are getting a rough deal on the charge out front but with the amount of residential work coming on stream these guys are going to start killing in in the back half of 2016 and rightly so.
So that's our list for the Top Trades of 2016 so far. No doubt we've upset a few of you but feel free to share your views by commenting below or click here to leave a comment on our >Facebook page.