Most plumbers don't want to work for someone else their entire lives. With a few years of experience under your belt, it's a natural progression to move into business ownership. But once you've started, how do you advertise a plumbing business?
Need help with advertising? Download our free Plumbing Marketing Plan!
Running your own plumbing business gives you the freedom to call the shots with the bonus of a financial reward. But it also comes with responsibility – and if you're not motivated, you risk your business becoming stagnant.
You didn't start your plumbing business to sit in front of a computer screen all day, so how do you go from ticking along to growing at a rate of knots?
1. Digital marketing is the place to start
You may have heard how popular digital marketing is. It has a low barrier of entry in terms of time & money and can generate huge results for your business relatively quickly. Think about how you find products and services that you need. You Google it right? You check out reviews online. You visit and compare websites.
If your carpentry business isn't online, you're going to have a tough time competing with those that are. If the thought of digital advertising gives you heart palpitations, don't worry — we're here to help.
Check out our guide to digital marketing, or download our free marketing plan for construction businesses.
2. Start with your website
It doesn't matter how great your business is – a poor website will set you back. 38% of people will leave a website if the content isn't aesthetically pleasing. You don't have to spend a fortune, just make sure your website reflects a few key principles of modern web design:
Keep it simple, don't overload it with information.
Improve your search engine visibility with SEO.
Add clear call-to-action buttons so it's easy for customers to navigate.
Check out our guide on how to create a website.
Tradify's Instant Website
As well as making job management a breeze, take a look at how we're making websites quick, easy, and affordable with our feature: Instant Website.
Please note: This feature is currently available for all Tradify customers and is an additional (and optional) cost to your Tradify subscription. You can view your Instant Website during your free trial, but you'll need a paid Tradify subscription to go live.
3. Make the most of free resources
Digital marketing doesn't need to break the bank. In some instances, spreading awareness can even be free. Try a free basic plan on MailChimp to keep your customers updated with email offers and newsletters. You should also register for a Google My Business account so your business can be easily found across Google Maps and Google Search.
4. Register with an online directory
Think of online business directories as the modern version of the Yellow Pages. They're an easy and affordable way to spread the word and reach a specific audience. Wherever you live, there'll be an online directory specifically for plumbers and trades businesses like yours.
5. Prioritise good photography
With advances in technology, you don't need to stress over hiring a professional. Some well-planned snaps on your smartphone will work just fine. Make sure they're in focus, high quality, and showcasing the best your business has to offer.
Here are some tips on how to get the best photos for tradespeople.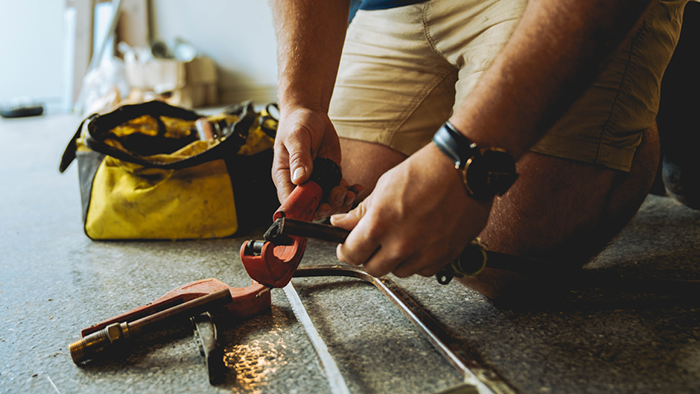 6. Request more reviews
Back in the day, a business review looked like two neighbours chatting over the fence. These days, reviews are online for the world to see. And they really matter. 74% of people say that positive reviews make them trust a business more.
Here are some tips on how to get 5-star reviews for your trade business.
7. Harness social media
More and more plumbers are using social media to promote their businesses, and they're bandwagons you'll want to jump on. Here are good places to start:
LinkedIn
This platform kills two birds with one stone – you can promote your business and it's also a way for prospective employees to get in touch with you about a job. Keep your profile fresh and updated – it could be the first place your new star worker reads about your business.
Facebook
With more than 2 billion users globally, Facebook is the widest-reaching social tool for advertising your trade business. Learn how to use Facebook for your trade business.
YouTube
Video is king in today's content-rich world, and YouTube is quickly becoming a core marketing tool for most businesses. Unsure how to use this platform? We've got some ideas on how to start a YouTube channel.
Instagram
For those who grew up with smartphones, Instagram is a useful tool. It's how they find out about travel destinations, new restaurants, and also what plumber to hire.
Our Instagram guide for tradespeople will help get you started.
8. Don't forget about offline marketing
Digital marketing is definitely the way to go, but that doesn't mean you should bury traditional advertising tactics. The trades don't discriminate, and every age group will use a plumber at some point. Your marketing needs to reach far and wide.
Put your brand on everything
Whether it's your vehicles, uniform, or even your tools, covering them with your logo and business details is an easy way to get noticed. Not only that, it will also keep your team looking sharp on-site.
Print isn't dead
When you're trying to advertise your plumbing business, your marketing needs to reach the hands of everyone – newspaper readers and all. An ad in the paper or a simple flyer can be a powerful tool for spreading the word about your business, especially to those more mature customers.
Print business cards
Before the internet, business cards were the only way to quickly get your details in the hands of prospective customers. In some industries, they're a thing of the past but your target plumbing market is far-reaching. Having a business card to give to customers who aren't into social media covers all your bases.
Get networking
No matter how big digital marketing gets, local businesses will struggle to outgrow the power of networking and word-of-mouth recommendations. Making connections is what will get your foot in the door with a lot of business – keep that in mind the next time you're at a BBQ, community event, or your kid's school production. Make sure everyone around you knows you're a plumber.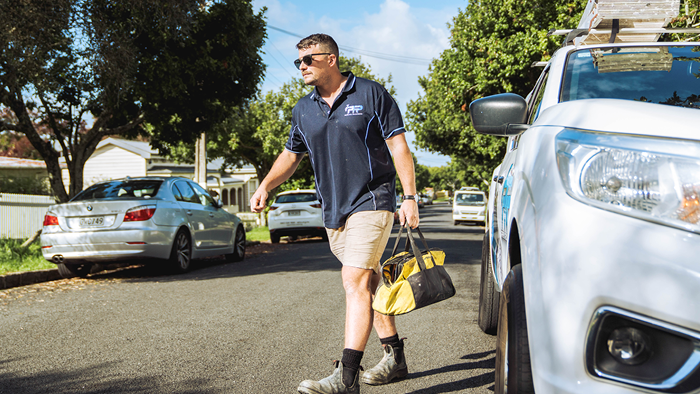 9. Pause, reflect and change
Tradespeople are notoriously hard-working, but it's also important to take a step back and reflect. It's too easy to get caught up in the daily struggle. Don't miss opportunities to improve the way things are running.
Check your numbers
A plumbing business can be hugely rewarding, but if you're running at a loss, it might give you more stress than joy. To make sure the business is operating at its best, do the math and check your finances regularly.
Our guides can help you get started:
Welcome staff feedback
Without your staff, you'd have a hard time running your business. When was the last time you checked with them to see how they're doing? A regular meeting to get feedback is a great way to make them feel empowered and valued, ramp up productivity and job motivation, and keep your business profitable.
Take a break
Thousands of trade business owners forgo a holiday for fear their business will fall apart without them. But the opposite is true – taking a break can be hugely beneficial for the growth of your plumbing business. If the thought of a holiday gives you sweaty palms, check out our article on how to keep your trade business running while you're on holiday.
Invest in yourself and your staff
Upskilling is an investment in your business. Consider a customer service workshop, an advanced plumbing course, training with a specific product, or broaden knowledge with a certificate. It doesn't need to cost much, but taking skill sets up a notch is sure to give your business a boost.
Expand to new markets
If the business has been running smoothly for a while, there'll come a point when you need to branch out to grow further. Use some of your advertising techniques – both digital and offline – to spread news of your business in another area of town. You could also look into offering new products or services, and start advertising those too.
Sharpen up your systems
There's no way your business will grow if you don't have efficient systems in place. If you're still recording jobs, timesheets and invoices the old-fashioned way (pen and paper, we're looking at you), you need to optimise your business to work faster and smarter – and see business growth.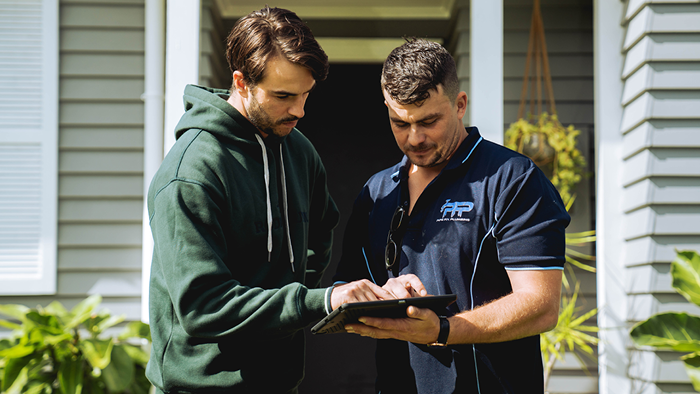 10. Adapt your strategy and watch your plumbing business grow
When you first set up shop, getting past the starting gate seems like the hardest part. But you'll quickly learn that the real work sets in once your business is established.
With a bit of hard graft, planning and determination, your plumbing business will grow. Update your digital and offline marketing strategies and you'll be surprised to see how much your business thrives as a result.
To market your trade business, you need effective job management processes. See how Tradify can take your business up a notch with a 14-day free trial.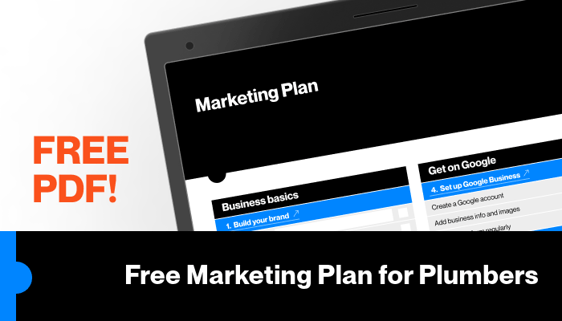 ---