After years of slaving away as an apprentice and working your way up the carpentry ladder, you've finally gone out on your own. Starting a carpentry business is a natural progression for many chippies — and it's a sure sign you've reached your career potential… or have you?
Need help with advertising? Download our free Marketing Plan!
Starting your own business is just the beginning of a very long journey for many carpenters and builders. It's not all chipper! Advertising a business is tough ... but we've got some ideas that should make things easier.
Short on time? Jump ahead:
1. Digital marketing is a must
You may have heard how crucial digital marketing is. Think about how you find products and services that you need. You Google it right? You check out reviews online. You visit and compare websites.
If your carpentry business isn't online, you're going to have a tough time competing with those that are. If the thought of digital marketing gives you heart palpitations, don't worry — we're here to help.
Check out our guide to digital marketing, or download our free marketing plan for construction businesses.
2. Update your website
Building a website is like building anything else — it needs constant maintenance to function as intended. A simple, modern website kept up to date and optimised through SEO will help prospective customers find you and build your credibility.
Check out our guide on how to create a website.
Tradify's Instant Website
As well as making job management a breeze, take a look at how we're making websites quick, easy, and affordable with our feature: Instant Website.
Please note: This feature is currently available for all Tradify customers and is an additional (and optional) cost to your Tradify subscription. You can view your Instant Website during your free trial, but you'll need a paid Tradify subscription to go live.
3. Refresh your image
Good photography is important across all your digital marketing channels. Think about how you look at houses, cars, or other products online. Crap photos turn away customers.
You don't need to spend a lot – just make sure your shots are in focus, clear, and showcase the best of your business in action. We know you trained as a builder, not a photographer, which is why we've put together a guide on photography for tradies.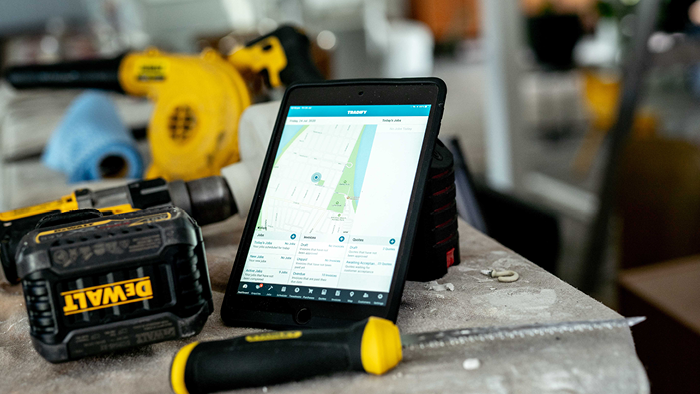 4. Register with small business directories
It doesn't matter where you are in the world, if you own a carpentry business, online directories can drive a lot of work your way. Not only are they free, but they're also incredibly user-friendly and require next-to-no upkeep. Just set up your details, snap a couple of good photos and you're good to go.
5. Get cranking with free tools
A refresh on your advertising doesn't need to cost an arm and a leg. There are lots of free resources available. Want to send newsletters, surveys and special offers to your customers? MailChimp's basic free plan has you covered. You can also make your business more visible with Google My Business.
6. Focus on getting good reviews
These days, a stellar online review can be as effective as a recommendation from your mate. New research shows that 84% of people trust online reviews as much as they trust a personal recommendation.
So how do you make sure your business gets those reviews coming in? Focus on providing quality service and request a review as soon as the job is done. Here's more on how to score 5-star ratings.
7. Social media strategy
A website is one thing, but social media is a different story – they're more personal, emotive and persuasive. But with new platforms trending all the time, it can be hard to know where to begin – or how to keep up.
Here are our top platform suggestions for trade businesses:
YouTube
Advertisers around the world are predicting YouTube will take centre stage in modern marketing. Video is much more engaging and convincing than any other media and effectively advertising your business on YouTube will see huge growth in your online following.
If you're not sure where to start, check out our tips on how to start a YouTube channel
Facebook
Even with newer platforms gaining more traction, Facebook remains the most popular social media platform worldwide. And with more than 2 billion loyal followers, that's no surprise. Most of your audience will be on Facebook.
If you missed the Facebook boat and need a bit of help getting started, we've got some ideas on how a carpentry businesses can use Facebook for advertising.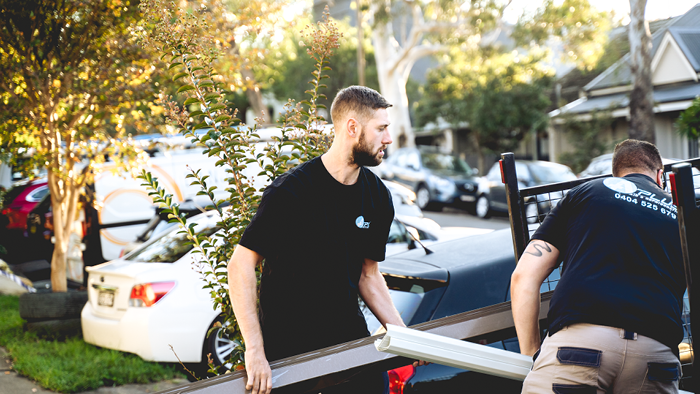 Instagram
What was once used as a space to share square snippets of travels and brunches, is now one of the biggest advertising tools across all industries. Get started with our Instagram guide for tradespeople.
LinkedIn
As the more 'professionial' social media platform, LinkedIn can be useful for online networking. You can use it for hiring, finding business partners, or learning more about running a business.
8. Make room for old-school marketing methods
Sure, you need digital marketing to grow your business these days – but that doesn't mean traditional advertising should be forgotten.
As a carpenter, think about your potential customer audience – you've got young families in first homes, baby boomers with investment properties and commercial clients too. It's unrealistic that one type of advertising will reach all these people. You still need to consider offline marketing tactics.
Invest in vehicle branding
For most tradespeople, this is the first type of advertising they do. There's no easier way to market your business than plastering your logo and contact details on your vehicles for the world to see. Plus, you'll turn up to jobs looking slick & professional.
Design a company uniform
No need to break the bank — a printed T-shirt will do. Get out and about in your community because the more people see you in uniform, the better. You'll find that potential customers come up to you while you're working, walking, or even waiting in lines.
Get mates to spread the word
People trust an honest recommendation. Networking is hugely powerful. Mix that in with the glowing online reviews you'll be getting, and it's a recipe for business success. It's your job to advertise your business at all times, so make sure everyone around you knows what you do for a living.
Publish an ad
As a carpenter, you're bound to have a wide audience – including your 90-year-old neighbour who still reads the Sunday paper. An ad could be in any form – your local paper, the supermarket noticeboard or a pamphlet in the mail. Whatever the case, just make it short and snappy, with large text and easy-to-spot contact details.
Print business cards
Some say the days of business cards are behind us, but we'd argue they still come in handy. A business card is an easy way to get your company's info in the hands of prospective customers. Of course, your business cards can still have links to your social media and website, but even if they're technology-free, they can keep your number on hand.
One clever way to use Tradify's Enquiries feature is to link it with a QR code on your business card. Customers follow the QR Code with their phone camera and are directed straight to your Trade HQ Enquiries page to put in their details.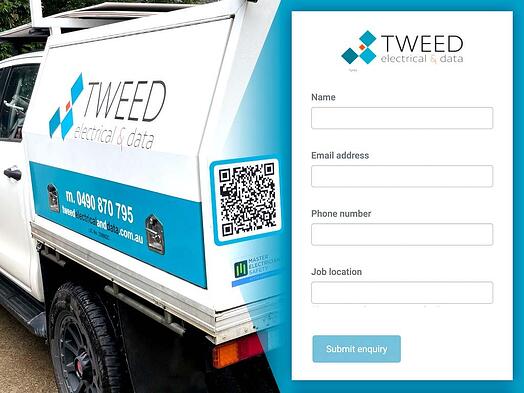 Tweed Electrical's trucks have a QR code linking to their Tradify enquiry form.
9. Take a step back to reflect – and adapt
We know what you're thinking – you've got a million and one things to get done, how can you possibly take time to pause and reflect? Running like a bullet train isn't always productive for your business or your mental health. Stopping to reflect is actually a crucial step in advertising your business.
Review your finances
Running your carpentry business isn't all about the money, but if you're running at a loss, you could find yourself up the creek without a paddle. Review your financials regularly with your accountant to make sure your jobs are on track.
If you struggle to wrap your head around numbers, we've got some tools to help:
Look after your staff
This is a no-brainer – if you don't have happy staff, you don't have a healthy business. It's easy to get distracted by the busyness of business, but if you forget to check in on your team, it'll be more than just business that's impacted.
Make a point to sit down with each staff member at least once a month to see how they're getting on. It's up to your team to be productive, but you can help them get there.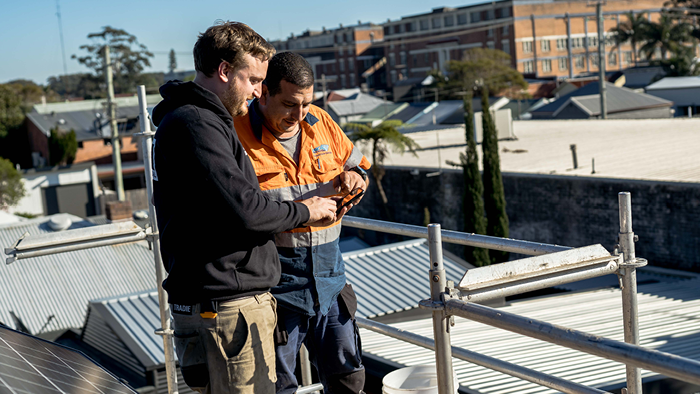 Take a break
This one might feel counter-intuitive, but we've written a whole article on how taking a break is hugely beneficial to your business. The positive impact on business expands across the board – from improved staff productivity to increased health for you – and in turn, more inspiration and motivation to put towards your business.
10. When there's a need for change
One of the key factors for success in any business is resilience. Running a business is no walk in the park, and things will go wrong from time to time. Reviewing things when they aren't working and knowing how to effectively implement change will be key to your business success.
Here are some things you can try:
Offer upskilling opportunities
Whether you've got a team of two or twenty, upskilling yourself and your team will directly advertise your business. An investment into learning will not only benefit your business service and quality, but it'll also make your team more productive — eager to use their newfound knowledge.
Expand to new markets
The beauty of owning a carpentry business is there will always be a demand for carpenters. Keep your eye out for new opportunities. Wherever you live, keep your ear to the ground for new developments, house builds and renovation projects. If you're ready to jump when opportunities arise, you'll secure a lot more work.
Review your management systems
Carpentry business owners still spend too much time on their paperwork. That means evenings and weekends working overtime to get excess admin done – only to repeat the same thing the following week. Don't let that be you.
Tradify has helped thousands of carpentry business owners optimise their workflow, cut down the time they spend on manual paperwork and focus on advertising their business.
The sharpest carpentry business in the shed
Starting your own carpentry business is one thing. Turning it into a successful enterprise is a whole different story. To do that, you'll need to spend some time on your advertising strategies – both digital and offline. You'll also need to learn how and when to take a step back, reflect and find innovative ways to change things that aren't working.
You don't have to work 24/7 just because you're the boss. See how Tradify can help you advertise your business with a free 14-day trial.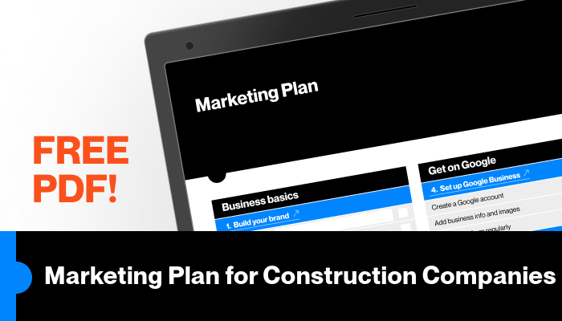 ---