You've knuckled down and started your own HVAC business – the hardest part is now behind you, right? Sure, getting started is no walk in the park, but taking your business from running to thriving – that's a whole different story.
The foundation for any successful HVAC business is being good at what you do. But there's a lot more that can be done if your goal is to advertise your HVAC business to reach its full potential.
Need help with advertising? Download our free HVAC Marketing Plan!
Short on time? Jump ahead:
1. Digital marketing is for anyone with a computer
There's no way around it – digital marketing is the place to start. These days, everything and everyone is online (even your mother-in-law has at least one social account right?). If you aren't using digital advertising to promote your HVAC services, you're missing out on a huge amount of exposure.
Here are some tips for refreshing your digital marketing:
Review your website
When was the last time you upgraded or updated your website? Research shows your website has 50 milliseconds to make a good first impression before people lose interest and move on.
When building a website for your trade business, make sure you get the basics right first: a sleek design and well thought out copywriting.
You should also look into SEO — that's how you get found on Google.
Get good, clear photos
We're not saying you need to hire a professional photographer, but you do need to invest some time and energy into getting good shots you can use across your digital platforms.
Think about your own online shopping. Would you buy a product or service with dark blurry photos? For some extra advice, check out our photography guide for tradies.
Take advantage of free digital resources
Digital marketing doesn't mean spending all your profit on paid ads – there are free tools out there you can use to spread the word. Tools like Google My Business will help people find your HVAC business across Google Maps and Google Search. You could also use MailChimp's free basic plan to send out newsletters and special deals to your customers.
Register with an online directory
There are lots of online directories designed specifically for tradespeople. All you need is a good photo or two, a blurb about your business and info on how people can contact you – et voila, business is on the way to bustling.
Share 5-star reviews
Almost everyone will check online reviews before using a business. That means almost all your prospective clients will hunt for reviews before they get in touch with you, so make sure they can see yours.
Here are our tips for getting 5-star reviews.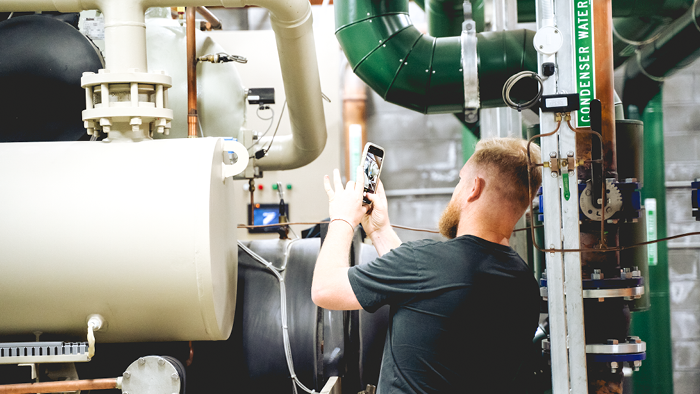 2. Nail your social media
Social media platforms are an easy and affordable way to advertise your HVAC business. They're also great tools to help recruit future employees, share snippets of your portfolio, and offer advice to clients.
Whether you're fluent in social media or you've never heard of YouTube in your life – we've got you covered.
YouTube
It might seem strange to suggest advertising your HVAC business on a video platform, but YouTube is quickly becoming the number one marketing tool for many reasons. Stats revealed that in the UK and US, 51% of people use YouTube to find products to buy, so you can bet those numbers aren't far off for finding services too.
Check out our guide on how to start a YouTube channel as a trade business.
Facebook
Facebook still ranks as the most used social network in the UK, Australia and New Zealand, according to the Global Web Index. Every HVAC business should have its own Facebook page – here are instructions on how to build yours.
Instagram
Instagram serves as a one-stop-shop for a lot of people these days – it's how we find out about new events, places to eat or holiday spots to visit. It's also how people find services like tradespeople in their local area.
Get started with our Instagram guide for tradespeople.
LinkedIn
At some point, advertising your business might mean taking on a new apprentice or team member. You can LinkedIn for hiring, finding business partners, or learning more about running a business.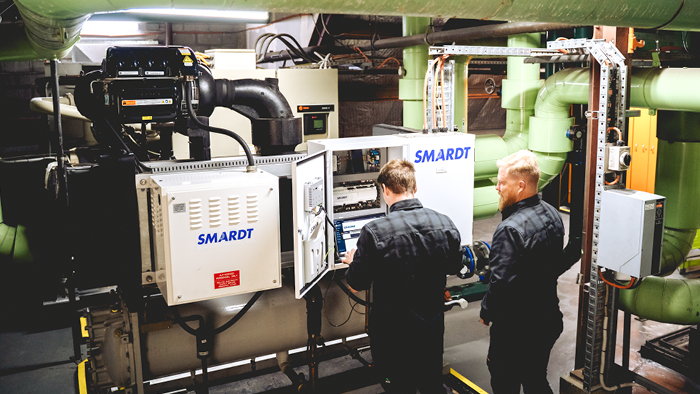 3. Traditional marketing still works for tradespeople
As an HVAC technician, you'll likely have a client base across a wide range of people in your community – from the elderly neighbour next door to the young family down the road. For that reason, you need to use a variety of advertising techniques to catch everyone's attention.
Use your vehicles
Most tradespeople do this as a first-step. If you've got a work van, get your logo and contact details plastered across it. It's an authentic way for prospective clients to 'stumble across' your services, even when they're stuck in traffic. It's a strong one-off investment that will get the calls coming in.
With Tradify you can create a QR code, print it onto a sticker or magnet, and allow customers to contact you just by scanning the code.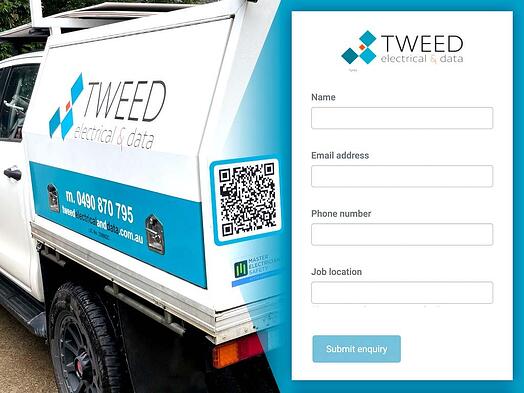 Tweed Electrical's trucks have a QR code linking to their Tradify enquiry form.
Learn more about QR codes and online enquiries.

List an ad
Even with our smartphones constantly at the ready, traditional advertising can still be more effective for some potential customers. Crafting a clever ad to post in your local newspaper – as well as on Instagram or Facebook – will likely catch a different segment of your audience, and help spread the word about your business.
Order uniforms
Staff in uniform is an advertising double-whammy – the uniform keeps them looking sharp and helps build your reputation. It's also a clever way to put your business in front of the public. When your team wears the uniform proudly, you never know who'll be taking note of your HVAC expertise.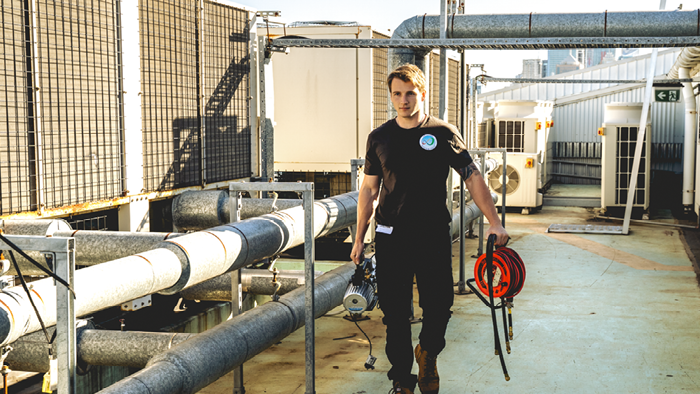 Every conversation is a chance to network
As we said earlier, people trust personal reviews more than they trust any other form of advertising – they're an authentic way of showcasing your business and securing more work. Make sure everyone you interact with are aware of what you do.
Print business cards
You may remember when business cards were flung around with abandon, and people relied on them to advertise their businesses. While those days have passed, there's still a use for the humble business card. They're handy to keep around for anyone asking about your services face to face, particularly those customers who aren't up to speed with social media.
4. Pause, reflect, and grow
Life as an HVAC business owner can be challenging and spare time is hard to come by. We know that taking time to pause and reflect might seem impossible, but it's a crucial and necessary step to marketing your business properly.
Book a holiday
Yep, you heard it right. Taking a holiday can be hugely beneficial to your business.
Thousands of trade business owners work through the year without taking a single day off because they think that's the best thing for business. In fact, the complete opposite is true. Slowing down and giving your mind a chance to rest is when new ideas and inspiration tend to flourish. And if you never trust your staff to take the reins for you, how will they learn or feel empowered?
Go over your finances
You might keep tight tabs on your finances, but how often do you sit down and analyse the big picture? A good place to start is to review your monthly outgoings, see if there are any opportunities to cut costs and make sure you're not running at a loss unnecessarily.
Looking for more in-depth tips? We've got:
Chat to staff
It's important to regularly check in with staff and see how they're doing. Are there things they're struggling with or concerned about? Are there areas to improve business processes or productivity? You can't fix things you don't know about.
5. There's always room for continuous improvement
No successful business still operates the same way as when it first started. Times change and your business must adapt too. If you want to see success, you'll need to make some changes along the way. Here are some options.
Target a new audience
If you've installed new heat pumps in every house in the neighbourhood, it might be time to think about branching out. Consider offering a new product or service. Targeting your advertising slightly farther afield will create wider awareness of your services and further spread word about your business.
Update your services
Are you up to date with the latest HVAC technologies? No matter how long you've been in business, always assume there's more to learn and new skills to acquire – your business will continue to thrive because of it.
Upskill staff
To advertise your business, you need to get your technicians involved too. Remember, your staff are a direct reflection of your business. Investment in their skill set can pay dividends in your business too.
Sort your systems
We see it all too often – trade business owners struggling with pen and paper like it's 1999. Spending too many hours on paperwork and admin is lost time on the tools. That's a sign you need to optimise your systems and take your business to new heights.
From cold to hot: get your HVAC business pumping
Anyone who owns an HVAC business knows that it's not always a walk in the park – you've got staff to manage, jobs to track, and finances to forecast. But that's just the beginning if you want to take your business from good to great.
To advertise your HVAC business successfully, you'll need to nail your digital marketing, expand to new audiences, and prioritise your staff. It's a constant work in progress – but it'll pay off in the long run.
Be prepared when the jobs start rolling in – and give Tradify a test run. See how it works for your HVAC business with a free 14-day trial.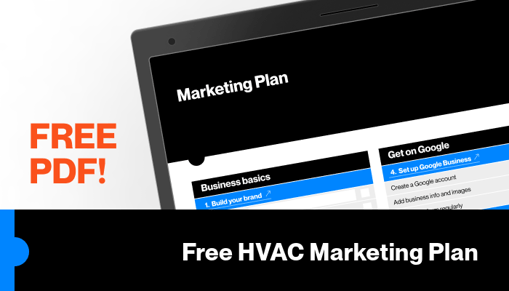 ---