Love it or hate it, cleaning is something that most people have to deal with. That makes it a dependable industry for those willing to put in the effort, and a relatively inexpensive opportunity to become your own boss. Starting a cleaning business takes more than a perfectionist's approach to dust and grime. It comes with its own set of challenges, so it pays to be prepared with a solid business plan.
Here's everything you need to know about starting a cleaning business.
Need a hand coming up with a name for your cleaning business? Try our Cleaning Business Name Generator!
In a rush? Skip ahead:
1. Cleaners are always in demand
While many media personalities have shone a spotlight on keeping our homes spotless, the cleaning industry is also one of the most recession-proof industries.
2. Setting goals for your cleaning business
Before you do anything, ask yourself: why do you want to start a cleaning business?
Are you sick of working for someone else? Do you need flexible working hours to juggle family life? Or are you an entrepreneurial spirit, looking for an opportunity with a relatively low start-up cost?
Whatever your reason, it's important to identify your motivation and keep it at the forefront, particularly when facing the inevitable challenges that will come your way.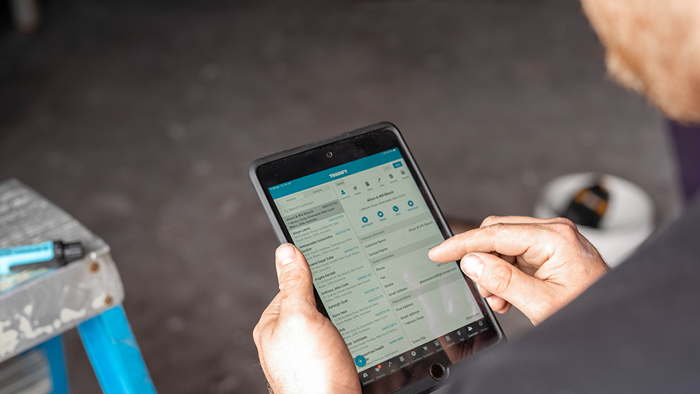 3. Crafting a spotless cleaning business plan
Before jumping in with your mop and bucket, you need a plan. Several studies show a positive correlation between robust planning and business success because it helps you define what gives you a competitive edge. So, where should you start?
A well-considered business plan will help you gain critical insight into:
Financial projections

Growth opportunities

Marketing strategies

Financing

Short and long-term goals
Here are some other cleaning-specific factors you might want to consider:
Commercial versus residential
Residential cleaning businesses usually have lower start-up costs. However, commercial cleaning can have more scope for growth with add-on services like disinfecting surfaces or window cleaning. Residential cleaning is typically more detail-oriented than commercial (as you'll have the homeowner/bill payer scrutinising your work). Commercial covers a much larger space, and there is less focus on how well you fluff the pillows.
Check out episode 27 of our Behind the Tools Podcast, where Anne Timpany talks us through the transition from a residential operation to a commercial one.
Day versus night work
Residential cleaning is more likely to occur during the day, and commercial — at night. So, your choice may come down to what fits best with your lifestyle.
Franchising versus going solo
Purchasing an existing cleaning franchise might require a more substantial upfront investment, but you'll benefit from tapping into existing processes, a recognised brand, and on-the-job training. Starting up an independent business is likely to mean less investment over the long term and you won't be tied to specific concepts, services, or administrative processes.
Specialisation
Choosing a niche can be a great way to stand out from the pack. Anything from window cleaning to eco-friendly cleaning, event clean-ups to commercial kitchen cleaning can be viable options depending on your location.
4. Training and qualifications for cleaners
While certification isn't mandatory, it can reassure potential customers and help you hone your skills. The links below will help get you started:
While mulling over the 'should I start a cleaning business?' conundrum, it's a great idea to ensure that your work is worth paying for. It's realistic to assume that you'll be doing the majority (if not all) of the grunt work until your business becomes a bit more established, so learning by doing is crucial.
Start with close family or friends and offer to clean in exchange for honest feedback. Before you hit the paying customers, you need to make sure your standards meet other people's expectations.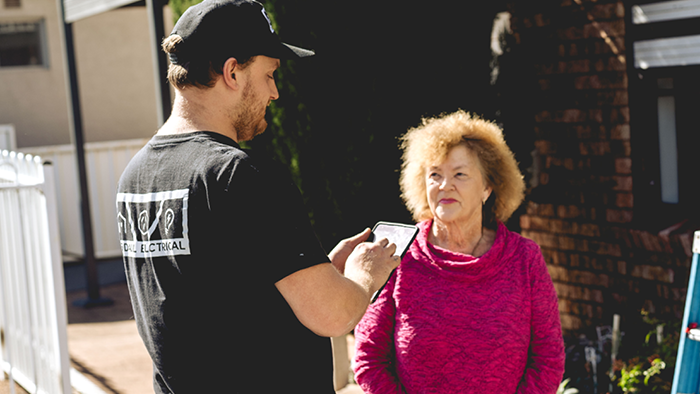 How much should you charge?
Putting a price on your work can be tricky. You need to factor in your expenses and ensure you're competitive with cleaners in the area you're targeting. Operating costs need to include travel, cleaning supplies, and labour, plus the profit you want to make.
The most common rates are:
Hourly –

the most common billing method, relatively easy to establish by researching competitors in the area.

Flat rate –

determine this rate by estimating the time it will take to clean a house or office. Some customers may prefer a fixed cost.

Cost per square metre/foot –

the standard for commercial cleaning based on the time it will take you to clean the area.
Your credentials and your pricing will be some of the first things potential customers check online, so promoting your skills and value upfront will help gain trust and win you more work.
To help you crunch the numbers and make sure you've got everything covered, we've developed a Charge-Out Rate Calculator.
5. Finances for your cleaning business
While it might seem ridiculous to think about insurance, capital, and bank accounts before you've signed your first client, it's best to start with everything in place for the future. Be prepared — investigate the following:
Funding your business
Unless you're lucky enough to have spare cash on hand, you'll need to approach your bank or other lenders about a small business loan.
Almost all major banks provide a range of financial options:
Business accounts

Credit cards

Small business loans
Most banks have small-business experts who'll guide you through the process. Just make sure you take your cleaning business plan with you — no bank will lend you a cent without a plan.
Your financial circumstances will determine the type of lending options available to you, but no matter what — any lender will want to see you've done your homework.
Here are a few things they might be interested to see:
A break-even analysis

—

Know that your business can at least break even before it makes a profit.

A cash-flow forecast —

How much money is moving in and out of your business and when?

A sales forecast —

Estimate future revenue by predicting weekly, monthly, or yearly sales. This isn't easy when you're starting, but there are ways to work out whether your business idea is financially viable.
Government loan schemes
Your local government might also have financial schemes set up to help new businesses. Find out for yourself by following these links:
Private investors
You might also want to consider approaching an investor. Angel investors are successful entrepreneurs who provide capital for promising business start-ups. Rather than you paying the initial investment back, they often receive convertible debt or a percentage of ownership in return. Be wary when approaching investors — they may want a bigger stake in your business than you'd be willing to part with. If that's the case, stick to your guns and be willing to walk away if you have to.
Insurance
It may not be legally required, but if you accidentally knock over someone's family heirloom while you're dusting, you won't regret having insurance. You'll also need it for your work vehicle and equipment. Depending on your priorities, you may want to take out other policies like worker's compensation, a general business owner's policy and income protection insurance.
If you're working with a small business expert at your bank, your package will probably include insurance. But if it doesn't, you'll need to do your homework to find a reputable provider of business insurance. Here's our article on business insurance for tradespeople.
Register your business
If you're planning on employing staff or operating under a business name (now or in the future), it's essential to get your business registered through the relevant channels and understand your requirements:
Getting equipped
Basic cleaning supplies and transportation are the two essentials for operating a cleaning business and can be upgraded as your business builds and grows. If you're starting on a strict budget, try not to get overwhelmed with the array of specialised products available. Just stick to the basics. Make a wishlist of other items that will make life easier, and plan to purchase them as you reach income milestones. Keeping items sanitised between jobs by using disposables or undertaking a sanitation process is something you'll need to consider.
The basic cleaning tools you'll need are:
Cleaning solutions and spray bottles

Sponges

Scrubbing brushes

Gloves

Disposable or reusable rags or towels

Mop, broom and vacuum
The biggest cost of setting up a cleaning business will be a work vehicle and any specialist equipment for those hard-to-reach places. Thankfully, business expenses are tax-deductible.
Don't panic, there are plenty of finance options if you're like most people and don't have a stack of cash lying around. The good news is, you can claim tax back on the purchase! This is where quality is paramount – don't scrimp just to save a few pennies. Quality, well-made equipment will last you for many years and save you thousands in repairs and replacement.
Costing your initial business requirements can be daunting, but remember that your vehicle and equipment are assets, not liabilities. All can be resold if necessary, or added to the total value of your business if you decide to source capital-based loans or funding.
We've created a handy Cash Flow Template & Guide to help you forecast your businesses' cash flow and keep everything on track.
Accounting and taxes
Have you thought about how you're going to stay on top of your books? Perhaps you'll transfer your business data to accounting software, hire an accountant, or both.
To make things even easier, Tradify also integrates with your favourite accounting software: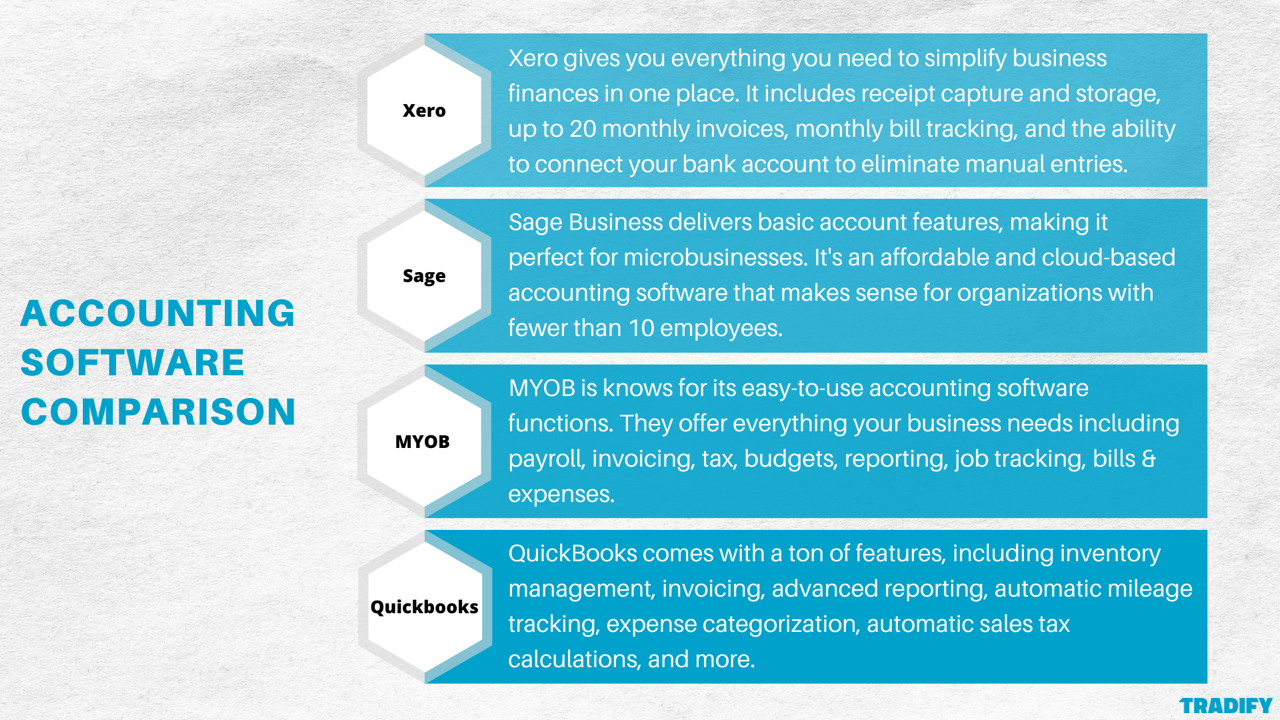 Graphic provided by Crazy Egg.
As a small business, the last thing you want to do is get on the wrong side of the tax man. He's guaranteed to come knocking eventually. When he does, you could get hit with hefty back payments, interest rates and fines that could cripple your venture. To avoid this, follow the rules from the word go and decide if you need an accountant. If you choose to use an accountant, you can cash in on big-time savings in the form of both time and money.
6. Marketing your cleaning business
You might be a rockstar behind the feather duster, but if you're not marketing yourself, how will people know about your cleaning prowess? It's highly unlikely you'll be the only cleaning guru in town, so be sure to check out your competitors online – and offer your clients something different. You might travel that little bit further to service a different area or you might be the only business in town with the equipment to clean outdoor windows.
Learn more about digital marketing for small businesses.
To start with, at least consider:
Social media platforms:
Listing with local business directories:
Growth opportunities
When you're first starting, it's unlikely you'll have much of a budget to throw at marketing, so it's best to use low-cost and free strategies to get your name out there. Take a look at our digital marketing toolkit to get an idea of your options.
Word of mouth
Referrals are your best friends when starting a business. Clients are trusting a stranger to come into their home, so recommendations are a powerful thing. Once you've secured customers beyond your friends and family circle, leave them your details to pass on to others.
Get ready for launch
Now you've got all your tools and equipment ready to go, your business plan is looking robust and shiny and that new work vehicle is itching to get out on the road – what's next?
Start by testing your plan and working your way towards a business model that suits you. Go lean with your approach, and remember to spend less time planning and more time doing. This will allow you to test ideas quickly, build on your success and learn from your failures.
7. Know your strengths and weaknesses
Let's face it, cleaning isn't rocket science. However, there's a lot more to running a cleaning business than your ability to clean and it's important to be honest with yourself about where your strengths and weaknesses lie.
For example, if you know that admin isn't one of your strengths, look for tools that can help. In this day and age, there are technologies and apps developed for trade businesses. Make sure you check out the cleaning software available to help save you time and make your business more efficient.
If you've got the gift of the gab, make the most of it when you're dealing with customers. Customer service is something that can set you apart from your competitors. Whatever your strengths, work them to your advantage. Then identify weak points, and take steps to work on improving your aptitude or outsourcing to experts. We're talking specialist processes like accounting and web development.
SWOT analysis
Finding it difficult to figure out where you smash it and where you crash it? Running a SWOT analysis is a great way to not only understand your strengths (S) and weaknesses (W), but also identify opportunities (O), and anticipate threats (T).
What is a SWOT analysis?
Usually, strengths and weaknesses are internal aspects of your business (what you're good at, what you're not so good at), while opportunities and threats are external forces (what is likely to impact your business negatively or positively).
Strengths —

top strengths or benefits of your business, and how you can protect and enhance them.

Weaknesses —

your main weaknesses or issues, and how you can minimise them or do better.

Opportunities —

biggest opportunities for your business and how you can access and take advantage of them.

Threats —

your worst threats, and how you can minimise them and do better.
8. Learn from others in the industry
Podcasts are a great way to listen and learn while driving to and from jobs. Tradify's podcast is made specifically for tradespeople looking to start or grow a business.
With 29 million podcast episodes available across all the different platforms, you'll be sure to find something worth listening to. And, because it's a growing medium for content, you won't have to put up with too many ads.
Behind the Tools with Tradify
On our Behind the Tools pocast, we asked some of our cleaning clients about their experiences starting and growing a cleaning business. Here's some advice to keep front of mind:
"I never thought, 'Hey, I'm going to start a business.' It just kind of happened, and then it grew and grew and grew. I had a hundred different tabs open in my mind all the time and I missed jobs – just completely forgot about them. Until we got Tradify," Leah Wynne, Wairarapa Dream Clean.
"At the end of the day, being able to show our customers the work we've done, and for them to be happy with it, that's all that matters," Jon Domoney, CleanMe Property Services.
9. Streamline and save time with tech
As your business grows, so does the amount of admin that needs to happen behind the scenes. Keeping track of cleaning supplies, scheduling, client information and invoicing are time-consuming and can quickly take you away from the task at hand.
Specialised cleaning job management software like Tradify provides an all-in-one solution for your day-to-day processes in one streamlined hub. You'll have everything from quoting to scheduling, job management to invoicing at your fingertips. For an all-in-one fix that'll put your day-to-day quoting, scheduling, job management and invoicing processes into one, streamlined system, Tradify is a must-have tool.
10. It's time to build your business
Starting a business isn't easy, but it can be full of rewards. You'll be the one calling the shots and reaping the benefits of your hard work. And once you're established, it often means you can expect greater flexibility — working your job around the lifestyle you want to live.
With the right know-how, starting a cleaning business is a relatively inexpensive opportunity to become your own boss. With a sound business plan, clear goals, and streamlined cleaning job management software at your side, all you need to do now is clean out your competition with exceptional customer service. It'll pay off as your business grows and you begin to hire staff.
If you're looking for cleaning software to run your business — try Tradify for free!
Download our free Cleaning Business Plan Template to help you get started!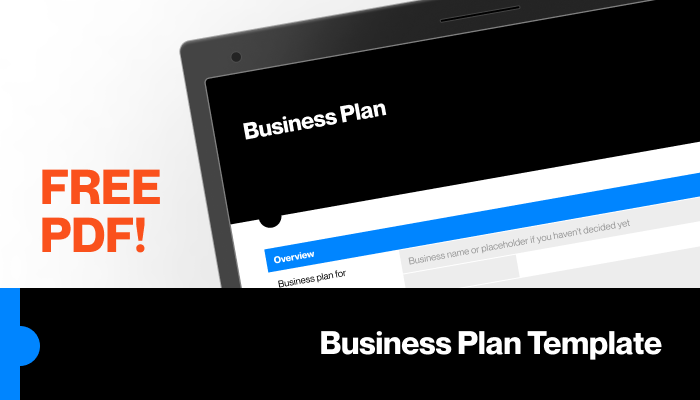 ---