Running your own business is a huge step in any plumber's career – it's a sign you've worked your socks off to become your own boss, so you can call the shots and reap the financial reward. But if you want to grow your business, there are a few things you should have sorted out first. From marketing and HR to finance and software, here's how you can take your plumbing business to the next level.
Short on time? Skip ahead!
1. Ramp up your digital marketing processes
Website
An outdated or hard-to-use website can really hinder the growth of your business. As your website is often how you make a first impression with a potential customer, it's important that it looks great and performs well. Try including your top reviews and testimonials, and adding some photos of past projects that you're proud of. Not only will this get your website looking great, but it'll also give potential customers even more reason to enquire.
Tradify's Instant Website
As well as making job management a breeze, take a look at how we're making websites quick, easy, and affordable with our feature: Instant Website.
Please note: This feature is currently available for all Tradify customers and is an additional (and optional) cost to your Tradify subscription. You can view your Instant Website during your free trial, but you'll need a paid Tradify subscription to go live.
Social media
Similar to a website, social media is another way that potential customers will find you and decide whether they'd like to reach out. As social media is becoming an increasingly visual medium, it's the perfect opportunity to share great photos and videos that put the spotlight on past projects and your processes day-to-day. Social media is all about exposure — it's a great way to grow awareness of your business so that you can reach more people who may want to use your services.
If social media is new to you, or you're not confident that you'll be able to make it work, don't worry — it's easier than it looks to find great plumbing-specific social media ideas.
Directories
Gone are the days of phone books — online directories are the industry standard now. Alongside your website and social media profiles, listing your business with an online directory will spread the word about your plumbing services and, hopefully, win you more work so your business can grow.
2. Decide who to hire next
Apprentices
Hiring an apprentice is a big milestone in any company's growth plans. But it's not always as easy as it sounds – finding the perfect match for your business is hard enough without the trade labour shortage that's being felt worldwide.
Make sure you're prepared to hire with our free interview questions for plumbers:
Subcontractors
Taking on new staff doesn't have to be a permanent commitment. Hiring a subcontractor can help propel your business forward without the financial and administrative burden of long-term employment. Here are our tips for hiring and managing subcontractors.
Check out Tradify's Subcontractor Management feature!
Full-time employees
Feel like you need an extra pair of hands to help tackle your workload? Employing full-time staff is a sure sign that your business is growing. If all goes to plan, having one or more full-time staff members should take a lot off your plate so you can focus on winning work and maximising profit. Not sure whether a subcontractor or full-time worker suits your business better? We've weighed the pros and cons of each so you can choose the right option for your business.
3. Take a hard look at your finances
Cash flow
Between paying staff, investing in plumbing gear, and keeping up with operational costs, running a plumbing business comes with huge financial responsibility. If you feel like you're treading water where finances are concerned, it's a good idea to sit down and take a hard look at your cash flow. If you're really struggling, you can always hire an accountant, too.
Want to turn cash flow into profit? Try our free cash flow forecast template!
Charge-out rate
Calculating the right charge-out rate ensures that you are growing as fast as possible. A perfect charge-out rate means that you're not halting growth by charging too little, and you're not getting in the way of winning more work because you're charging too much.
4. Get the best admin solution possible
Efficient quoting and invoicing
On average, trade business owners spend over 18 hours on admin every week. If you want the business to grow, your business needs to be running at peak efficiency. Tradify's quoting and invoicing features allow you to create and send professional invoices, quotes, and estimates quickly and efficiently. It's as simple as letting Tradify do the hard work, while you focus on what really matters, like winning work and growing your business.
Keeping track of jobs
Securing an increasing number of jobs is a sure sign your business is growing. But, if you can't keep up with growing demand and start to miss jobs, you'll end up having some very unhappy customers to deal with. Tradify's scheduling and job tracking features will help you keep tabs on all your jobs, giving you a real-time view of active, upcoming, and past jobs.
Easy and professional enquiry process
An enquiry is the first communication you'll have with new clients. To make sure it's not the last, you need to leave a lasting good impression. Tradify's enquiries feature streamlines messages from your email, website, and phone so you can respond quickly and never miss a job opportunity.
5. Grow your plumbing business to the next level
Successful plumbing businesses aren't built in a day. On top of all your hard work, you also need effective admin solutions, a strong online presence and a team of like-minded plumbers alongside you. Once you've got that in check, business is bound to be a royal flush success.
Sign up for a 14-day free trial. No credit card required. No commitment. Or pop over to one of our live demo webinars to see Tradify in action.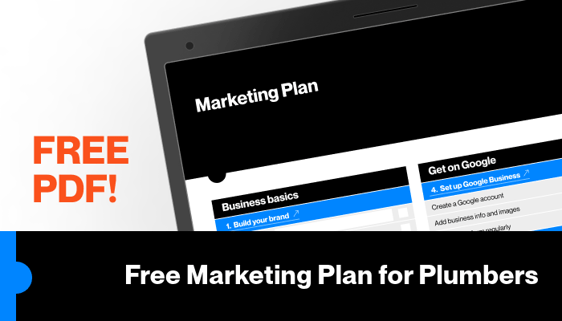 ---