Running a landscaping business is no walk in the park. To be a good landscaper, you need to have a creative eye, think methodically and be prepared to roll up your sleeves and get stuck in. As a business owner, your practical knowledge and eye for detail will only get you so far.
Need help with marketing? Download our free Landscaping Marketing Plan!
So how do you go to bat for your landscaping business and knock it out of the park? We've laid it all out here for you.
Get marketing - jump ahead:
1. The digital key to success
These days, it doesn't matter so much how good you are at your job. A business without a strong online presence doesn't stand a chance at finding a new audience. We've got you covered with some easy tips to get your digital marketing cranking.
To get your advertising up and running, check out our guide to digital marketing, or download our free landscaping marketing plan.
2. Review your website
You need a good website to promote your landscaping business, it's as simple as that. The question is, how good is yours? If it hasn't changed since you first launched, it's definitely time for an update.
You've only got seconds to make a good impression. Run a quick check to ensure your website is up to date and your SEO is helping you get found on Google.
Good website design will pay off in spades. Here's how to create a website that champions your landscaping business.
3. Invest in photography
A large part of your job as a landscaper is to create aesthetically pleasing spaces. So it makes sense to have quality photography showcasing your work. It's one of the most important aspects of advertising. Keep your smartphone handy so you can snap a photo of each job to add to your portfolio.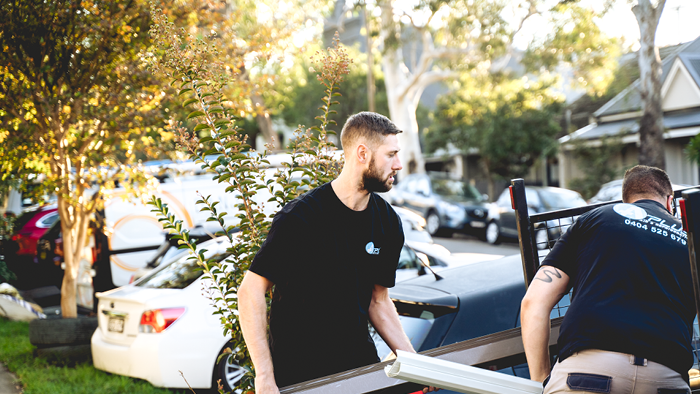 4. List on a directory
The world has gone digital, and business registers have too. Online directories serve as a great way to promote your business. Whether you're in the UK, the US, Australia or New Zealand, there are more directories than you can poke a stick at. Find one that suits your business, sign up and watch your business start to thrive.
5. Say yes to freebies
Running a business comes with costs, so you want to do anything you can to keep your financial outgoings low. There are many online resources like Google My Business that you can use for free to make your business visible across Google Maps and Google Search.
If you want to set up email marketing, MailChimp has you covered. The basic plan lets you send out marketing emails to customers for free.
6. Rake in those reviews
90% of people read online reviews before they visit a business, with 74% of people saying that positive reviews make them more trusting of a local business.
So, if your online reviews have gone to the dogs, you're going to have a tough time marketing the business. Don't worry though, we've got some tips on how to make sure your reviews are 5-stars every time.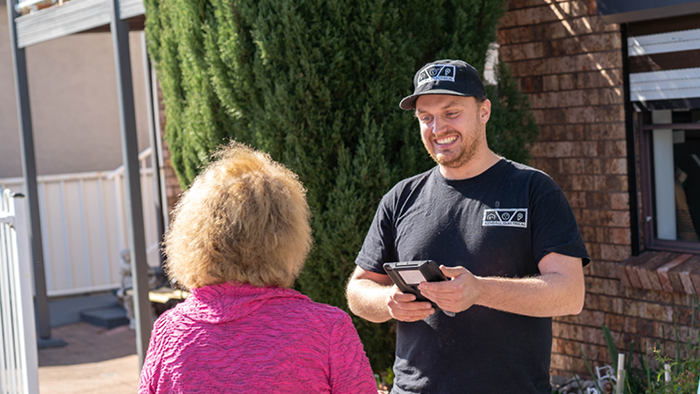 7. Pay attention to social media
If you want a real shot at expanding online, we suggest you get at least one social media account for your business. Here are our go-to social platforms for tradespeople.
Facebook
Years after it graced the world with its presence, Facebook remains the most popular social network in the world. With 3 billion users across the globe, it's the business platform of choice for many.
Learn how to advertise your trade business on Facebook
YouTube
YouTube is quickly taking over as the most effective marketing platform – particularly for targeting younger audiences. Around half of internet users use YouTube to research products and services.
Learn how to start a YouTube channel for your trade business
Instagram
Instagram started as a platform people used to share photos of holidays and food. Now, it's the place people of all ages visit for restaurant recommendations, upcoming events — and local tradespeople. You name it, someone will be searching for it.
Learn how to use Instagram to promote your trade business
LinkedIn
When you're marketing your landscaping business, you're probably focusing on getting new clients and retaining them. But don't forget about other important people — your future staff.
If someone is thinking of working for you, they'll do a background check and LinkedIn is where they'll go. Keep your LinkedIn business profile looking flash so it's a good representation of your company.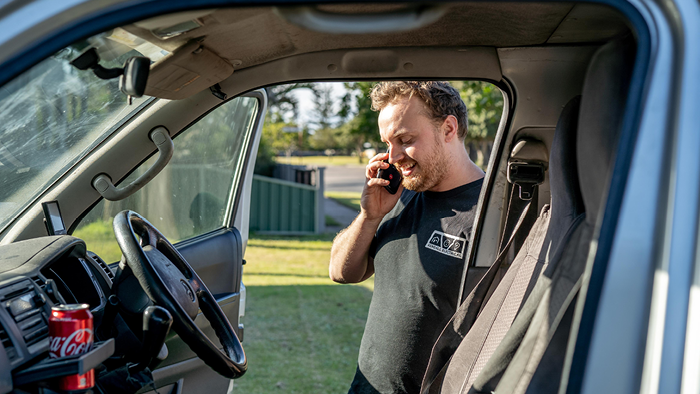 8. Dust off the offline marketing
Even though we live in a technology-obsessed world, there's still a place for offline marketing. That's because your target audience as a landscaper is more widespread than most other industries – so you need to use a range of advertising techniques to reach everyone.
Learn more about offline marketing.
Use local newspapers
Digital technology increasingly rules our lives but there's still a fair number of people who choose to get their news from the letter box. An ad in your local paper will reach the eyes of these people.
Print business cards
There's still a place for business cards, especially for people who aren't on social media. Keep a few on hand for when you bump into someone while you're busy on the job.
Brand your uniform
A uniform keeps your staff looking professional and a brand in the mind of the customer. Who knows what business could come from someone spotting your landscaping business on the back of a shirt at the supermarket?
Learn how to build a brand for your trade business.
Brand your car
Using a work van to get from one job to the next? Here's a no-brainer — plaster your company details all over it. Like the uniform idea, it's a double whammy. You look the part when you turn up for a job, plus you never know who'll be watching when you're stopped at the traffic lights.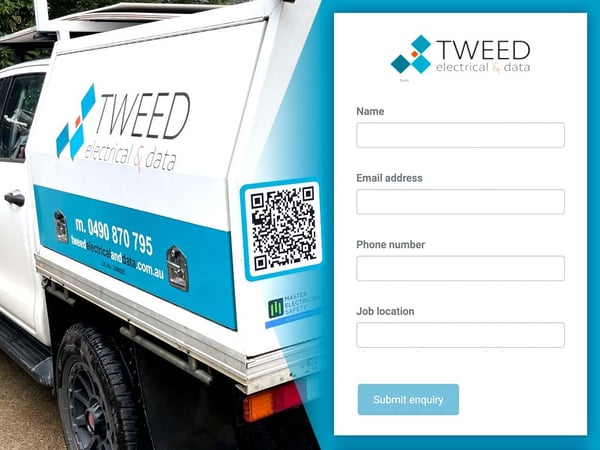 Tweed Electrical's trucks have a QR code linking to their Tradify enquiry form.
Word of mouth
An honest, in-person review about your business from a friend or family member will go a lot further than a thousand email ads. Never forget the power of networking — you never know when a new friend might come in handy for business.
9. Time for a change? Pivot and grow
There'll come a time when things just aren't working out. It's something every business owner goes through, but the key is to be resilient and figure out where change needs to happen. If you don't, things will keep ticking over the same as they always have – and business will plateau.
Here are our top tips on how to pause, reflect and change.
Take a holiday
That's right – taking a holiday can be hugely beneficial to your business. Thousands of tradespeople make the mistake of believing the opposite is true, but a few days away could be all you need to refresh, get some new ideas and come back with new energy.
Do yourself a favour — pack your bags, jump in the car and get away for a few days.
Review finances
When was the last time you took a hard look at the financial side of your business? If things aren't looking flash, Tradify can help you keep tabs on your outgoings, so you can be sure you're making a profit – not losing one. Stuck on where to start? Check out these blogs:
Check with staff
You probably already know that your staff are vital to your business. Make sure you check with them at least once a month to see how they're doing, if they have any concerns or feedback on things that could change. Getting a handle on where they're at can also help you decide if there are ways they could upskill – which is good for them and your business too.
Send staff this survey to get a sense of where they're at.
Get your system up to speed
As fantastic as your business is, you can't handle the new work you'll get if you don't have an efficient job management system in place. If you've got paperwork coming out your ears, jobs missed and money lost, it could be time for a change.
Tradify is the #1 job management app that tradespeople use to optimise their business. It'll save you so much time, you'll be able to focus on helping your business thrive.
Put in the hard yards, watch your business grow
Managing staff, organising jobs, dealing with clients and planning your finances — running a landscaping business can be tough. Concentrate on a few areas like reviewing your digital marketing, checking on your staff, and rewarding your hard work with a holiday, and you'll take business from good to great.
Once you've ticked that off, marketing your landscaping business will feel like a walk in the park.
Save on admin time and get your weekends back with Tradify — plant the seed that grows your landscaping business with a free 14-day trial.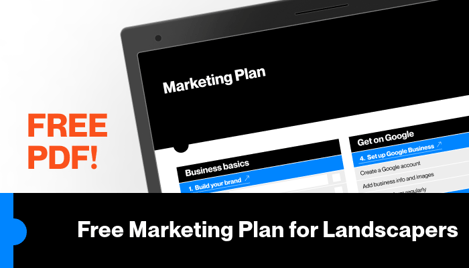 ---