Setting up a contracting business seems, at first, to be as simple as deciding on a name, registering for tax purposes, and spreading the word about your new venture. But if you're planning on going solo or have recently made the leap into self-employment, you'll already know it's not quite so straightforward. First, you'll need a business plan.


Whatever trade you're in, there are some business fundamentals to consider first. In this article, we'll provide you with some advice on how to get your business moving in the right direction, right from the start.

For more advice on your specific trade, check out these articles:
Short on time? Skip ahead:
1. Planning and setup
One of the hardest parts of running a contracting business is getting started. You probably have a picture of your future business in mind, but you're starting fresh and likely without experience. So before you come up with a witty name, fancy logo or catchy slogan, take a step back and think about why you're starting the business in the first place.
🧔

Do you want to be your own boss, grow the business, and reap the rewards?

⏰

Do you want flexible working hours so you have more time for family or hobbies?

👨‍👧‍👦

Do you want to make a difference by helping your local community?
Maybe it's a combination of all three. Whatever your end goal, getting clear on your motivations will give you and your business purpose and direction.
Use our free Business Name Generator to come up with the perfect name for your business!
Write a business plan
So you're dead set on starting your contracting business. Congratulations! Now it's time for planning.

The more comprehensive your business plan the better, but comprehensive doesn't mean long. Keep it simple, straightforward, and easy to read. You'll want to refer to it a lot in your early days, and that won't happen if it's the length of a novel.

A good business plan will move your business forward with financial projections, growth opportunities, marketing strategies, finances and short/medium/long-term goals.

Learn more about writing a business plan, or download the template below.


Registering your
contracting

business
Time to make it official — the next step is to register your business. Read the points below for information on registering a business in your region. When deciding on your business structure, think about your goals for the future. Are you looking to grow, or fly solo forever?
How much does it cost to register my business?
🇬🇧 UK -

be prepared to pay at least £12 (depending on company structure).

🇺🇸 USA -

costs differ by state and your individual obligations.

Find out how to register a business in the USA.
🇦🇺 AU -

costs range from $417 - $506 (depending on company type).

🇳🇿 NZ -

it costs $10 (+GST) to reserve a company name and $114.39 (+GST) to apply to incorporate a company.
Qualifications and training
Make sure your education and training are up to date and you have the qualifications and certifications to operate without supervision. This is critical for health and safety compliance as well as securing clients.
Think about qualifications and training you may need to look at in the future, including:
Upskilling through training courses.

Courses to retain or update necessary qualifications.

Needing to train or qualify staff.
Interviewing an apprentice any time soon? Download our free Interview Questions for Apprentices!
2. Financials and forecasting
You've got to spend money to make money, sure. Just don't go spending more than you need, before you need to. First, sort out the finance for setting up your business. Do you need new tools, vehicles, or other equipment? Make a list and figure out how much money you need to get started. This is called your capital. Can you fund the start-up capital yourself, or do you need to apply for a small business loan?

Note: Your tools, equipment, and vehicle are assets – not liabilities – which means you can claim the tax back after your first financial year in business.
Planning to approach a bank or lender? They're going to want to see your complete business plan, so lucky you got that sorted in Step 1 already right?

Many countries offer loans for new small businesses. Check with your local government to see how they can help you out.
Angel investors are people that provide capital for new businesses and startups. They often receive convertible debt in return or a percentage of ownership. They are often more willing to provide money than traditional lenders.
Get covered by insurance
When starting or running a business it's essential to prepare for unexpected situations. A business insurance policy will cover your work vehicle/s, tools, equipment and essentials like general liability. You may also want to consider income protection insurance in case you're forced off work for an extended period.
Read our article on business insurance for contractors & tradespeople.
Learn more about keeping your tools safe.
Working out what to charge
What you charge for your services can have an effect on not only your bottom line but also on your reputation. Your hourly rate should cover any overhead expenses as well as your target income.

Use Tradify's Charge-Out Rate Calculator to determine your optimal hourly rate.

Ensure you're cash flow positive
Positive cash flow indicates that your business is adding to its cash reserves, and you can settle debt, invest in new assets and pay yourself a living wage. It's really important, especially in the early days, that you learn how to forecast your cash flow.

Once you have a clear picture of your cash flow forecast, here are a few ways to improve your cash flow:
3. Get m
ore work by marketing
While a lot of work can come through word of mouth, it can't be relied upon exclusively. Marketing is an essential part of running a successful contracting business...even if it's just setting up a website.


For more ideas for marketing your contracting business, download the Tradify Marketing Plan for Tradespeople.

Your business name, website, and logo
If you don't have a name for your business yet, start with your own name, trade, and the location/s you service. Start brainstorming from there. Remember to keep it short, but descriptive. It'll also be worth checking if the domain name for your business is available.
Tradify's Business Name Generator will check domain, Facebook, and Instagram availability.
Finally, create a logo and a website. If you're as hands-on with computers as you are your tools, you can do it yourself. Otherwise, hire an expert. It doesn't have to cost the earth either, you can find freelance IT professionals online.
Learn how to create a website for your contracting business in minutes.
Here are some DIY logo design tools we recommend:
Identify your ideal customers
You can ask everyone you know if they need a pipe unclogged or new wiring installed, but to create a network of repeat customers you first need to establish your target market. Then, figure out exactly what those people want from you. Is one of your services in more demand than the other? Focus on what your ideal customer wants.
Reach your target market with the right marketing tools
The number of things you can do to market your contracting business can be overwhelming. Rather than dipping your fingers in too many buckets, take what you know about your ideal customers, and use marketing tools that speak directly to them. Test and measure what's effective in winning new work.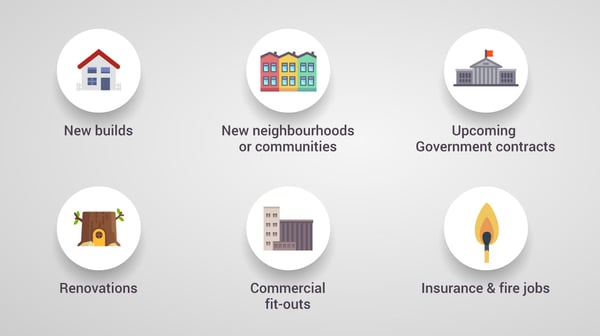 Here are some suggestions:
Google Business:

Essential if you want people to find your business on Google.

Instagram:

Build connections with friends, supporters, and past clients.

Facebook

:

Broaden your reach, engage with potential customers, drive enquiries and promote your business.

YouTube:

If you're confident in front of the camera, showcase your work and personality through video.

Photography:

Good photography can help set you apart from your competition by effectively showcasing you, your business and your work.

Reviews:

A massive 72% of people are likely to trust a local business based on a positive online review. So, always ask for a review once you've finished a job – and then share it.

Listing with local business directories:
Capture new enquiries
Setting up a system to capture and manage new enquiries will help you keep track of new leads. With potential customers able to contact you through your website, text, phone, email or your social media channels, you'll want a tool that can store all of that information in one place so you can track your progress with each lead.
Learn how to capture new enquiries with Tradify!
4. Streamline systems & admin
Advice from trade business owners who've gone out on their own is to get your admin under control right from the start. Too many contractors spend long nights playing catch-up on paperwork.

Speed up your workflow using job management software, so you can spend as much time as possible on the tools – just like Daniel Simpson:
"I learned a few tips and tricks to grow and improve business efficiency. One of the top things was to get job management software."
Tradify has a number of features that support new business operators:

"When we get an enquiry, because all of our jobs are scheduled, I find a day when we're close to where the job is and log it for then – that's why we're often booked out three weeks in advance."
- Luke Lange.
"Quotes are done in half the time. I think I save about five hours a week on admin. That's time I can be on the job, actually making money, or at home with the family."
- Eddy Kendall.
"Because there is a job management tool in place to manage things, keep things on track and show you where things are."
- Nick Foley.
Sync Tradify with cloud-based accounting software
Managing your books probably isn't your favourite part of running a contracting business. You can make it a lot less painful by using a cloud-based accounting package. You'll save time while removing double-handling, manual data entry, and human error.
To make things even easier, Tradify also integrates with your favourite accounting software: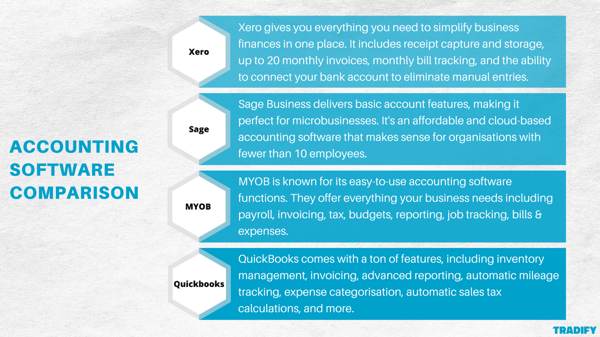 Graphic provided by Crazy Egg.
As a small business, the last thing you want to do is get on the wrong side of the tax man. Guaranteed, he's going to come knocking eventually. When he does, you could get hit with hefty back payments, interest rates and fines that could cripple your venture. Avoid this by playing by the rules from the word go. Find an accountant, and cash in on big-time savings in the form of both time, and money.
Find out if you need an accountant.
5. Industry associations
We also recommend that you join an industry association. These associations offer knowledge, resources, and ongoing support. It should be a relatively easy process if you have the right training and qualifications. Depending on your trade, you may need to join an industry association in order to legally operate your own business. Joining fees are relatively inexpensive and can be expensed to the business.

Here are some links you may find useful:
🇬🇧 United Kingdom
🇺🇸 United States of America
🇦🇺 Australia
🇳🇿 New Zealand
Learn from others in the industry
Podcasts are a great way to listen and learn while driving to and from jobs. Tradify's own podcast Behind the Tools is made specifically for tradespeople looking to start or grow their business. Most phones have built-in apps for podcasts, or you can try Spotify.
With 29 million podcast episodes available across all the different platforms, you'll be sure to find something worth listening to. And, because it's a growing medium for content, you won't have to put up with too many ads.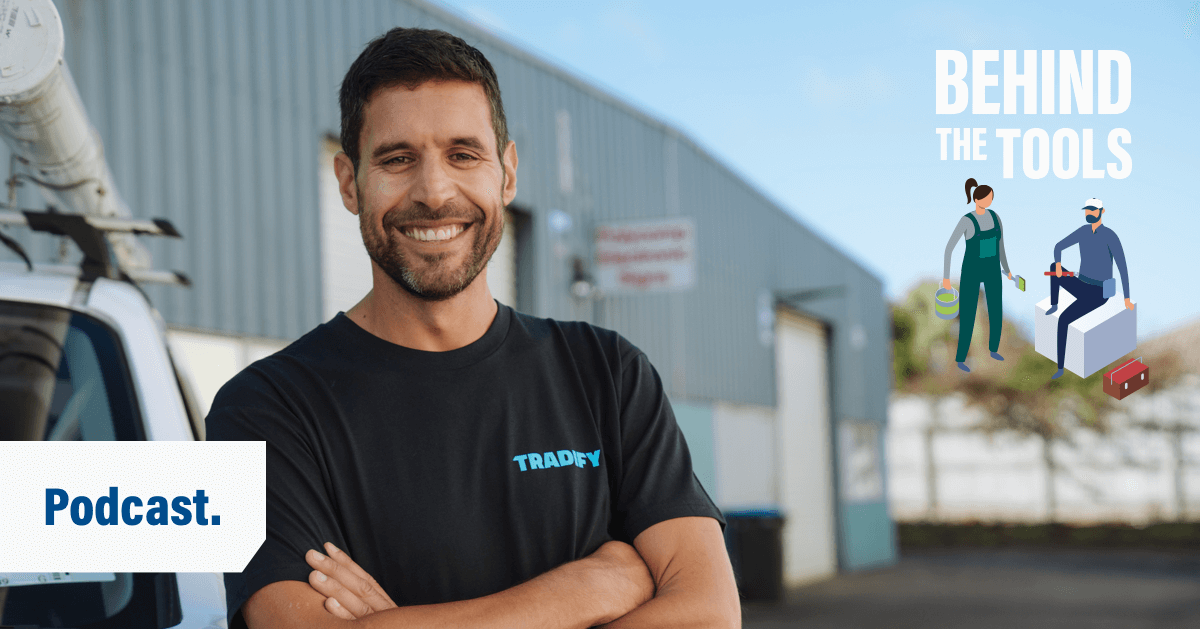 Behind the Tools with Tradify
Tradify's podcast is called Behind the Tools. It's an inside look at tradespeople from all over the world. Each episode we bring on a guest to answer the real questions you have about life in the trades, running a business, and how to overcome the challenges that come with being a tradesperson.
You can watch the videos on YouTube or listen to our podcast on your favourite platform:
When you look at all the requirements for setting up a successful contracting business, it may not seem like the easiest path to take. And you're right, it's not...but it's not impossible either. A better salary and improved work/life balance can be yours if you set up your business for success.

Take a step-by-step approach, tick everything off the list, and leverage technology to make sure you can spend as much billable time on the tools as possible — especially in the early days.
If you're looking for an easy contracting app to help run your business — try Tradify free for 14 days!
Download our free Business Plan Template to help you get started!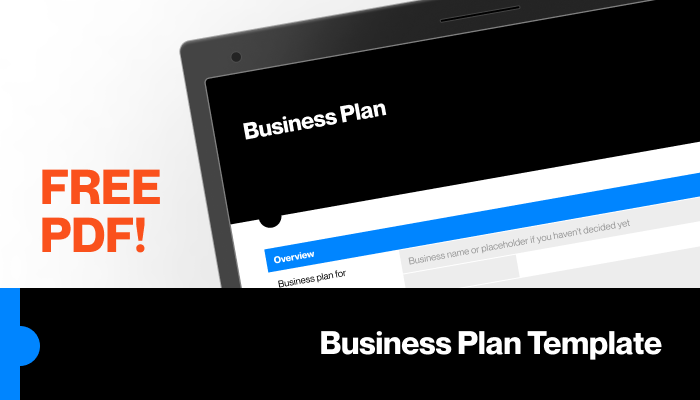 ---