Our customers tell us the bits they love best
We know, we know. Tradespeople are generally pretty humble - they're not ones to toot their own horns (unless we're talking about a shot of a particularly impressive snapper catch).
The thing is, we've been talking to lots of our customers recently and we've been noticing some trends – when we ask them, "Hey, what's your favourite Tradify feature?" the same answers keep coming back again and again.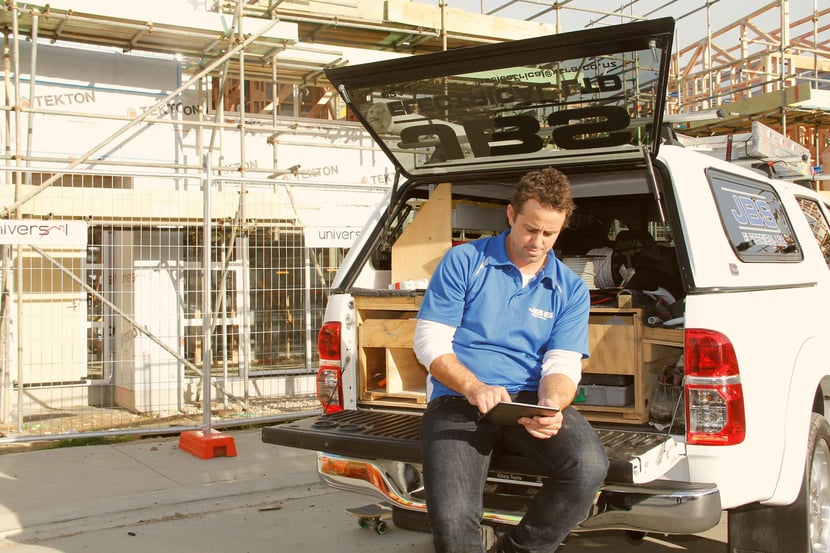 So, here they are – five of the favourite Tradify features, (as unofficially voted by our customers), and why they're worth losing our humility badge for.
1. On-the-go timesheets
Get paid for every minute on the job
If you're someone who used to use paper to manage your business (or still does!) you'll know what a nightmare time-sheeting can be. You wait until the end of the week to collect up all those scraps of paper from amongst van or ute cushions and out of back pockets. You stay up until midnight working out which jobs they go with, then typing the hours into invoices. Not fun. And also not that great for business when you think about it – your hours charged are often the biggest portion of your invoices. Get those wrong and you're throwing money in the bin.
With Tradify, when your team arrives at a job, they open the Tradify app on their phones or tablets and click a button to start recording time. When they finish, it's another click. That gets automatically added on to the client's bill – so for some jobs, that means the invoice is already good to go as soon as the job is done, with every minute on-charged, and zero minutes spent stuffing around with paper. And of course, the faster you issue the invoice, the sooner you'll see the money in the bank.
2. CSV Uploads
Faster, more accurate quoting
It's a simple little function – get an updated price list from your supplier (just ask them to email it to you) and you can upload it to Tradify with a couple of clicks. That means when it's time to put quotes together all the accurate pricing is already in the system. It also means you're not spending time scrolling back through your emails to look for pricing info.
"If you're doing things manually, you have to go back through emails, and get dates, and what everyone's bought, and the time they've spent. You have to collate all the data. It's so time-consuming and draining, that sometimes you just say, 'screw it', invoice blind and hope that you've allowed for everything."

Jonathan Clarke, Watts Up Electrical
3. The Scheduler
Fill up your time, record the little jobs
When you charge out your time, every hour is money on the table – the more jobs you can fit in, the more cash you have coming in. Tradify's scheduler makes that easy – you can fill up your team's time days or even weeks in advance, making sure you've got paid work booked for every hour possible. That's awesome, but it also means your people always know where they're supposed to be. Before they hit the road, they'll be able to see at a glance what their day's looking like – and that means no more last-minute phone calls from the team at 7 am on Monday morning for you.
"I've always written it into a diary, but that can change. Now the next week is locked in place. I don't get a phone call on Monday morning – everyone knows where they're going."

James Brunton, JJ Electrical.
You'll be able to give customers a clearer idea about when their new toilet is going to be installed, or when you're coming to fix their dicky water heater. Little jobs are also recorded – instead of just nipping around to install that smoke alarm, and then forgetting you ever did it, it's all there in Tradify, waiting to be billed at the end of the month.
"I can easily go back and see what we did on a day, and jump on the timesheets, and see, 'Oh actually we also did these other jobs too'. Then I just transform the quote into an invoice in MYOB and I know it's right."

Josh Foster, Rock Electrical.
4. Recording notes and photos
Proof that new issues weren't your fault
I'm sure you've been there – you fix a water heater and then three months later, the customer's back on the phone. There's an issue, and they think it's your fault. In the paper-based days, you'd probably just have to front up and do the work – even if you're sure it's not your stuff-up.
With Tradify you can take pictures of the job you've done, make any notes about what you've seen and upload it to the job. That means months or even years later you can go back and see what happened. We've spoken to Tradify customers who've said that this has 'saved them' – they have proof the new issue is just that: a new issue, and not the result of shoddy work. That's time saved, and the chance to earn a bit of extra money too.
5. GPS tracking
Better customer service and staff management
GPS is a cool bit of tech – and it has some nice business benefits too. What it all comes down to is accountability. If a client's wondering if you're running on time and wants to know when your guys are going to arrive, you'll be able to check and see exactly where they are and confirm their expected arrival time at the next job. You can also make sure your team is where they are meant to be.
"It gives better customer service – with the GPS, I can see where guys are, check up on employees. There's nowhere to hide. It keeps people accountable with time and stock and everything else."

Nick Foley, NDF Electrical.
On the flip side, Tradify can help to keep clients more accountable too – if they're grumpy about an invoice, you've got the job report and time-stamped photos and notes - proof that they're only being charged for the hours you or your guys spent on-site and proof that you completed the work.
"Tradify's saved us a couple of times. It doesn't lie – I can tell the client, 'Look, they logged on at the right site and the right time'. I just print a job report and it's all there," says Nick.
Get your 14-day free trial
(The final toot)
If you're still thinking about whether you should give Tradify a go, now's the time to take us up on our free trial. It's super easy to set up, plus the team is just a phone call away if you have any questions. If you get even one of these features working for your business, you'll probably start saving time and making more money, pretty much straight away. We think that is something to shout about!
Get your hands on your 14-day free trial here, or jump on one of our live walkthrough webinars to see Tradify in action. It's a great way to see if Tradify is the right tool for your trade business.
---