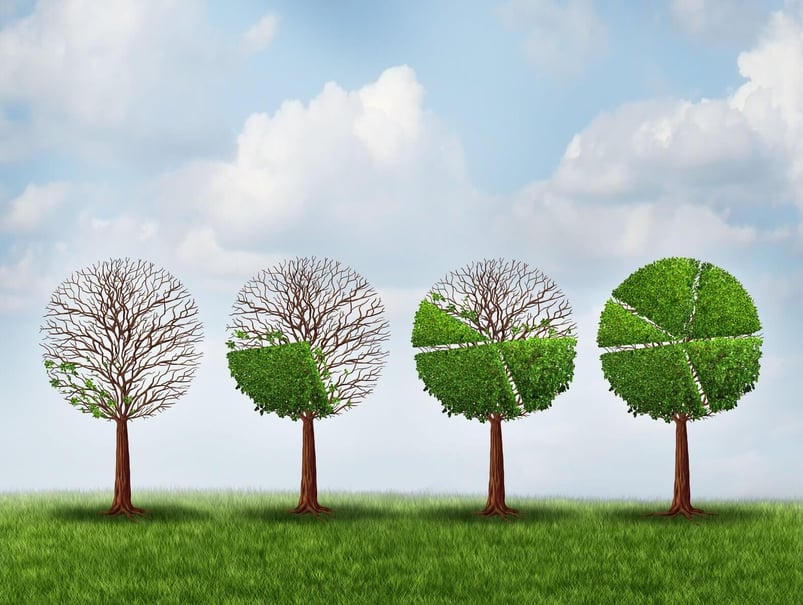 Angela Smith from Lifestyle Tradie is back on the blog today with the second of her series on the stages of a trade business. Check out the first blog on starting your business here.
Everything in your trade business is growing…
Your team is bigger

Your customer base is expanding,

and

Your expenses have skyrocketed.
During the growth phase of your trade business, your key challenge is coping with these changes while keeping expenses to a minimum. If you don't manage to keep on top of this, your business will spin out of control and you'll be wasting money, without even realising it.
To avoid this, here's what you need to do…
When your team gets bigger
You need systems.
As your team grows, so does the gap in your business control.
Suddenly, you're relying on other people to maintain the high standards that have brought your current business success. Not only this, but a larger team increases training time and paves the way for a wider range of errors.
It's a scary thought. And if it scares you as much as it scared us, you need to start developing systems.
A system is a 1-page flowchart depicting the exact steps required to complete a task in your business. When you develop a system for every task in your business, you'll end up with a complete 'how-to' guide for your entire business. Systems are beneficial in…
Training new employees and refreshing old employees
With systems you:
Ensure employees are trained the same way

Won't miss a step in training process because the systems act as a guide

Teach employees processes once and then they can refer to system
Increasing your control
With systems you:
Have control over the outcomes of your employees

Have a greater understanding of what employees are actually doing when

you aren't there
Reducing errors
With systems you:
Have reassurance that mistakes can only be made if an employee doesn't follow the systems
We're not going to lie, systems can be time consuming to develop.
BUT, you only have to make them once and the benefits are priceless! Simple mistakes such as missed materials in the invoicing process, result in you, the business owner, carrying the costs rather than the customer. A system for invoicing on a Job Management Software such as Tradify will save such costly errors.
Thinking about hiring? Download our free Interview Questions for Apprentices!
When your customer base is expanding…
Maintain efficiency and quality
Maintain the efficient flow of each job and high quality customer experience by ensuring you have a full understanding of the Job Management Software you use.
Our statistics show that the majority of trade business owners use their Job Management Software to 20% of it's capabilities.
This means:
80% less value from the money they've invested in the product and

80% less service efficiency being delivered to customers.
Job management software such as Tradify makes continual updates to functions such as job scheduling, invoicing and the storage of customer data. In order to maintain job efficiency and quality customer experience, a wise business owner will keep up-to-date with these changes.
If this sounds like a hassle, trust me, it doesn't have to be hard…
Tradify make keeping up-to-date with their platform easy for their users with free 'How-To' videos available HERE on the Tradify YouTube Channel. These videos were introduced after a recent customer survey revealed that 62% of Tradify customers preferred to learn via videos.
When your costs are increasing…
Run your business by numbers
The numbers in your Balance Sheet and Profit and Loss Statement tell the story of your business. You can leverage these figures to guide your business actions, resulting in better, more cost efficient outcomes.
Knowing your numbers will majorly empower you in 3 ways…
1) Make decisions based on facts
No business decision, such as hiring a new employee or purchasing a piece of equipment should be made without first consulting your financial statements. Making decisions without a true understanding of the affordability of the decision can be an extremely costly mistake.
Let say you're flat out and your phone is ringing off the hook so you hire new tradie, only to find that a couple of months later work starts to drop off and you're stuck, over-staffed.
Obviously some of the ebbs and flows in your business cannot be predictable. However, more often than not, when you look at your statements, you can see predictable patterns in busy and slow times. When you understand such patterns you can be strategic in your hiring. Instead of hiring a new full-time tradie you may chose to use a contractor or hire on short-term contracts.
This is just one of the many examples of how understanding your numbers is imperative to business decisions.
2) Streamline your supplies
When you separate materials and labour costs in your Balance Sheet, you can see at a glance your expenditure on materials as well as your expenditure on materials compared to the amount you are charging out to clients.
As a result you can…
See your wastage on materials and strategise to reduce it

Leverage visible price changes to negotiate prices with suppliers
3) Understand the costs verse benefits of decisions
A recent survey showed that on average, Tradify saves trade business owners 460 hours and $24,500 every year… WOW!
Many trade business owners are hesitant to spend money in their business. They view software, technology and the likes, as unnecessary cost, yet they haven't actually taken time to understand the benefits.
We encourage our Lifestyle Tradie members to view costs as investments and endeavour to understand the direct and indirect benefits of their investment. Once they reach this understanding, they can make an educated conclusion as to whether this investment is worthwhile for their business.
The outcome of Tradify's recent survey is living proof of the benefits trade business owners can reap from their business investments.
At Lifestyle Tradie we work with trade business owners every single day. SO we understand how overwhelming this information can be.
To make it easier we have made free 'How-To' videos available HERE.
Episode 12 will give you 5 steps to develop systems
AND
Episode 4 is your guide to understanding your numbers
Two of the topics discussed above as KEY to dealing with the challenges experienced in your business growth.
We're also running the future The Future Tradie live events in Melbourne, Sydney & Brisbane in October…. for the absolute LAST TIME! These events are totally free. If you've ever considered attending now is your LAST CHANCE!
Claim your FREE Tradify ticket (plus bring a mate along with you) & details HERE.
Angela Smith
Co-founder Lifestyle Tradie Group Pty Ltd.
Passionate about helping trade business owners achieve business and lifestyle success, Lifestyle Tradie founders Angela and Andy Smith have spent the last 8 years mentoring trade business owners Australia-wide. They themselves are the owners and operators of an award-winning plumbing business!