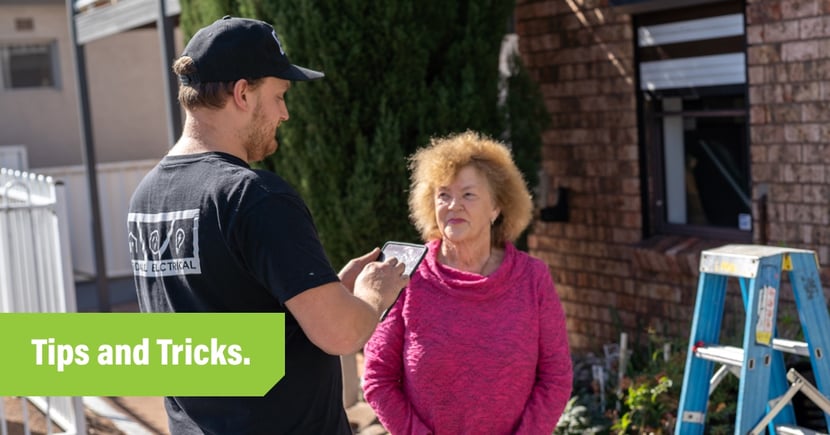 Forecasting the future workload for your trade business and making sure you have a constant flow of jobs can be tough to do at the best of times.The recent arrival of a global pandemic certainly doesn't help. Your clientbase may be strong now, but what is going to happen in a few months time once the backlog has cleared and the long-term economic impacts of COVID-19 start to hit.
We don't mean to sound too doom and gloom, but we do think this is something trade businesses should be thinking about and planning for.
Will competition increase for trade businesses?
Will customer demand drop?
Will the types of jobs you're doing change?
Whether you have your own electrical, plumbing, building or other trade business. It's important to start thinking about, and planning for all kinds of scenarios.
To help, we've put together a list of actionable steps to help you drive more business and build a strong cash flow.
Read on for marketing tips, tactics and strategies that you can start working on, today. Plus, take a look at the examples of trade businesses who are doing a great job with their marketing - we've included a bunch of these examples in our Marketing Toolkit for Trade Businesses.
Take your trade business online
Let's start with the obvious, if your business is not online - you're at a severe disadvantage. Word of mouth recommendations may still be a strong channel for generating new business, however customers are smart enough to make use of the device in their pocket and spend 2 minutes researching who you are even if you've been referred to them by a friend. Having a basic website, active social media accounts and, most importantly a list of customer reviews is an easy way to showcase who you are, what your trade business is all about and the great job you do.
Need help taking your trade business online? We've made a free play book for trade businesses to help you get established online, or take your online presence to the next level and stand out from the crowd.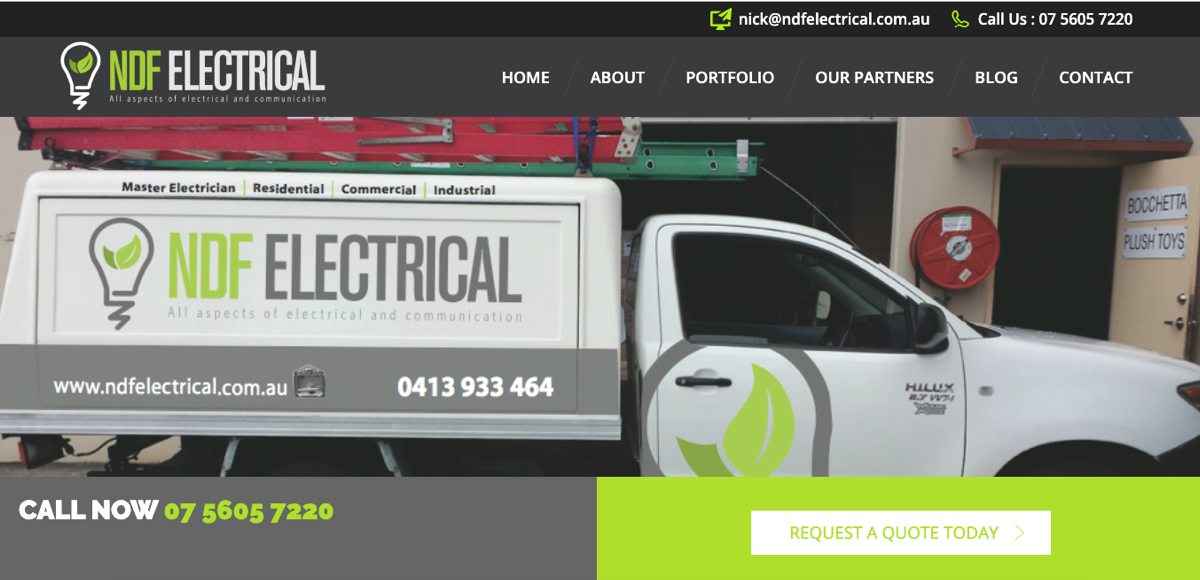 Make use of the free tools available

The beauty of online platforms is that the companies behind them make their money from establishing a platform that they can sell ads on. In other words, you can use them to help grow your trade business free of charge. Platforms like Google My Business are free and allow your business to be found across Google Search and Google Maps. Start off by creating a profile, adding your logo, photos of your team & projects, as well as gathering some customer reviews and you'll be well on your way to improving your chances of popping up when locals in your area search for things like "Electrician in Sydney" or "Plumber in Nottingham".
In addition to Google's products, tools like MailChimp are helpful for sending newsletters, offers and surveys to your customer base. Free versions are available, so you can see if they'll meet your specific requirements.
Action: Ready to get started on GMB?
We've written this guide to help trade business owners setup up a Google My Business account.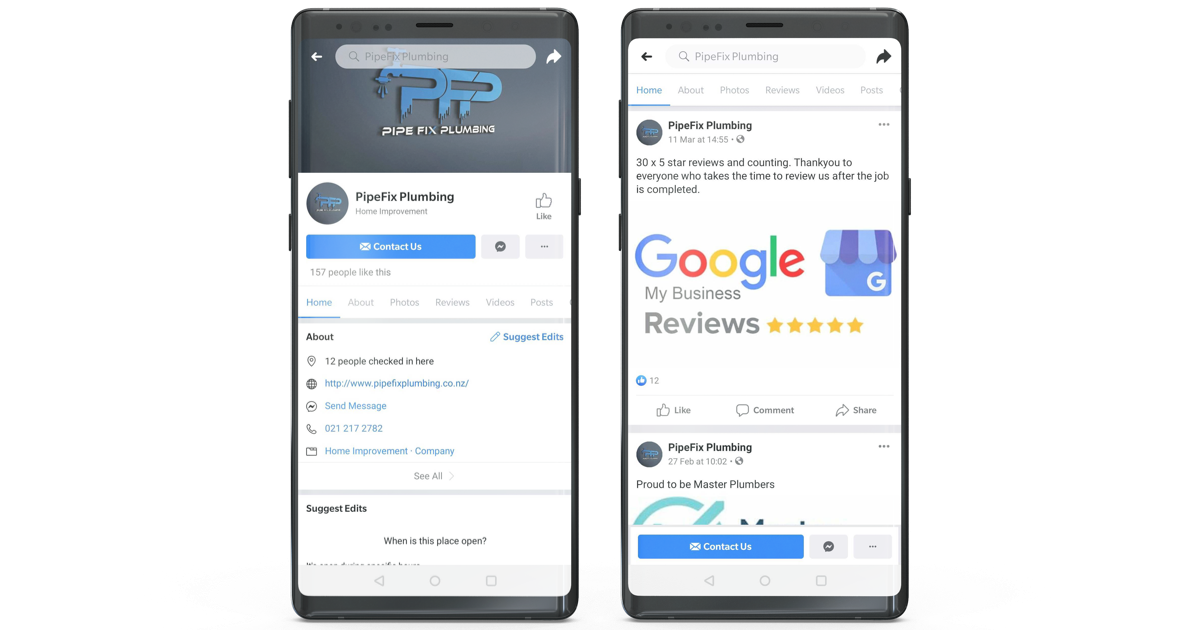 Get on social media
Whether you like it or not, social media use continues to grow each year. The latest data shows 73% of kiwis currently open up Facebook each day and 40% of Australians are expected to have a Facebook account by 2020. In the United Kingdom, 44.8 million people have a Facebook feed they can check. With people's daily habits showing no sign of changing now is the time to grab some of this attention and create a Facebook account for your trade business. Again, they're free to set up and easier than a website to keep updated with the latest news, updates and photos of your trade business.
Platforms like Instagram, YouTube and LinkedIn also show growing userbases and are easy to establish business profiles/accounts on. Each platform does have it's own style and type of audience so it's important to get your strategy on point. For example, Instagram is good for capturing day to day photos & videos of you and your team in action while LinkedIn may be a place where you share monthly updates around completed projects or company news.
Action: Keen to give social media a crack?
Check out these articles written exclusively for tradespeople.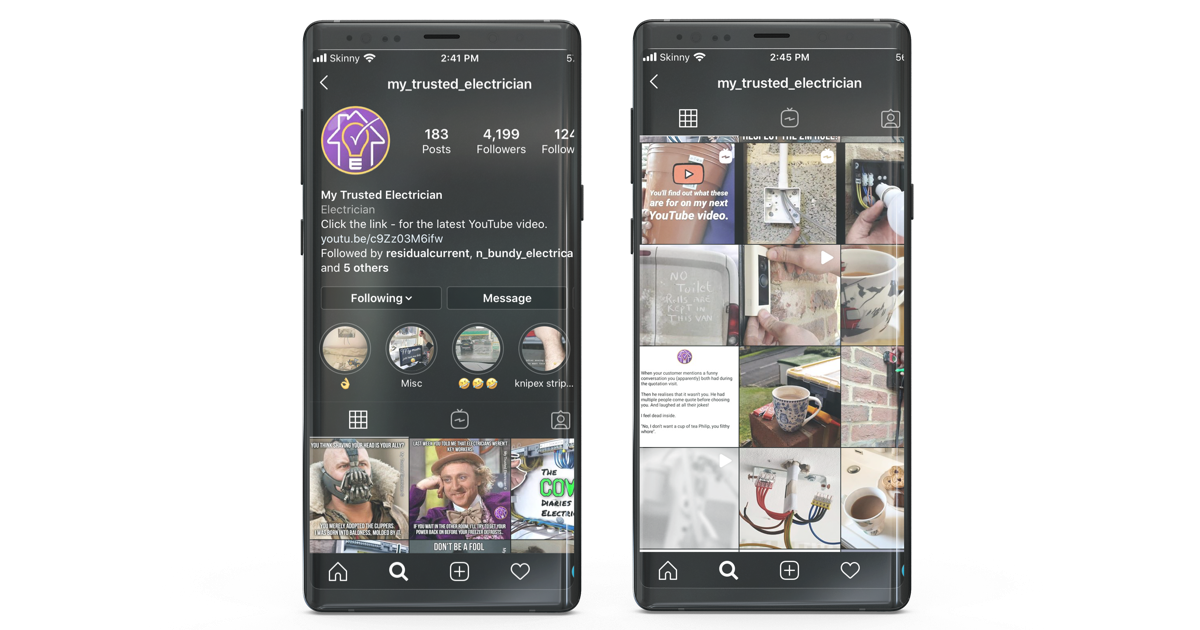 Focus on customer reviews
We all know the power of strong word-of -mouth. A recent Nielsen report highlighted that 92% of consumers believe suggestions from friends and family more than advertising. In the online world 88% of people trust reviews written by others as much as they trust recommendations from personal contacts. Despite this compelling evidence, many trade businesses continue to turn a blind eye to asking for reviews. If you don't already have a plan in place to ask for customer reviews, you need to get one.
Your review strategy can be as simple as asking your customer to take 2 minutes to rate you on Google as you leave a job, or sending handwritten "thank you for your business" notes. The important thing to be aware of is the power of reviews during the decision making process. Do you want to be the plumber with 3 reviews from 2016 or 100+ reviews as recent as last week. We've highlighted more strategies to help you generate reviews in our free marketing toolkit.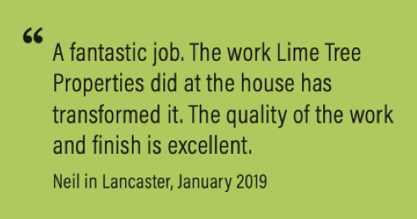 Create a process that converts quotes into jobs
Getting potential customers to hear about or discover your trade business is only half the job. But what happens once that enquiry lands in your inbox or the phone rings. Do you have a process that gives you the best chance of having your quote accepted? We've outlined a simple framework you can start following, today.
Action: Free marketing toolkit for Tradies
We know. You're a tradie, not a marketer. That's why we've put together a guide of everything you need to know, plus step by step instructions on how to market your trade business, and drive more business. Get marketing tips, tricks, tactics and examples of tradies & trade businesses nailing their marketing game. Get the marketing guide now.