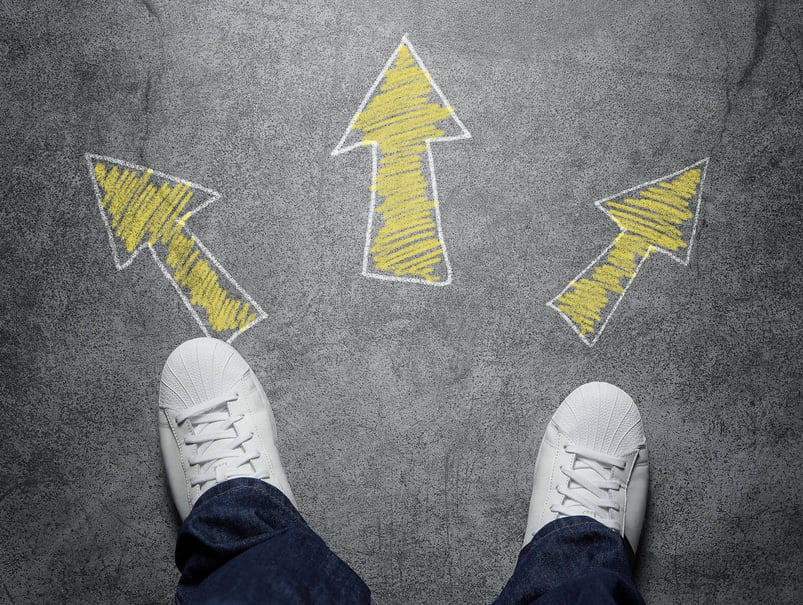 Enjoy the final part of the Lifestyle Tradies series on building your business. You can read parts 1, 2, and 3.
First and foremost, congratulations. Congratulations for making it this far in your trade business. You've built it from the ground up with your own two hands, and business is booming. But what next?
May we encourage you to take a second to pat yourself on the back. Be proud. Being a business owner (especially a successful one) is no easy feat on your own.
At this stage in business you are faced with a decision.You have two options...
Your first option, and the most commonly chosen option, is to squeeze the 1% continual improvements and grow your business further. Continue with your current path, develop a plan for the future that you're comfortable with and reap the long-term rewards. As time goes by, as you leverage your time, money and people better, you can step off the tools from time to time (or even permanently). You can take a day off whenever you want to watch your kid at their sporting carnival or take three weeks for a family holiday.
Your second option, sell your business. This might be a hard choice, it's no easy task to say goodbye to something you've spent years working (hard) on, but it can also reap great rewards. If this is your course of action there are a few things that need consideration...most trade business owners build a successful business financially, and believe this is enough to sell their business. In fact, it is not necessarily the tangible assets (van, tools, etc.) but the intangible assets (intellectual property, database etc.) that sell a business. It is these that need attention if you choose this option.
No matter which option you decide, you can feel comfortable knowing that you have the freedom to choose your own path. The only catch is, this freedom to choose requires a little bit of work so that you can be properly prepared for your future… here's how.
Develop your Systems
Your businesses systems and procedures are considered the most valuable asset your trade business could own… but only if they are documented, and even better actually followed!
If you choose to grow your business, having systems will allow you to step out of the office or off the tools with the knowledge that everything will still run smoothly. If an employee doesn't know how to do something, they can simply refer to the systems.
If you choose to sell your business, documented systems will increase your business's value and make it much more attractive for potential buyers. Imagine coming into a newly bought business where staff know exactly what they're doing and won't ask you questions about stuff you don't know! The dream.
So here's how you can develop systems in your trade business:
Brainstorm every task each role in your business completes. Using a mind mapping tool helps to capture your thoughts. Talk to the staff member currently in that role to help pull out the detail.
Get to the detail. Write down each step of each individual task that each role completes. Start with one role first before moving to the next to avoid complication.
Document the steps in a single page flowchart. In our own trade business DR. DRiP, we have over 200 of these that the team follow. No more mistakes, no blurred lines...
Once the systems are documented, get each employee to follow them for a week or two to put them to the test. Tweak them where necessary until they're perfect.
Once perfected, make them available to all staff. We do this via a staff intranet.
If you're after more information on why you should develop systems and how, check out Episode 4 of The Tradie Show here.
Talk to your Accountant
To prepare for your future (no matter your decision), you need to book an appointment with your accountant to have a chat.
For growth, you need to ask your accountant to go over financial statements and help you forecast your sales. This way, you understand exactly where your business is at, and plan your growth based on pure fact, not just guess work.
For selling your business, advice from your accountant will be highly beneficial. Not only can they help you value your assets to determine a sale price, but also overall determine whether your business is worth selling or whether it needs work. They can also run through your books and structure them to make them more appealing to potential buyers. They are well worth their fee if they help you sell!
Streamline your Business
Streamlining your business will save you and your staff hours of time (and a lot of headaches). It might sound simple (and it is) but the main way to do this is utilise technology.
Using technology to its fullest capability will allow you to automate and simplify your business.
Staying in touch and actively utilising the latest features of your job management platform is critical to you leveraging this excellent technology . As a valued member of Tradify you are the first to hear about the latest benefits and how to use them in your business.
Tradify have the Support you need through their online help centre, email support or chat box. Of course, you can always pick up the phone…
Tradify saves you hours of time, allows you to streamline your business, and when a potential buyer sees how smooth the business is operating they will be more willing to make an offer!
Analyse your Customer Database
Your customer database is also one of the most important intangible assets your business owns and is vital for future profits. It is for this reason that focusing on retention marketing strategies is critical. In our experience, repeat customers spend 3x the average dollar sale than first time customers. Why? Because they know, like and trust us.
From a growth perspective, staying in contact with your entire database to ensure you are top of mind is important for the success of your business and knowing which customers spend the most with you will help to know which relationships you need to nuture. For example, send them gifts at Christmas or on their Birthday to thank them, they will remember this and keep coming back.
From a sale perspective, the percentage of repeat customers will show not only the quality of your work, but also the reputation and rapport you have built in the community you service. The greater the reputation built on trust, the more attractive your business is.
This might all sound daunting, but don't worry, you don't need to choose right this second. Spend your time thinking about what's best for you, your family, and your business. But in the end, the decision is up to you, you have the freedom to choose.
We're also running the last future The Future Tradie live event in Brisbane 0n 25 October! This event is totally free. If you've ever considered attending now is your LAST CHANCE!
Claim your FREE Tradify ticket (plus bring a mate along with you) & details HERE.
Angela Smith
Co-founder Lifestyle Tradie Group Pty Ltd.
Passionate about helping trade business owners achieve business and lifestyle success, Lifestyle Tradie founders Angela and Andy Smith have spent the last 8 years mentoring trade business owners Australia-wide. They themselves are the owners and operators of an award-winning plumbing business!